Ashton Pienaar From 'Below Deck' May Have Just Made a New Enemy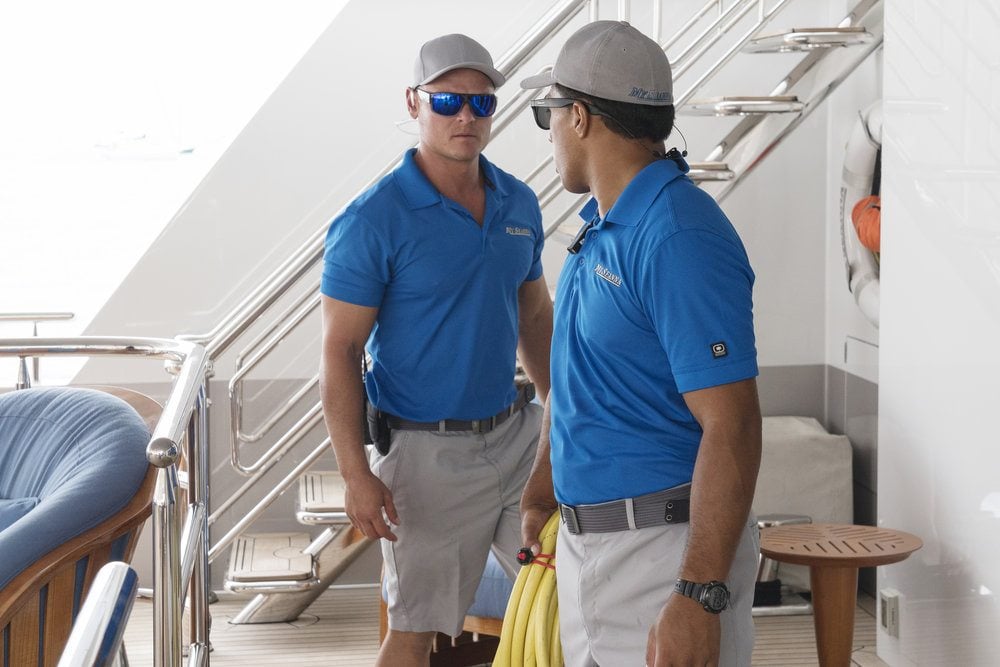 In a stunning admission, deckhand Ashton Pienaar from Below Deck weighed in on who he thought should have been fired. And it wasn't bosun Chandler Brooks. Oddly, Pienaar seemed annoyed with the lack of direction he and the deck crew received from Brooks.
But when push came to shove, Pienaar said he was surprised Brooks was fired. Which seems insane because the entire crew saw that coming from a mile away. Instead, he said he thought deckhand Rhylee Gerber should have been the one who was fired during the Below Deck After Show. "I made it quite vocal that if anybody from the deck crew was to leave I would have liked it to be Rhylee," Pienaar says.
Meanwhile, new bosun Ross Inia sits next to Pienaar looking pretty awkward. Pienaar continues saying the fact she was gloating and happy that Brooks was fired made him mad.
Pienaar and Gerber butted heads
Gerber says on the After Show that Pienaar confronted her about Brooks being fired. She says she didn't expect anyone to have been fired. He told her he didn't like how happy she looked with a grin on her face. "I know without a doubt I was very stoic," Gerber says.
And while Pienaar was annoyed with how Gerber felt about Brooks' firing, the two also seemed to be at odds from time to time on deck.
But then this happened?
Gerber recently tweeted about a near miss hookup that went down with Pienaar. "@AshtonPienaar's hard on for me was both #biblical and #nonbiblical it appears #belowdeck."  While third stew and Gerber's bunkmate Caroline Bedol was in the guest quarters nursing her swollen foot, Pienaar decides to come into Gerber's room after a night of partying.
Pienaar tries to hook up with Gerber, who is already in her bunk. But she doesn't go for it completely. Then he turns and opts for ice cream instead. This crew really likes ice cream apparently.
But Pienaar should know better
By making the declarative statement that Gerber should have been fired, Pienaar may have opened a can of worms he doesn't want. Gerber's fiery temper has gotten her into a pickle more than once. She warred with Brooks and had a verbal smackdown with the crew after the first night of partying.
But also showed her teeth when she became angry with super chill Chef Adrian Martin. After (another) night of drinking, she went after Martin in the cab ride home. She lashes out at Martin in the cab. When a viewer asks what happened, Martin tweets, "There was actually about 15min of that scene that was cut off where she was insulting and taunting me, prior to that she did the same thing to Ashton on the way to the boat, and lashed out at Kate as well…" Gerber then sarcastically writes, "I'm so sorry you felt threatened and as though your life was in danger around me, Adrian. So thankful you survived!"
Now that Pienaar made his position clear, he may want to sleep with one eye open.
Check out The Cheat Sheet on Facebook!