'Athlete A': What Is the New Netflix Documentary About?
Larry Nassar, an osteopathic physician, served as the USA Gymnastics women's physician for 29 years. Athlete A, a new Netflix investigative documentary, focuses on Nassar's abuse of young female gymnasts. But Athlete A goes far beyond just Nassar and his story; we also see the Indianapolis Star reporters that broke the story in 2016 and hear from some of the gymnasts who her personally impacted. What does the documentary film really get into?
'Athlete A', released in June 2020, is a shocking and harrowing tale of U.S. athletics
Released on June 24, 2020, in Athlete A, directors Bonni Cohen and Jon Shenk focus considerably on gymnast Maggie Nichols. Nichols was the first brave girl to report Larry Nassar's crimes to USA Gymnastics. Thus, she was given the pseudonym "Athlete A" to protect her true identity.
Nichols, now age 22, began her gymnastics career at the age of 3 with the Twin City Twisters, in her home state of Minnesota. Gymnastics became her passion at a young age. In the documentary, Nichols says, "I just love gymnastics. I love the drive that it gives me. It teaches you to be strong, independent."
Nichols made the U.S. National Team at age 15, training and competing with the team from 2013 through 2016. She was also a member of the 2015 World Championship team, which also included such elite athletes as Simone Biles, Gabby Douglas, and Aly Raisman.
The Netflix documentary film focuses mainly on young gymnast Maggie Nichols
The documentary tells Nichols' harrowing story. In 2015, Nichols and her team members were at the national training center in Huntsville, Texas run by well-known Olympic Coaches, Bela and Martha Karolyi. After sustaining a back injury, Nichols described receiving treatment from Larry Nassar; it didn't go as she expected.
"I was kind of like, confused, and wondering what it was," Nicols says in the documentary Athlete A. "It didn't seem right. I'd never experienced anything like that." She decided to ask her friend and teammate Aly Raisman, about the treatment.
"'Does he do this to you? Is this normal?'" Nicholas says she asked Raisman. "And she said, 'Yeah, he does it to me, too.'"
RELATED: 'Cheer': U.S. Olympic Gymnast Tweets 'I'm Trying Out For Navarro Cheer' After Watching the Netflix Series
Nichols' personal coach, Sarah Jantzi, overheard this conversation and reported it to her mother.
"I want to let you know that I overheard from Maggie and another athlete that Larry Nassar was touching her funny," Jantzi explained to Nichols' mother.
According to Athlete A, the coach reassured her mother she would contact the USA Gymnastics Women's Program Director immediately. At the time, Steve Perry, then President and CEO of USA Gymnastics, reassured the Nichols family Maggie would be taken care of. However, for the following year, Mr. Perry advised the family not to talk about the case because it might "ruin their investigation of Larry Nassar."
'Athlete A' shows what gymnasts like Aly Raisman and Simone Biles went through
The provocative Athlete A delves further into Steve Perry's management of USA Gymnastics, the toxic culture he helped create, and the historical abuse of girls and young women in the sport. Despite resistance and lack of cooperation from the organization, Larry Nassar was arrested, tried, and sentenced in 2017.
On January 24, 2018, Nassar was sentenced to 175 years in a Michigan state prison after pleading guilty to seven counts of sexual assault of minors.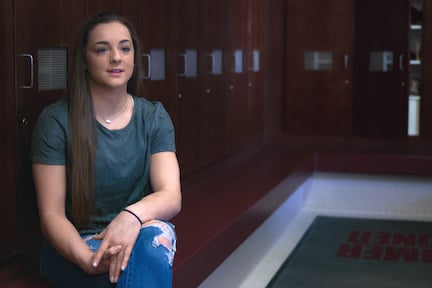 At the time of Larry Nassar's sentencing, Maggie Nichols released a statement that read: "USA Gymnastics and the US Olympic Committee did not provide a safe environment for me and my teammates and friends to train."
Many former and current gymnasts hold Steve Perry, USA Gymnastics, and the United States Olympic Committee accountable for years of mistreatment, cover-ups, and the alleged protection of coaches rather than athletes.
Nearly 500 women have come forward, naming Nassar in sexual assault incidents. Athlete A helps to tell some of their stories.
How to get help: In the U.S., call the RAINN National Sexual Assault Telephone Hotline at 1-800-656-4673 to connect with a trained staff member from a sexual assault service provider in your area.