'Avatar' Director James Cameron Has Been Married 5 Times Because 'the Woman He Can't Get Is Always His Dream Girl,' According to 4th Ex-Wife
James Cameron and one of his five ex-wives were pitted against each other during the 82nd Academy Awards.
Few directors have sought to push the film industry forward technologically as often as James Cameron. His inclination to always seek out the newest ways to innovate as a filmmaker bears some unfortunate similarities to his personal life. Cameron has been married five times. The now-67-year-old admits that he has a type, which is clear to see in the heroines who appear in his work.
To further the cinematic overtones of his love life, Cameron and one of his exes were pitted against each other during the 82nd Academy Awards with the Best Director Award up for grabs. 
Who are director James Cameron's ex-wives?
It's impossible to separate Cameron's filmography from his personal life. His first wife was Sharon Williams, a waitress he wed in 1978. They divorced in 1984; the same year he directed The Terminator.
He met his second wife while making his first big hit. Cameron married Gale Anne Hurd, The Terminator producer and co-screenwriter, in 1985. Hurd went on to produce his next two movies before they broke up in 1989. The very same year, Cameron fell in love again, this time with fellow director Kathryn Bigelow. They didn't last long, splitting up just two years later. 
A defining year for Cameron: 1991, the year he directed Terminator 2: Judgment Day. He met his future fourth wife on the set. He and actor Linda Hamilton got together after the movie finished shooting and had a daughter in 1993. They had plenty of strife in their relationship (more on that later). The problems became unavoidable in 1997, the biggest one being another woman Cameron met while shooting a movie.
He had an affair with Suzy Amis, who played the granddaughter of the older Rose to Kate Winslet's younger Rose in Titanic. Guilt sent him back to Hamilton, who he then married. That only lasted eight months before Cameron went back to Amis in 2000. They're still together and have one son and two daughters. 
Cameron's preferred type of woman is apparent in his action movies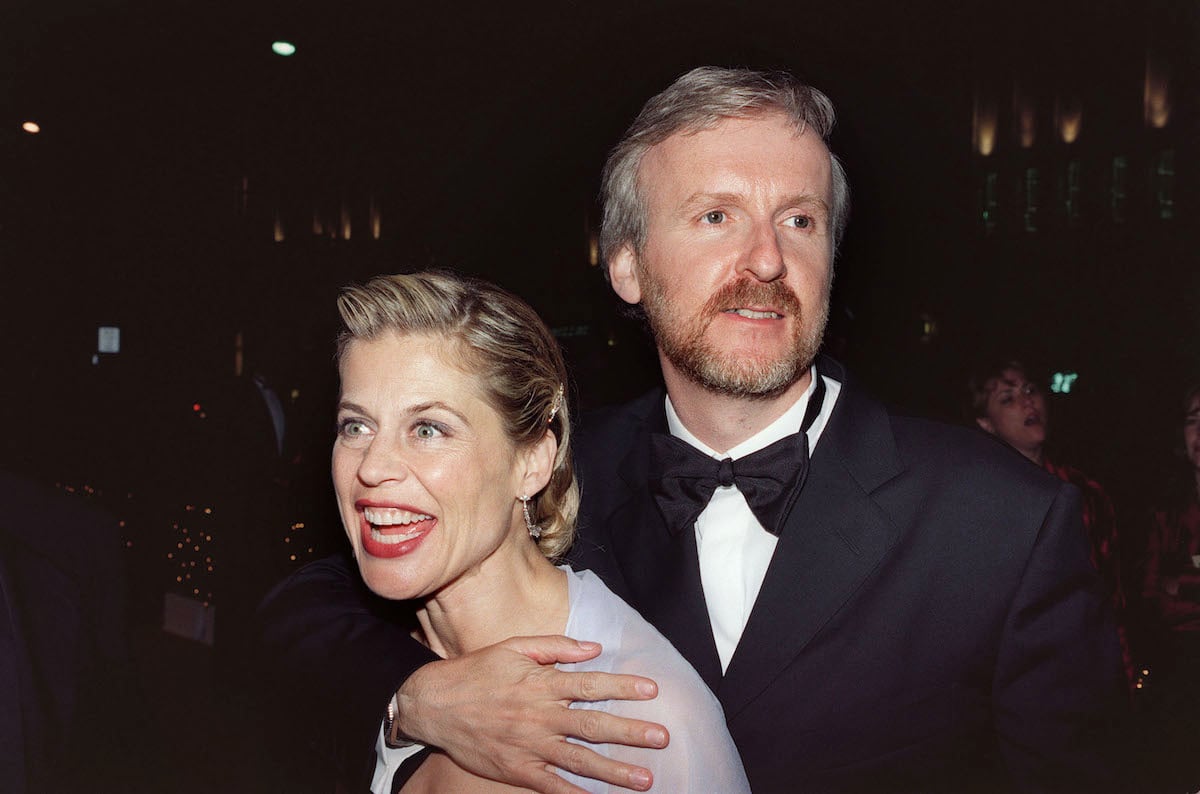 The pursuit of love is a complicated desire. Now, Cameron is in a place where he can examine how and why he's been married five times. 
He discussed the reasons for his romances in a career-spanning interview with The Guardian in 2017. "Being attracted to strong independent women has the downside that they're strong independent women — they inherently don't need you!" Cameron says. "Fortunately, I'm married now to a strong independent woman who does believe she needs me."
That archetype seems to drive Cameron professionally and romantically. "Strong, independent woman who doesn't need a man" could accurately describe Ellen Ripley in Aliens and Sarah Connor in The Terminator franchise. It makes sense that he's also interested in those types of people in real life. 
This description does leave out some important details about why those marriages failed. Cameron's well-earned reputation for his demanding style wasn't exclusive to filmmaking. Hamilton shared her side of the story with The Daily Mail. She described a life filled with paranoia and faulty power dynamics. "The very first night [I moved in with him], I realized I made a mistake," she said in 2009. "He was the controlling director. The person I'd seen on set came back to life – we're in his environment, and I didn't have much of a say-so."
For all the tumult in their relationship — Hamilton admits she also suffered from an intense bout of manic depression at the time — there were no hard feelings once it ended. Cameron is known to reunite with his ex-wives and their children at Hamilton's house in Malibu for Christmas. 
All of Cameron's ex-wives have had substantial careers since leaving him. But only one came in direct opposition to him at the biggest awards show in the industry. 
James Cameron and Kathryn Bigelow went head to head at The Oscars
Bigelow and Cameron remained on good terms after breaking up. The 1995 film Strange Days featured a screenplay written by Cameron and directed by Bigelow. When Bigelow was offered the job of directing The Hurt Locker, the first person she showed the script to was Cameron, who advised her to take the role. 
Rooting for your exes to succeed is a healthy trait. But neither of them could've imagined where their mutual admiration would take them. In 2010, Bigelow and Cameron were both nominated for Best Director and Best Picture for The Hurt Locker and Avatar. 
The tension of an awards race can impact how people view each other, but the former couple stayed on good terms throughout the process. "You know, Kathryn and I have worked together a lot, and we'll probably work together again," said Cameron. "And if she wins, I'll be cheering."
That is exactly what happened. Bigelow became the first woman to win the best director award, and The Hurt Locker won Best Picture.