'Avengers 5': Step Aside Thanos, An 'Avengers: Endgame' Hero May Be the New Villain In the MCU
'Avengers 5' could feature one of the heroes from 'Avengers: Endgame' as the new Big Bad heading into Phase 5 in the Marvel Cinematic Universe.
Marvel is reportedly making plans for Avengers 5 and the next big villain in the Marvel Cinematic Universe. The studio is gearing up for the start of Phase 4 of the MCU and a popular fan theory argues that one of the Avengers will actually take Thanos's (Josh Brolin) place as the next main antagonist. Which character will turn bad just in time for Avengers 5?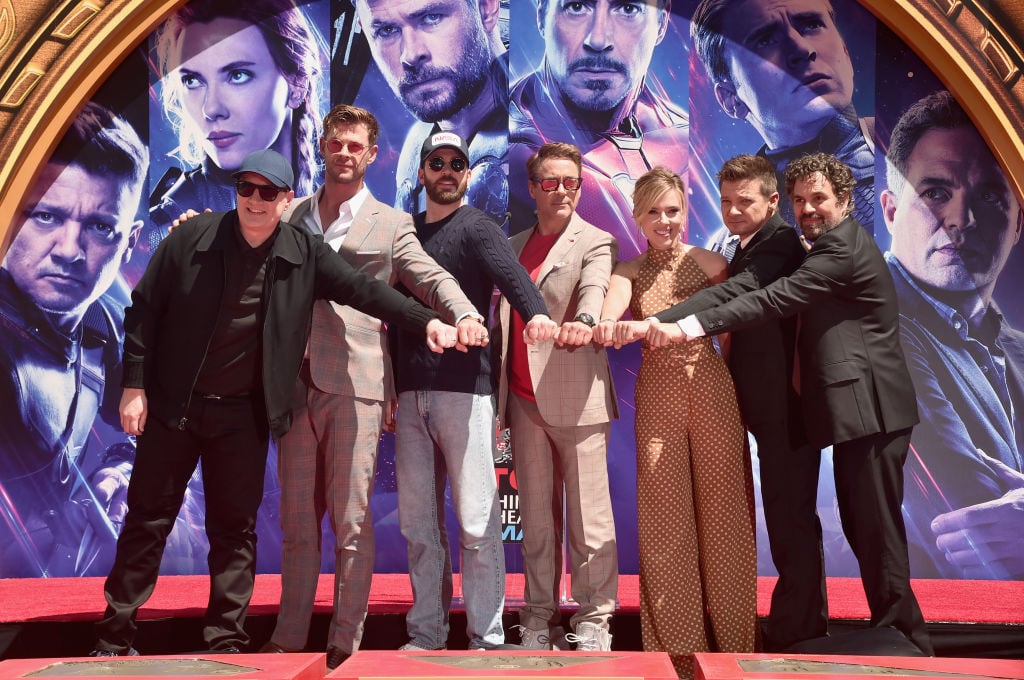 Everything we know about 'Avengers 5'
Following the events in Avengers: Endgame, Marvel will be introducing a host of new characters in the coming years. Many of these new faces will play an important part in the MCU moving forward, though the studio has yet to say who will appear in Avengers 5.
In regards to casting, we know that several characters will likely be out of the mix. This includes Iron Man (Robert Downey Jr.) and Black Widow (Scarlett Johansson), both of whom died in Endgame. Steve Rogers (Chris Evans) will also likely be out after he hung up his shield.
While Thor (Chris Hemsworth) has at least one more solo film in the works, he is expected to hand over his hammer to Jane Foster (Natalie Portman) in Thor: Love and Thunder. That leaves Captain Marvel (Brie Larson), Spider-Man (Tom Holland), Doctor Strange (Benedict Cumberbatch), Falcon (Anthony Mackie), and Black Panther (Chadwick Boseman) to lead the next major crossover.
But with Marvel introducing so many characters in Phase 4, there has been a lot of speculation about some of these new faces appearing in Avengers 5 — and we might already have confirmation about one of them.
According to Looper, a casting call has confirmed that She-Hulk will become an Avenger. Marvel released the call a few months ago and the last line read that the character will become "a future member of the Avengers." We do not know if She-Hulk will appear in Avengers 5, but her fate might be connected to the newest villain in the MCU.
What's next for Hulk?
Aside from Thor and Hawkeye (Jeremy Renner), Hulk (Mark Ruffalo) is one of the few remaining members of the first Avengers movie. With Hawkeye getting his own TV show on Disney+ and Black Widow getting a film, Ruffalo's version of the Hulk is also the only original Avenger who has yet to have a stand-alone project.
That said, Ruffalo has teased that he might reprise the role for She-Hulk, which is coming to Disney+ in a few years. We have no idea if that will actually happen or what kind of a role Ruffalo's character will play in the series, but it certainly sounds like Marvel is not done with Hulk just yet.
Unlike other fan favorites, Hulk's storyline did not come to a fitting conclusion in Avengers: Endgame. After using the Infinity Stones to bring back everyone who disappeared in the first snap, Hulk's final scene in the film was helping Cap return the stones to their rightful place in time.
Although Hulk's future remains uncertain, there is one fan theory that argues he will become the MCU's next big villain.
Is Hulk turning evil in 'Avengers 5'?
The theory about Hulk turning bad in Avengers 5 was first posted on Reddit. According to Comic Book, the theory argues that Marvel will adapt a fan-favorite storyline from the comics that features Hulk turning against Iron Man and Doctor Strange.
In the story, Iron Man and Doctor Strange are a part of a group called the Illuminati. The group banishes Hulk from Earth and he spends time regaining his strength on Sakaar before returning for revenge.
The theory argues that Hulk will become jealous after Tony's sacrifice overshadows what he did to bring everyone back. He also does not appreciate how Black Widow wasn't given a proper memorial, which only fuels his resentment towards the remaining Avengers.
Marvel has not said anything about the plot of Avengers 5. Filming for the project is likely a few years out, so plenty of things can change before development ramps up.