'Avengers: Endgame' Star Robert Downey Jr: Captain America Had to Forgive Iron Man 'For Not Forgiving Him'
Avengers: Endgame had one major reunion that fans may have glossed over as they focused on the idea of reversing all of the damage done by Thanos in Infinity War. Iron Man (Robert Downey Jr.) and Captain America (Chris Evans) had their share of ups and downs in the Marvel Cinematic Universe. After teaming up for The Avengers and Avengers: Age of Ultron, the pair experienced a major falling out in Captain America: Civil War. They eventually made amends in Avengers: Endgame and Downey recently opened up about the deeper meaning behind their reunion in the film.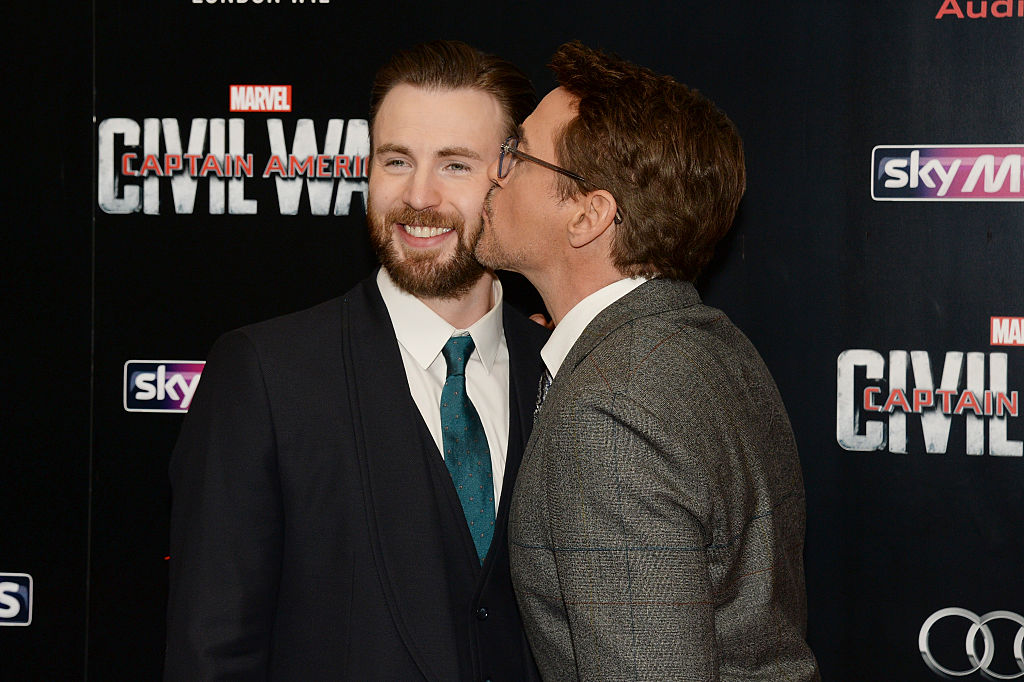 Cap and Iron Man reunite in 'Avengers: Endgame'
During the first two phases, Iron Man and Cap were the faces of the MCU. Although the characters were very different in terms of personality and abilities, their story arcs basically mirrored one another.
Whereas Cap started out as an unselfish soldier willing to sacrifice himself for the good of the others, Tony was about as selfish as it gets. But by the time the characters reached Endgame, Tony gave his life to save the universe from certain destruction while Cap got to enjoy the life he had already sacrificed.
But before the events in Endgame played out, Cap and Iron Man still found themselves at odds with each other. During the first few scenes of Avengers: Endgame, Tony was livid with Cap because he didn't think they did enough to prevent what happened with Thanos (Josh Brolin).
That all changed, of course, when the team presented Tony with a potential solution to fix everything and he subsequently figured out time travel. In a bid to make amends, Tony showed up at the Avengers compound with Cap's shield, which served as an olive branch.
Downey opens up about Tony and Cap's reunion in 'Avengers: Endgame'
Downey called in for a surprise cameo during a recent watch Avengers: Endgame watch party with directors Joe and Anthony Russo. According to We Got This Covered, the actor fielded a few questions from fans before opening up about Tony's reunion with Cap.
Downey revealed that there was more to the scene than just forgiving each other (something fans thought was a little too quick). Although making amends was important for the characters, they also had a mission to complete ahead of them.
"It was all about him forgiving me for not forgiving him, so we can start getting ready to, who knows you know, maybe throw in the towel for whatever we've got to do. It wasn't just the idea of burying the hatchet, it was burying the hatchet and taking up the cross together," he explained.
Based on Downey's comments, Cap and Tony basically put their differences aside because of the threat that was awaiting them — and the possibility of getting their friends back. They also both understood that the chances of them surviving were slim, which made it easier to forgive each other.
If they had both made it out of Avengers: Endgame alive, then there is a chance some animosity would have resurfaced. While Downey's exit seemed final, Marvel might be able to explore some of these issues in the near future.
Is Downey coming back to the MCU?
With Tony sacrificing himself in Avengers: Endgame, his time in the MCU is seemingly over. Downey is reprising his role in Scarlett Johansson's upcoming movie, Black Widow, but that project is set before the events in Endgame.
Fans, of course, have been speculating about Downey's return ever since Endgame hit theaters. Marvel has not confirmed anything, but Downey and the Russo brothers did address the rumors during the watch party.
"Because we do have a lot of fun working on these things together. Everyone has a lot of fun, you get real close to each other and then you miss it. Maybe we'll have to do it again someday," Joe shared.
The Russos have previously explained how they would only bring Tony back if it improved the storyline and made sense. They also told fans that they are open to the idea as long as it is "innovative" and "unpredictable."
The OG Avengers reunite one last time
While we wait to see if Downey returns to the MCU in the near future, the OG Avengers recently reunited for a special Nickelodeon video to promote the Kids' Choice Awards.
Johansson kicked things off before Mark Ruffalo, Chris Hemsworth, Jeremy Renner, Chris Evans, and Downey joined the party.
"Hey, guys! Oh my gosh, this is such a thrill. We are so excited. We are so happy that the Kids' Choice Awards are still happening," Johansson shared.
The next film in Marvel's lineup, Black Widow, is scheduled to open in theaters in November.
Marvel fans can stream Avengers: Endgame on Disney+.