Avril Lavigne Joins Olivia Rodrigo in Toronto for 'Complicated' Duet 
Rodrigo has covered 'Complicated' during each show of her 'SOUR' tour. Lavigne shared a fan video on April 6 of Rodrigo singing her hit song.
The original pop-punk princess Avril Lavigne joined Olivia Rodrigo on stage during a recent tour stop in Canada. Together, they sang Lavigne's 2002 hit, "Complicated." It was a bucket list moment in music for Rodrigo as she's credited Lavigne as an inspiration in the past.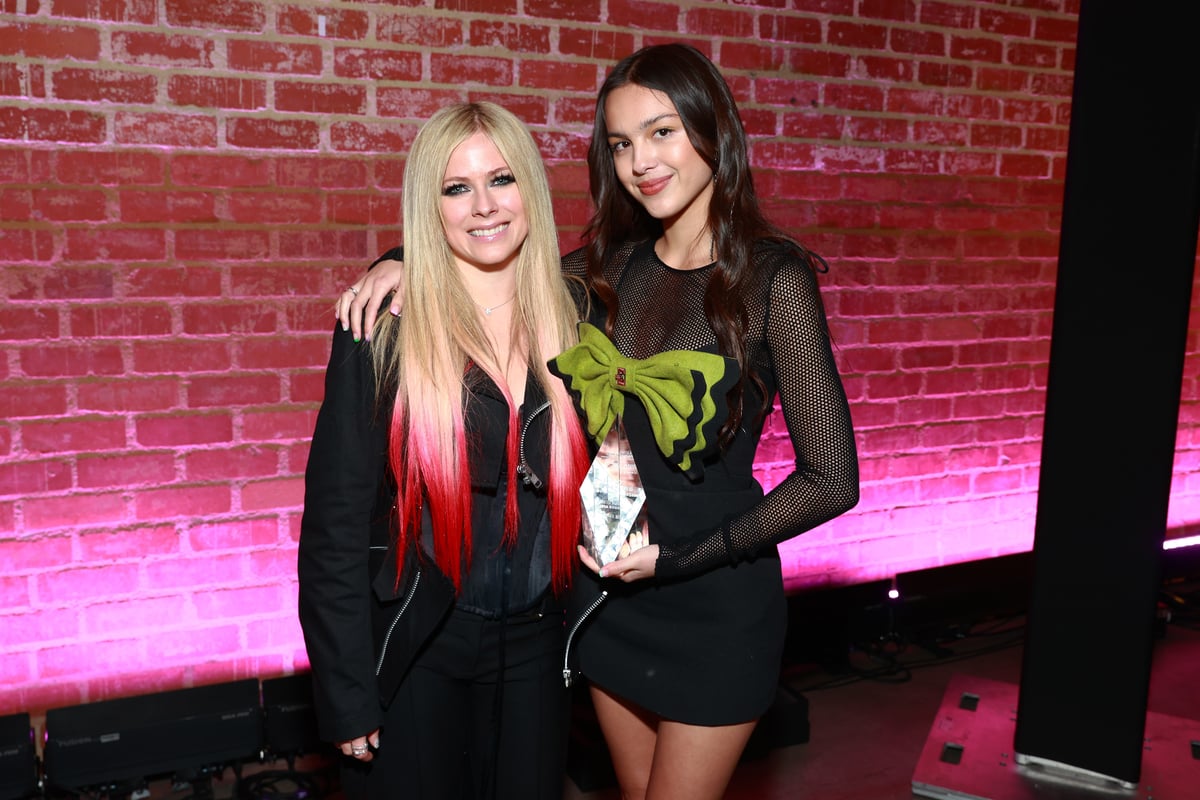 Olivia Rodrigo says of Lavigne, 'I can't sing her praises enough'
During her sold-out SOUR world tour, Olivia Rodrigo has been performing a cover of Avril Lavigne's "Complicated" every show. The 20-year-old song put Lavigne on the map during a time when Blink 182 and Backstreet Boys ruled the charts. Lavigne posted a tweet of Rodrigo performing her song with two heart emojis on April 6.
On Saturday, April 29, Rodrigo played to a sold-out crowd at Massey Hall in Toronto, Canada. Before she brought out Lavigne, she said she "broke down so many barriers, and opened so many doors for girls like me." Rodrigo continued, "I can't sing her praises enough. She's from Canada, and I'm so, so, so lucky because she came here tonight to sing with me."
Lavigne appeared on stage wearing a matching red plaid skirt to Rodrigo's blue plaid look. The two belted our "Complicated" for a crowd who sang along to every word. 
Olivia Rodrigo was not yet born when 'Complicated' was released in 2002
During an interview with ABC Audio, Lavigne said of "Complicated," "It was my first song and it was the first video. It was on the radio, it was a huge hit and, like, launched my career." Lavigne continued, "So it's, like, in a way…the most important song, too."
When "Complicated" was released, Olivia Rodrigo was not yet born. Even so, 19-year-old Rodrigo is a huge fan of Lavigne. In December, Lavigne presented Rodrigo with the Songwriter of the Year award at Variety's Hitmaker brunch. 
According to People Magazine, Rodrigo gushed, "First of all, I want to thank Avril for coming here today. I am such a massive fan of you I look up to you so much. So, this is so surreal for me. Thank you for the love and support."
Like Avril Lavigne, Olivia Rodrigo prides herself on being a songwriter
Although there's an age gap, the two pop-punk princesses have a lot in common. Both were accomplished songwriters at a young age. Lavigne wrote "Complicated" when she was 16 years old. Rodrigo wrote her breakout hit "Drivers License" at 17. 
When accepting her Songwriter of the Year award, Rodrigo said, "I've been writing songs since I was like five years old, and my favorite part about all of this is that feeling of writing a song that perfectly captures how you feel … so to accept an award for songwriting is really meaningful to me."
Rodrigo's SOUR tour continues through July 7. Lavigne released a new album, Love Sux, in February. She's currently touring to support the album with her next date in Quebec, Canada, this Friday, May 6.