Ayesha Curry Really Wants Steph Curry to Get Rid of This 1 Possession
By now, many know Ayesha and Steph Curry's love story, which reads somewhat like a fairy tale. They met as teens during a church trip in North Carolina, connected a few years later in California, and then married in their early twenties.
The couple wed in 2011 and share three children together. The Currys tend to be favorites in terms of celebrity families as they support one another's individual careers and stay on the positive side of things. But there's one thing Ayesha Curry would love for her NBA husband to get rid of for good.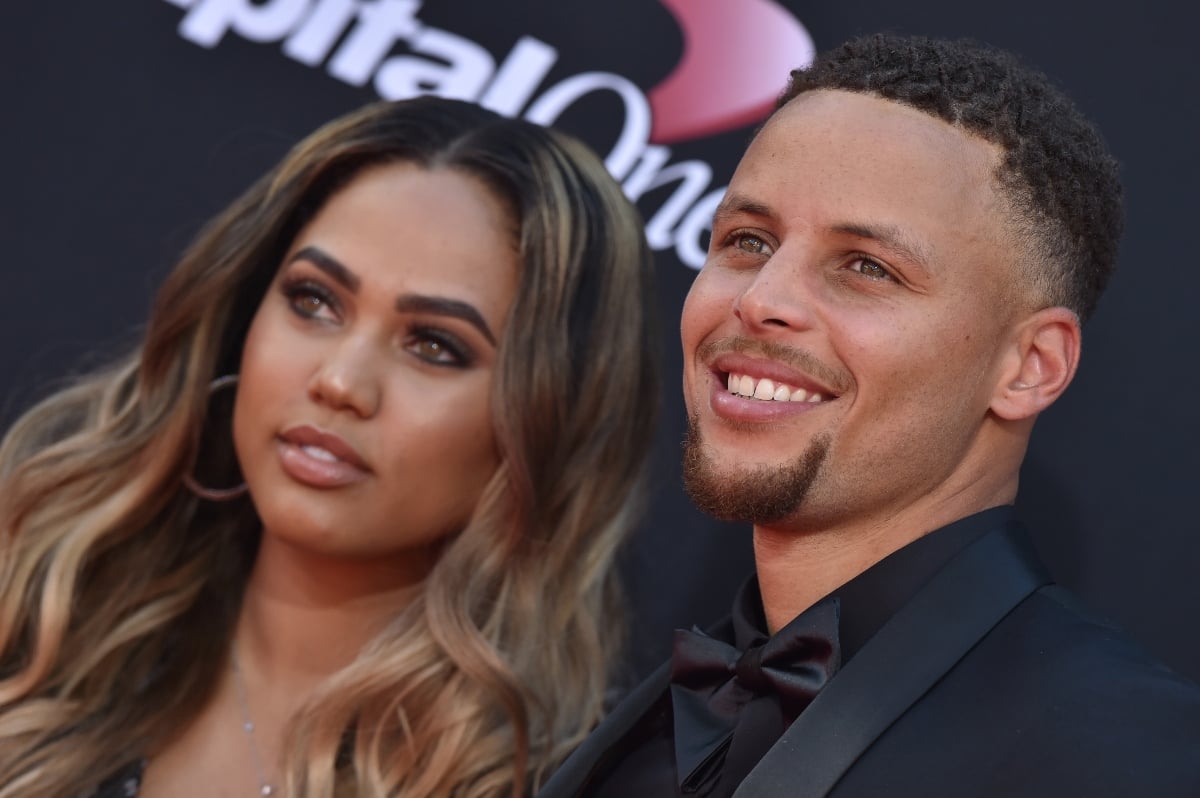 Ayesha Curry visited 'The Ellen Show'
While Steph Curry is occupied with his team's standing in the Western Conference, wife Ayesha is promoting her new projects. The author stopped by Ellen DeGeneres' talk show to discuss her magazine and new shop in Oakland. Both are named Sweet July, an homage to her children's birthdays and the couple's wedding month.
Fans learned the youngest Curry — Canon — is turning three this year, and he just figured out his father is a basketball player and not a professional golfer. Curry joked that lockdown had him confused. After she dished on family news and current ventures, she dared to play an entertaining game of "Drawer Dash."
RELATED: Ayesha and Steph Curry Take Their 'No Phones at Dinner' Rule Seriously — Most of the Time
Ayesha hates Steph Curry's fancy walking cane
When DeGeneres kicked off the game, she had Curry retrieve an item that she never wanted to see again — within 10 seconds. For round one, she chose something that belonged to her: old breast implants. After sharing a laugh and saying goodbye to them, they moved to the next round, and Curry had to select something that belongs to her husband.
She came running back into the frame holding a duck-headed cane. It threw DeGeneres and viewers for a loop. That meant the audience empathized with Curry wanting to get rid of it. DeGeneres swiftly asked why Steph would need that.
"He said he wanted to stand out, because he hurt himself in the prior game and didn't have an outfit to wear on the bench and they were in Memphis," said Curry. "So, Memphis is known for these ducks at the Peabody Hotel and he thought it'd be a good idea to come in with a cane. But…"
DeGeneres offered to take the cane off Curry's hands even though Steph loves it. It's a deal.
After wrapping up the game, Curry gifted audience members with cookware sets from her home collection.
Fans will see more of the couple playing games on TV
Back in March, HBO Max revealed plans to resurrect the old game show Tattletales with Ayesha and Stephen Curry as hosts. According to Deadline, the show will feature three other celebrity couples who join the Currys for a date night filled with trivia, games, and cool challenges.
Each episode will bring new couples and new challenges, and the prize is a donation to a charity of choice. Fans can submit questions too. There is no release date yet, but the Currys are excited about their roles as executive producers and hosts.
"Our families are huge fans of the original so to be able to host and produce this show together is such a joy. We're both so busy with life that each episode will be an opportunity to hang out with some iconic power couples, have fun and let loose a bit. We can't wait!" said Ayesha. The original series ran from 1974-1984.