Azealia Banks Has Dave Chappelle on a List of People She Loves After Calling Him Out
Azealia Banks has been a magnet for controversy since breaking into the music world with her 2011 hit "212." Her brashness and strong personality keep her embroiled in backlash and at war with a number of other industry figures — from Cardi B and Iggy Azalea to Russell Crowe and Rihanna. But now, she seems to be turning over a new leaf in her life.
The newly-engaged rapper shared on social media that her fiancé, Ryder Ripps, has been encouraging her to be a little more positive. Taking his advice, she created a list of people she has "love" for that included an eye-popping name: Dave Chappelle.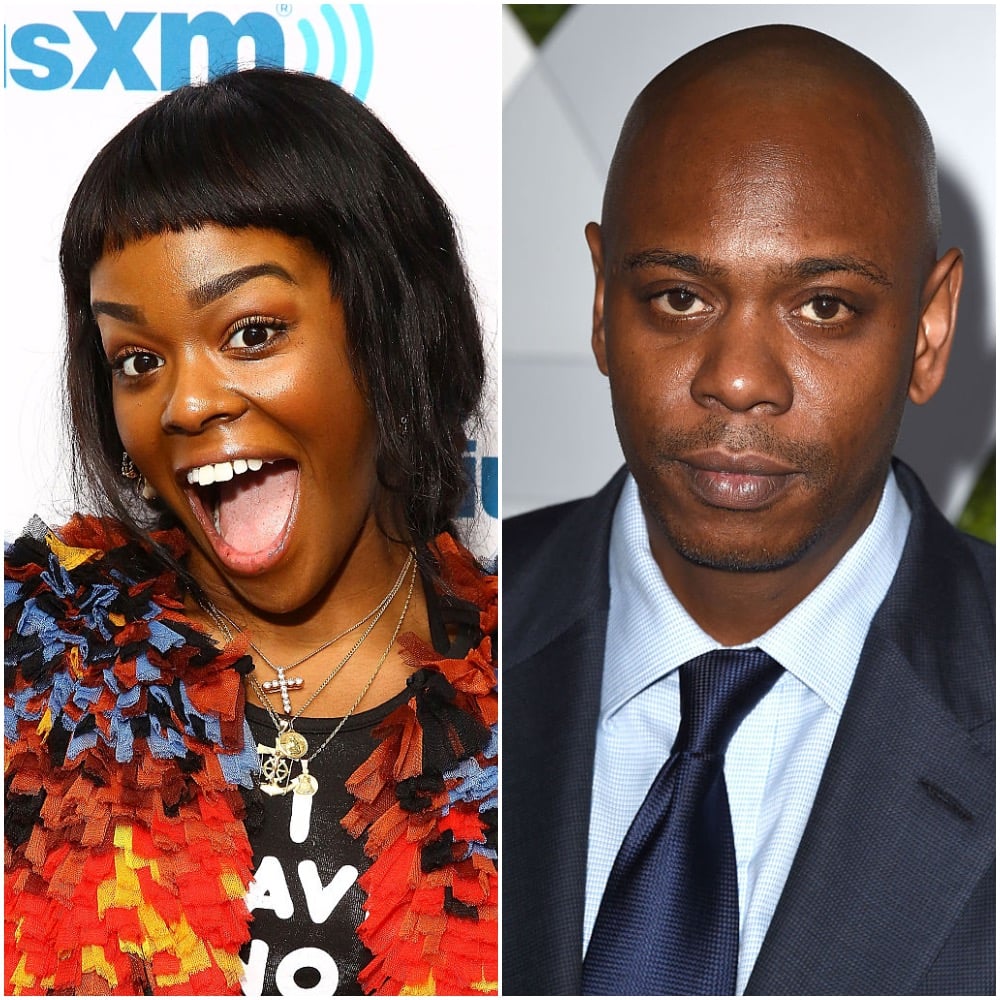 Azealia Banks has had drama with Dave Chappelle
What makes this so surprising is the past drama between them. To recap, Banks called out Chappelle in May 2020 during a rant about men who don't take up for her when she's "getting attacked in the media."
"It's a lot of tea that I be want to spill on y'all Black [N-words], especially when y'all be seeing me getting attacked in the media and sh*t, and y'all don't come to my rescue and sh*t like that," she said on Instagram Live.
Then she named and claimed an affair with Chappelle, who has been married to his wife, Elaine Chappelle, since the early 2000s.
"Like Dave Chappelle, I should ruin your f*cking marriage. I should ruin your f*cking marriage," she continued. "I should tell the f*cking world that we f*cked. We f*cked. … I should tell the whole world we f*cked 'cause y'all [N-words] don't look out for me, so what the f*ck I'm keeping secrets for."
Her claims were met with backlash
Like a lot of things she says, Banks's comments about Chappelle quickly went viral. Over on Twitter, many users were critical of her, calling her out for her delivery and for exposing their personal business.
Chappelle didn't immediately respond to Banks (which wasn't necessarily a surprise considering he's never really been active online). He would eventually address the situation in the stand-up special 8:46, which came out in June 2020.
Chappelle had been discussing conservative pundit Candace Owens's comments about the death of George Floyd — a 46-year-old Black man who died in police custody a month earlier — when he moved on to Banks's claims.
"I seen Candace Owens try to convince white America, 'Don't worry about it. He's a criminal anyway,'" he said of her comments on Floyd. "I don't give a f*ck what this [N-word] did. I don't care what this [N-word] did. I don't care if he personally kicked Candace Owens in her stanky p***y… I don't know if it stanks, but I imagine it does. If I ever find out, I'll let you know for sure. I'll tell like Azealia Banks. I'll tell."
While he didn't confirm or deny anything, his comments suggested that what Banks said was true.
Months later, Banks says she still has 'love' for Chappelle
Taking to Instagram on March 2, Banks posted a photo of a note along with the caption, "@ryder_ripps says I need to practice not being such a hater so I made a list of people I love." In addition to Chappelle, there were other names on the list such as Lil' Kim, North West, and former President Donald Trump.
Sso far, Chappelle has not reacted to the list. But perhaps he'll address it in another stand-up.