'The Bachelor': Colton Underwood Says He Would Return to Reality TV With Cassie Randolph — But Not for the Franchise
Colton Underwood's contract on The Bachelor has officially expired, and the 28-year-old delivered all the tea in his new book, The First Time: Finding Myself and Looking for Love on Reality TV. On the popular ABC franchise, Underwood broke tradition and won over his final pick, Cassie Randolph, without an engagement. Now, Underwood and Randolph are still happily together. But upon the release of The First Time, the NFL player revealed he struggled with The Bachelor producers a lot more than you might think.
Nevertheless, it seems Underwood and Randolph would still return to reality TV. And when making the media rounds for his book, the former lead even revealed they'd be open to televising their wedding. However, it wouldn't be for The Bachelor franchise.
Colton Underwood and Cassie Randolph are open to doing reality TV again
When speaking with Us Weekly, Underwood was asked whether he would come back to reality TV. And the former bachelor was definitely up for the opportunity if it ever presented itself. He also answered for Randolph as a unit.
"We've both actually talked about [returning to reality TV] and we're very hopeful something might happen," Underwood said. "We're definitely on board with it. We understand the risks involved. But I think we both like and enjoy being on camera. I don't see anything wrong in saying that."
He continued: "We both valued our time and had so much fun doing it. And we figured why not? We like opening up and sharing when we can when it feels like it's appropriate. So we wouldn't mind it."
But what would the couple show the world? In an interview with Variety, Underwood hinted he considers televising his wedding with Randolph an option — whenever that may be. He said:
That's obviously way in the future. We still have the engagement to get to before the wedding. But we both love and enjoy being on camera, and we also love sharing our story with people and love feeling connected to all the people who've supported and loved us from the beginning, so we would never speak definitively and say yes or no, but it is an option.
Colton Underwood says goodbye to 'The Bachelor' franchise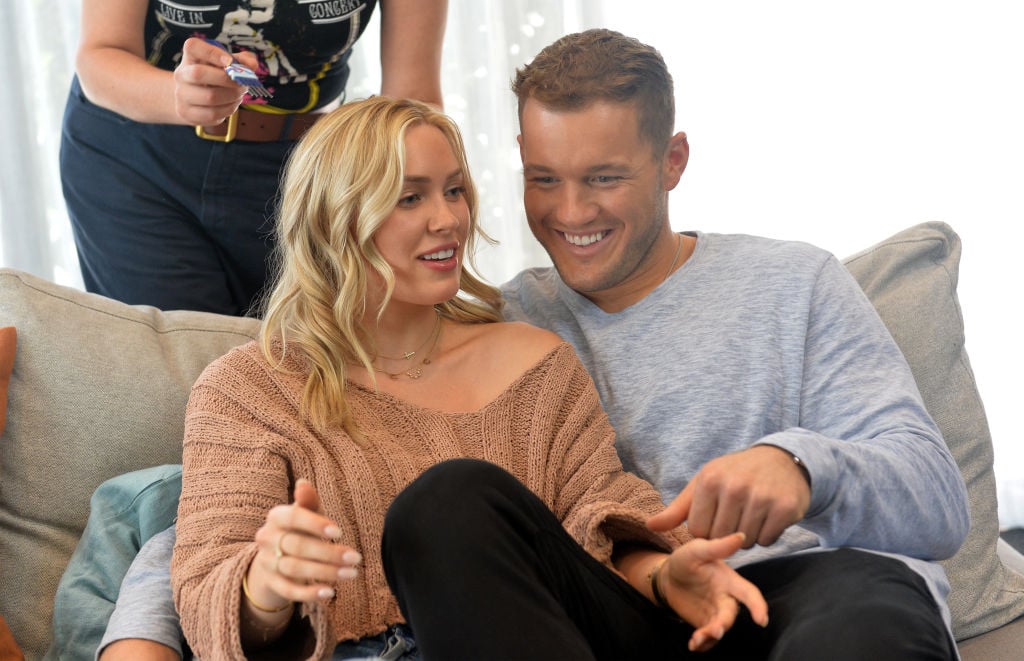 Despite wanting to return to reality TV, Underwood noted he doesn't wish to revisit The Bachelor franchise. Still speaking with Variety, the 28-year-old shared he wrote The First Time to close his final chapter with the dating show. He said:
For me, I feel like as therapeutic and as good as this book was, it was also a way for me to sort of close the chapter on The Bachelor franchise. I have nothing but love and support for those people and I feel like I'm walking away at a good point right now. I'll always support the bachelors and bachelorettes. But as far as being on screen with the franchise, I feel like my time is done."
Now this may not come as much of a surprise. According to Underwood's interview with the Los Angeles Times, The Bachelor team manipulated him in a number of ways, including his relationship with Randolph.
"There were lines crossed in my relationship with Cassie that I found out about after the show," Underwood said. "There were things that they said and did that compromised my relationship with her. Now, it makes so much sense that she decided to leave."
He also wished the show gave him a "fair shot" to end up with the woman he was in love with since that was, well, their job.
"I understand we did [come together] at the end, but I had to take it into my own hands and be extreme with it," Underwood said. "They value their TV show more so than the love story that they always promote. Actually, there were some things you did that drove us apart and if I didn't stand up for myself, I probably wouldn't be with Cassie today."
But even so, Underwood doesn't seem to have hard feelings with the franchise now. He did end up with Randolph in the end and continues to support everyone involved. But quite frankly, the book seems like the perfect goodbye to a rocky journey.
Read more: 'The Bachelor': Colton Underwood Reveals He and Cassie Randolph Broke Up Last Year