'The Bachelor': Are Colton Underwood and Cassie Randolph Still Together? Their Instagram Feeds Tell You Everything
It's been over a year since Colton Underwood jumped a fence for Cassie Randolph on The Bachelor Season 23. And not going to lie, we're feeling a little nostalgic. In the episodes leading up to his finale, Underwood made a bold declaration for Randolph's heart after she self-eliminated. But then the bachelor's actions pulled off. At the After the Final Rose segment, the couple revealed they were dating — with no plans to get engaged or married just yet. So are Underwood and Randolph still together after The Bachelor? One look at the pair's social media accounts will tell you everything you need to know.
Update: Colton Underwood and Cassie Randolph broke up in May 2020
On May 29, Underwood announced his breakup with Randolph on Instagram after dating for two years. Underwood wrote:
Its been a crazy few months to say the least, Cass and I have been doing a lot of self-reflecting. Sometimes people are just meant to be friends – and that's okay. We both have grown immensely and been through so much together – so this isn't the end of our story, it's the start of a whole new chapter for us.
Meanwhile, Randolph shared a separate statement on her own Instagram account. She wrote:
First off, I want to say this is one of the hardest things I have had to share as neither one of us is quite ready to talk about it yet. However, because our relationship is such a public one, our silence on the matter has been speaking for us. Colton and I have broken up, but have decided to remain a part of each others lives.

With all that we have gone through, we have a special bond that will always be there. I love Colton very much and have an enormous amount of respect for him. We have both learned and grown so much these past couple years, and will always have each others back. Always.
'The Bachelor's Colton Underwood and Cassie Randolph are still together and dating in 2020
Bachelor Nation fans, rejoice — Underwood and Randolph are still together and they're just as smitten as ever. Throughout the past year, both parties have been vocal about their affection for one another on social media.
In a recent post on Instagram, Randolph posted a candid photo with Underwood, sharing a sweet story from their Bachelor days.
"Once during a rose ceremony, I made @coltonunderwood take his shoes off so we could escape the madness around us and just put our feet in the ocean," Randolph wrote on March 2. "I still make him do it almost every time and its always ended up being a good idea."
On Feb. 24, Underwood also reminisced over his time with Randolph on The Bachelor. "For some reason I'm extra grateful tonight that a girl like you ended up on a tv show with me and we fell in love," he wrote on Instagram.
Then Randolph commented: "This is so sweet. I'm so grateful for our strange circumstances and how they led us to each other."
But even with their Bachelor journey behind them, Underwood and Randolph seem to be enjoying their time together in the present. On Feb. 27, Underwood posted a selfie. And in the caption, he wrote, "Somehow you still laugh at my bad jokes."
Are Colton Underwood and Cassie Randolph engaged or married now?
Given their strong social media presence, Bachelor Nation fans are constantly asking when Underwood and Randolph will get engaged or married. After filming The Bachelor, it seemed like the couple had a plan for progressing their relationship.
First, Underwood moved from Denver to Los Angeles. Then Randolph moved closer to Underwood from Huntington Beach. Meanwhile, in an interview with People from March 2019, Underwood revealed the couple will get engaged or married before moving in together.
"Our goal is to buy a house in Huntington Beach in the next year, but we probably won't move in together until we're engaged or married," Underwood said. "As much as I want her to live with me, it's a big step and something we both take very seriously."
So now that it's been a year since The Bachelor Season 23 ended, can we expect an engagement soon? In December 2019, a fan asked Underwood when he planned on proposing to Randolph.
"After I buy a ring," Underwood answered, according to People. "I never actually got a ring. But when the time is right, I'll buy a nice ring with no strings on it."
But even so, as Underwood noted when the ABC reality series wrapped, the couple will go at their own pace.
"We don't want to rush something that's going to last forever," Underwood told Us Weekly in May 2019. "We want to build such a strong foundation for ourselves to use to sort of launch us for the rest of our lives."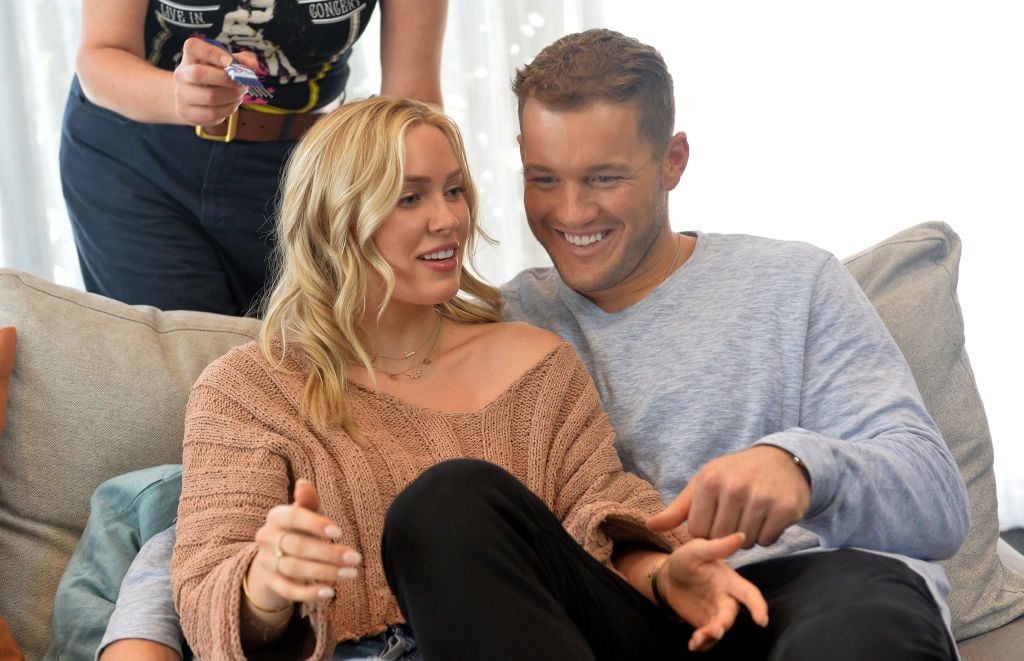 Randolph then added they have discussed their future engagement. But ultimately, the couple wished to enjoy a "normal" relationship without worrying about a timeline.
Regardless of when Underwood and Randolph decide to get engaged or married, the Bachelor Nation fandom is happy to see the couple thriving together in 2020. Now let's just hope Peter Weber's season of The Bachelor will result in another lasting relationship when the finale airs on March 9 and 10 — or at the very least, something equivalent of Underwood's famous fence jump.
Read more: 'The Bachelor': Peter Weber Debunked 3 Theories About How the Finale Ends and Honestly, We're Disappointed