Who Went Home on 'The Bachelor' Episode 8? Peter Weber's Hometown Dates Leads to an Unexpected Elimination
The Bachelor Season 24 took a turn when Peter Weber reached hometown dates in week 8. With Madison Prewett, Victoria Fuller, Hannah Ann Sluss, and Kelsey Weier still in the running, the Feb. 17 episode highlighted three easy-going hometowns within the first hour. Then the second half reached an all-time high in regards to drama. So who went home on The Bachelor Episode 8? Weber eliminated one woman fans were not expecting.
[Spoiler alert: The Bachelor Season 24 Episode 8.]
Hannah Ann Sluss and Peter Weber keep it simple in 'The Bachelor' Week 8
The Bachelor Week 8 begins with some serious much-needed fun between Hannah Ann and Weber in Knoxville, Tennessee. They go ax throwing to show off Weber's manly side. Later, Weber shows Hannah Ann a handwritten note with things he loves about his Bachelor contestant.
Finally, when Weber meets Hannah Ann's family, things start to get serious. Hannah Ann is smitten with her beau. However, her dad is not impressed. In a one-on-one chat, Weber tells the Sluss patriarch he is falling in love with Hannah Ann. However, Hannah Ann's dad has his doubts, warning Weber not to tell that to his daughter if he doesn't mean it.
Then Weber — being the rebel he is — tells Hannah Ann he's falling in love. The model responds by saying she is "in love" with Weber.
Kelsey Weier introduces Peter Weber to Crab Rangoon in Iowa
The next stop is Des Moines, Iowa. Kelsey and Weber stomp grapes at a winery and later, they make their own wine together. Not much happens and they seem to get along just fine. Then in a confessional, Kelsey admits she fell in love with Weber in Peru and expresses regret she didn't say anything at the time.
At the evening portion, Weber meets Kelsey's family. Everyone seems supportive, and Kelsey introduces Weber — who is from Los Angeles — to Iowa's finest delicacy, Crab Rangoon, at dinner. But jokes aside, Kelsey's mom also issues a warning. She doesn't want her daughter's heart to be broken, especially since she appears all-in.
Once again, this doesn't throw Weber off. Before he leaves the midwest, Weber tells Kelsey he is falling for her.
Peter Weber says he is in love with Madison Prewett in 'The Bachelor' Episode 8
During her hometown date in The Bachelor Episode 8, Madison gives Weber a tour of Auburn University, her alma mater and where her father coaches basketball. Eventually, the couple lands at the school's arena and they shoot some hoops. They also receive a video message from Charles Barkley telling Weber not to break Madison's heart.
When meeting Madison's parents, Weber seems like he fits right in. But then Madison's mom pulls her away. She asks her daughter if she has told her bachelor boyfriend — the guy who slept with The Bachelorette's Hannah Brown four times in a windmill — that she is a virgin and is waiting for marriage. Madison hasn't.
Meanwhile, Madison's dad is grilling Weber with questions. He wants to make sure his daughter is with someone genuine and understands how important her faith is. Later, Madison's dad tells her he isn't ready to say Weber is husband material. However, he won't close the door, either.
Then before Weber heads out, he admits he is in love with Madison. Nevertheless, Madison isn't as enthusiastic, as reality is starting to sink in. Madison says she was hoping she could tell Weber she loves him. But she's still trying to figure out if their "souls are compatible." So there will be some confrontation in the future.
Peter Weber's ex-girlfriend exposes Victoria Fuller's past in Virginia Beach
Finally, The Bachelor Episode 8 reaches Victoria F.'s hometown date in Virginia Beach. The date kicks off and everything is lighthearted. They take some old-timey photos and attend a Hunter Hayes performance.
But once Hayes wrapped up singing "I Want Crazy," Weber runs into his ex-girlfriend, Merissa Pence. She warns Weber about Victoria F. and reveals a bombshell. Apparently, Victoria F. is responsible for breaking up "lots of relationships."
Naturally, Weber is shocked. He asks Victoria F. to explain the situation since he doesn't want to meet her family with the negative headspace. Victoria F. says she hasn't broken up any relationships. But she is also furious at Weber for bringing it up.
When Weber confronts Victoria F. about her reaction, she runs away from cameras. Then when she returns, she tries to pin the argument on Weber, accusing him of taking Merissa's side. Weber ensures her that was not his intention and he fights for his Bachelor contestant. Even so, Weber leaves and Victoria F. cries with her family.
The next morning, Weber is in shambles. He says he feels "so conflicted." But then Victoria F. shows up at his hotel room and apologizes. Weber admits he's afraid Victoria F. doesn't even want him to love her and she refutes the claim.
"I've never tried like this," she says. But is this enough to keep Victoria F. from leaving? If you've been watching Weber's season of The Bachelor, you should know the answer.
Who goes home on Peter Weber's season of 'The Bachelor' Episode 8?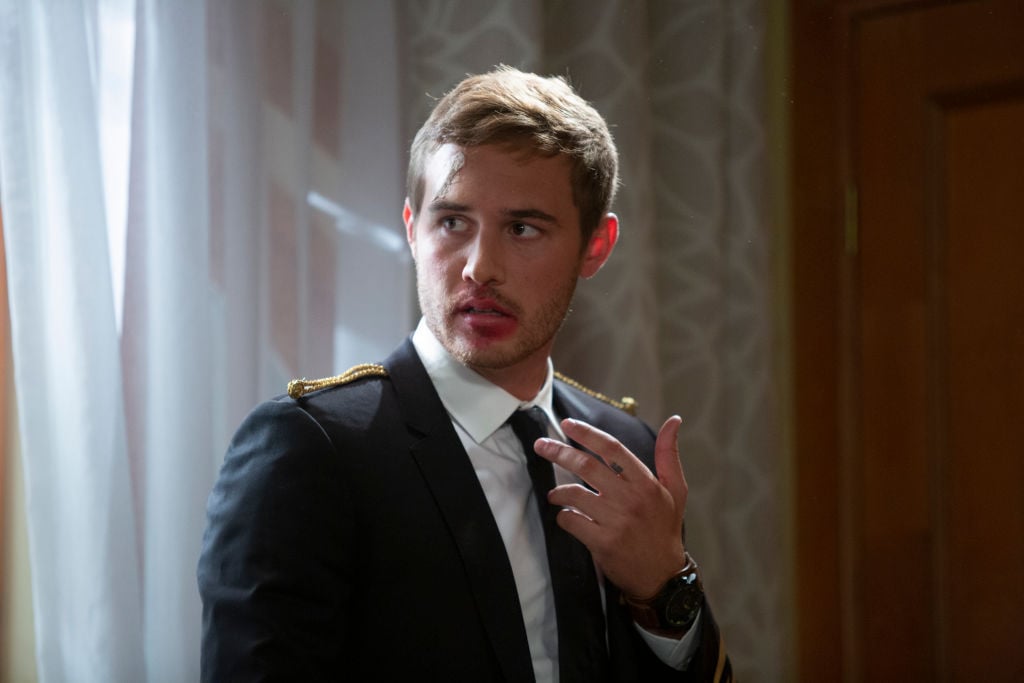 The Bachelor Episode 8 ends with a proper rose ceremony. The final four gather in an airplane hanger. Madison, Hannah Ann, Kelsey, and Victoria F. each spell out their fears and hopes moving forward. But it seems Victoria F. is the only one who should be worried. So who went home tonight, Feb. 17? Here's who was eliminated and who is left for overnight dates next week:
Hannah Ann, 23-year-old model from Tennessee: In the running
Kelsey, 28-year-old professional clothier from Iowa: Eliminated
Madison, 23-year-old foster parent recruiter from Alabama: In the running
Victoria F., 25-year-old medical sales representative from Virginia: In the running
Following the rose ceremony, Kelsey told Weber she was "shocked and confused." And quite frankly, the rest of Bachelor Nation is just as blindsided.
Read more: 'The Bachelor': Peter Weber Debunked 3 Theories About How the Finale Ends and Honestly, We're Disappointed