'Bachelor' Fans Are Seriously Annoyed With Hannah Brown for Trying to Give Her Relationship With Peter Weber a Second Chance
Peter Weber's season of The Bachelor just started and it's already stressing us out. Not only because Weber's already revealed that he has potential feelings for a handful of the contestants, but mainly because he's now considering getting back together with Hannah Brown. Brown and Weber surprised everyone with their tearful confessions Peter the Pilot's …
Peter Weber's season of The Bachelor just started and it's already stressing us out.
Not only because Weber's already revealed that he has potential feelings for a handful of the contestants, but mainly because he's now considering getting back together with Hannah Brown.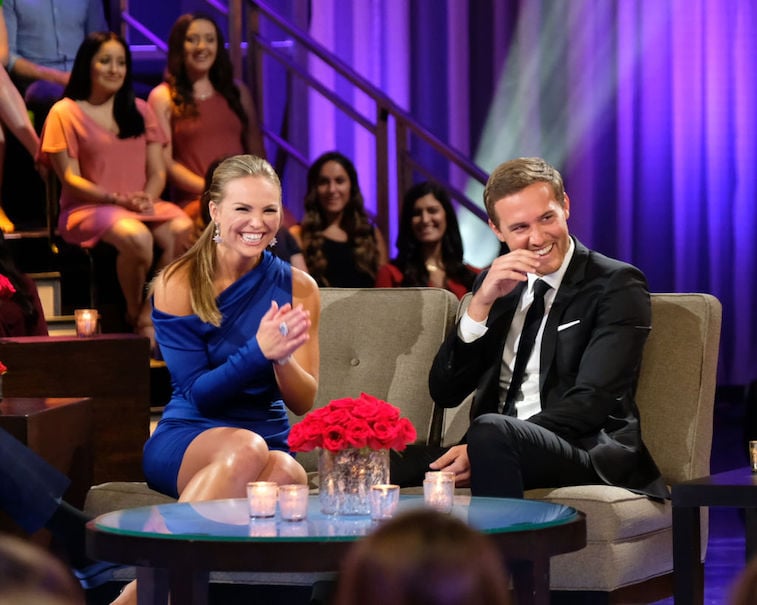 Brown and Weber surprised everyone with their tearful confessions
Peter the Pilot's Bachelor season is only one episode in and the drama is already super intense.
While the premiere started off like any other—with Weber meeting 30 women competing for his love— things quickly took a turn once a surprise guest showed up at at the mansion.
The women and Bachelor Nation were completely SHOOK when Weber's ex, Hannah Brown, stepped out of the limo.
Though we were all convinced the Dancing with the Stars champion was back to vie for Weber's love, she soon revealed that she only showed up to give her ex his pilot wings back.
Later on in the episode, Brown appears once again, but this time, she returns as the host for one of Weber's group dates.
While things go swimmingly in the beginning of the date, the mood quickly shifts once Brown is spotted crying to a producer, telling them she "doesn't know" how she's feeling about seeing her ex again.
Brown soon finds herself having a heart to heart with Weber in her dressing room where both reveal they still have feelings for one another.
Their heartfelt moment ends with Weber inviting his ex to join the other women to see if she was actually meant to be his co-pilot all along.
Fans are heated that Brown wants to pick up where she left off with Weber
Though many people can tell that there's still a "spark" between Weber and Brown, some were actually annoyed by this shocking confession.
While both claim they still have feelings for each other, fans are pretty heated with the former bachelorette for trying to rekindle the flame with someone she's already had a chance with.
Following the former flames' tearful confession, fans took to Twitter to slam Brown for waiting until Weber became to Bachelor to try and shoot her shot.
"Me still trying to figure out why hannah b cant just find a man in the real world. girl u threw away the good men, live with ur consequences and go home" one fan tweeted.
"POOR PETER HANNAH STOP PLAYIN WITH MY BOYS HEART AGAIN," another fan wrote.
Others think that Brown shouldn't even get a second chance with Weber since she didn't see a future with him during her season.
"My one bachelor tweet of the night: get Hannah B tf off my tv screen, her time has come n gone," someone else expressed.
"So Hannah B picks Jed… doesn't work out… asks out Tyler C on live TV… he would rather date Gigi Hadid… So now she's gonna go after Peter??? Is anyone else slightly annoyed? Like you can't have your first pick so just go double dip all of them?" a Twitter user questioned.
While we will have to wait and see if Weber and Brown actually try their hand at love again, it's clear that fans really don't want to see this happen.