'The Bachelor' Fans are Dragging Tammy for Her Caption to Madison's TikTok Video of Peter Weber's Exes
It's no surprise that Madison Prewett coordinated the TikTok video throwing shade at Peter Weber and Kelly Flanagan's relationship. However, what fans are surprised about is Tammy Ly's choice of the caption when she shared the video.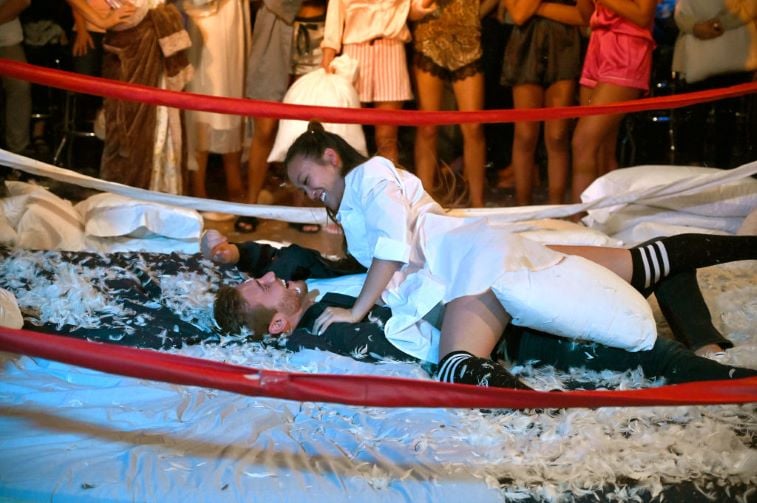 What did Peter Weber's ex-girlfriend, Madison Prewett, post on TikTok?
Madi coordinated the submission of the Bachelor girls getting ready — the quarantine edition. Each woman included a video of herself before makeup, outfit, and hairstyling. Then they wave their makeup brush over the camera and reveal their new style — with their hair, makeup, and a new outfit. Lastly, they toss the brush to the next girl. 
The song is playing is the real indication of how they all feel about their former Bachelor, Pilot Pete — "I can take your man if I want to," by Mahogany Lox. 
"I can take your man if I want to (want to), but lucky for you, I don't want to (want to)," are the lyrics of the song that played over and over again throughout the video.
The women in the video, in addition to Madi, include Tammy, Mykenna Dorn, Kelsey Weier, Deandra Kanu, Kiarra Norman. Many fans feel that the video is implying that they could steal Weber from Flanagan if they wanted to, but he's not worth it.
Fans are dragging Tammy for her caption to the video in her Instagram story
"Featuring: women who are too good for Peter lol," Tammy's caption read when she shared the video on her Instagram story.
Fans were upset for a few different reasons.
"Yikes," wrote one fan on Reddit. "So, is she saying the women, not in it aren't too good for Peter? Like what a strange choice of caption."
Some fans didn't like how she implied that anyone not in the video wasn't "too good for" Weber. Others were upset because of the way she acted during the season.
"From the girl with the ugliest behavior of his season," wrote another fan.
Still, others feel like she did not last long enough to write something like that on the video.
"YIKES!" added another Redditor. "She got sent home way too early to say that."
Fans love that Madi created the TikTok video since Weber broke up with her only two days after they agreed to rekindle their relationship on the season finale. He is currently quarantining with Kelley, who he sent home before the final three.
Other 'Bachelor' fans were impressed with Kelsey's pre-makeup video
"Kelsey is GORGEOUS without makeup," wrote one viewer.
Many fans agreed that they believe Kelsey is beautiful without makeup on.
"I had the exact same thought," added another fan. "Kelsey is one of those people who might actually look even more beautiful without makeup. I'm so jealous."
As the conversation turned to Kelsey, fans were hoping to see her on an upcoming season of Bachelor In Paradise since she did not get picked for The Bachelorette. Clare Crawley was chosen, but her season is currently postponed due to the coronavirus (COVID-19) pandemic.
Read more: 'The Bachelor': Kelley Flanagan Opens Up About How Producers' Locked Me Up in a Closet' to Keep Her Away From Peter Weber