'Bachelor' Fans Are Sending Tyler Cameron Money to Buy Hannah Brown an Engagement Ring
When Hannah Brown and Tyler Cameron decided to quarantine together Bachelor Nation sounded the alarm. It was finally happening! Cameron and Brown were finally getting together, creating one the most dynamic, attractive power couples Bachelor Nation has ever seen!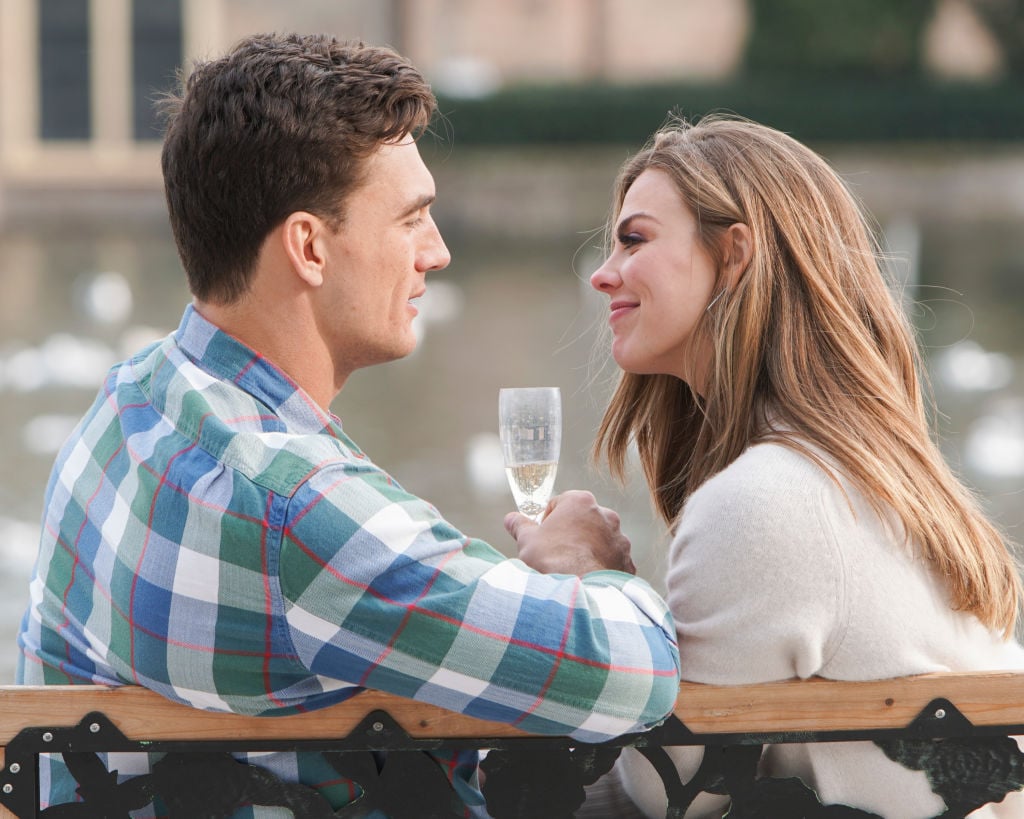 For some fans, Cameron and Brown reuniting was the highlight of their isolation.
"hannah brown and tyler cameron hanging out during the corona quarantine is giving me hope that there's still good in the world," tweeted one fan on March 18.
"We don't deserve Hannah brown and Tyler Cameron and the quarantine crew and I'm obsessed with it idk i wish they would just kiss already," tweeted another fan on March 26.
Hannah Brown leaves Tyler Cameron to go home
Brown and Cameron teased Bachelor fans with their sometimes flirty Tik Toks with the "Quarantine Crew" up until recently when Brown returned to her family in Alabama. It was a blow for Bachelor Nation.
"now that hannah brown has left her florida quarantine with tyler cameron I have absolutely nothing to look forward to every day. what an absolutely horrible revelation that that content was the best thing I had going on SOS," one fan reacted on Twitter.
"I am embarrassingly upset that Hannah Brown supposedly left Florida, and we won't be getting content with her & Tyler Cameron with the Quarantine Crew anymore. This better be an April fools joke I swear," wrote another.
After they parted ways, Cameron told fans that he and Brown are just friends and Brown confirmed that she is indeed single. But that doesn't mean Cameron, Brown shippers are giving up hope just yet.
'Bachelorette' fans are Venmo-ing Tyler Cameron money to buy Hannah Brown an engagement ring
Instead of tweeting at or commenting on their Instagram pages that Brown and Cameron should get together, some fans are trying a new tactic. Bachelorette fans have been sending Cameron money via Venmo for "Hannah's engagement ring."
"A little something to add to the ring fund get her something sparkly," wrote one fan on Cameron's public venmo.
"You know what it's for," wrote another along with a big engagement ring emoji.
"my generous contribution to hannah browns engagement ring, i hope it's not too much get her something nice," wrote another.
"Hannah's engagement ring. Get her something special king," commented another.
"I know engagement rings can be expensive. Get hannah something nice," wrote another venmo user.
"I know engagement rings are expensive so I thought I'd help you out for miss Hannah Brown," wrote another fan.
"For the engagement ring (4 Hannah)," wrote another.
Considering Cameron just told fans that he and Brown are just friends, it's a safe bet that he probably won't be using that money to go ring shopping. But maybe fans are hoping the overwhelming support of a Brown, Cameron relationship will convince the model to take his relationship with the former bachelorette to the next level.
Read more: ABC Is Recasting Clare Crawley's Season of 'The Bachelorette'