'The Bachelor': Peter Weber Says the Finale 'Really Messed' With Him
The Bachelor Season 24 is far from over, but fans are already dying to know what happens in the grand finale of Peter Weber's turbulent adventure. Will the 28-year-old pilot find love or will Weber end up single once again? Fans will have to endure the ride for a little while longer. But recently, Weber opened up about The Bachelor finale, and it doesn't look like he comes out the other end completely unscathed.
'The Bachelor' finale previews tease the ending of Peter Weber's season
At the start of Weber's Bachelor season, ABC aired a trailer that potentially teased the finale's ending. And for the most part, Weber is about to receive the most dramatic conclusion ever.
In one preview, Chris Harrison speaks to Weber in what presumably seems like the finale episode.
"Before you do what you're about to do, there's something you should know," Harrison says. "I don't know how all this ends. So I just wanted to give you a heads-up." Weber proceeds to freak out.
There's a single rose in one shot as Weber walks by, which further hints the scene takes place towards the show's end. Then the trailer flashes to Weber's mom as she pleads to her son. "Don't let her go, don't let her go," she sobs. "Bring her home to us."
Later, Weber is wearing the same suit he wore in the shot with Harrison. He sighs and is holding an engagement ring.
"When I love someone, I don't care how hard it looks," Weber says in a voiceover. "I will never surrender because I do believe that love conquers all."
Peter Weber reveals 'The Bachelor' finale really messed with him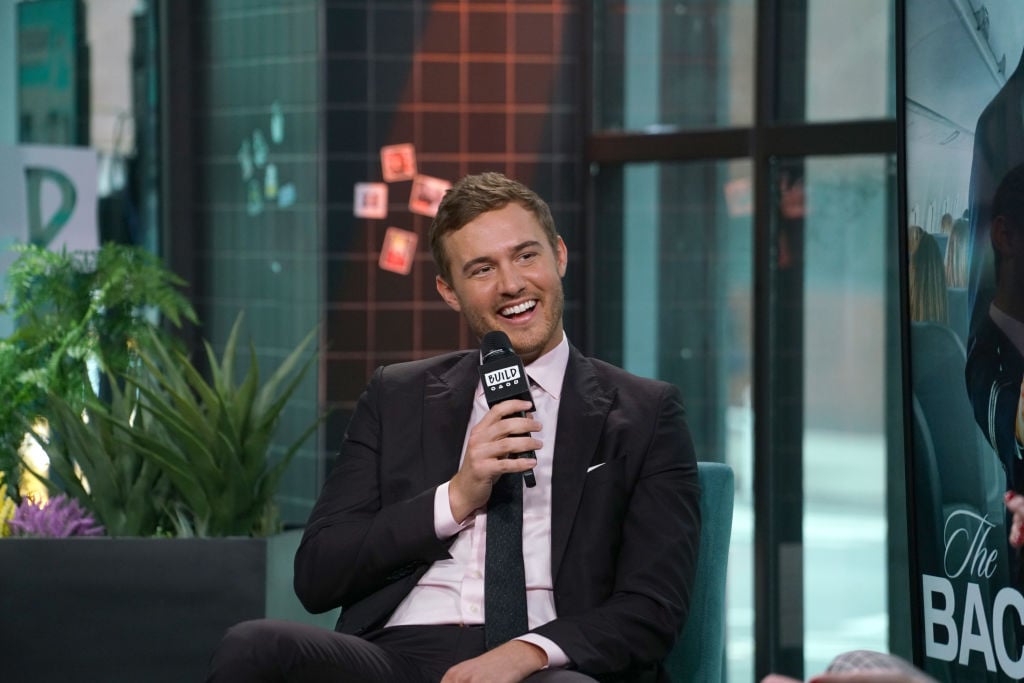 Whether Weber's season ends with a proposal or if he leaves the finale alone, the bachelor revealed the last week of filming was one of the "hardest" he has ever had to endure.
"There's nothing about that moment being overproduced at all, and I keep telling people that last week was the hardest week of my life, and it didn't stop until the very end," Weber told Glamour in January 2020. "That's not like an 'Oh, let's tease this and have it be an Eh? That's all?' No. It's not overproduced at all. I promise you."
Then when speaking with Cosmopolitan, Weber echoed his remarks about The Bachelor finale being the "absolute hardest week."
"There were a ton of amazing things that happened, a ton of crazy things that happened, and it just put me just through the wringer," Weber said. "I've never had another week like that in my life. I literally felt every type of emotion at its most extreme."
The bachelor also explained what really happened in the promo trailer. And Weber confirmed the moment truly caused him to panic.
"What you guys see there is a moment that just really messed with me and I didn't know how I was gonna react or take it," Weber said. "I guess that's part of the reason why the ending will never get out. But yeah. Crazy moment for sure."
Peter Weber says 'The Bachelor' ending will not be spoiled
At the start of Weber's Bachelor season, the Delta pilot promised fans an ending without spoilers.
"I'm very confident that no one is going to be able to spoil it," Weber told The Hollywood Reporter.
He then shared that there was a solid reason why. And from the sounds of Weber's interview with Cosmopolitan, that reason will tie to The Bachelor finale.
"There's a reason I believe that, and obviously can't say it otherwise it gives it away. I'm very confident that Reality Steve and all of these people, they're not going to find out what happens," Weber said. "There's no way they're going to find out."
But no matter what happens, Weber seems happy with how his reign as the bachelor ended.
"I'm very happy with how I did," Weber said on Live with Kelly and Ryan. "Through every mistake I made, I followed my heart until the very last second of this entire experience."
"I'm in a good place," he added.
Read more: 'The Bachelor': Peter Weber Loves Kelley Flanagan for Calling Him Out on Their One-On-One Date