'The Bachelor': Hannah Ann's Instagram Response to Hannah Godwin Has Fans Theorizing Peter Weber's Winner
On Feb. 17, The Bachelor fans watched as Peter Weber flew to Knoxville, Tennessee for Hannah Ann Sluss's hometown date, but it looks like the 23-year-old model is about to receive a change of address within the next few weeks. On Instagram, Hannah Ann responded to a comment written by Bachelor in Paradise star, Hannah Godwin, and revealed her big move out West. Now, many viewers are speculating Hannah Ann is Weber's Bachelor winner and inadvertently spoiled the season finale on the social media platform.
Bachelor Nation's Hannah Ann responds to Hannah Godwin's Instagram comment
For those of you who didn't know, Hannah Ann and Godwin are friends. And according to host Chris Harrison, Hannah Ann was cast in Weber's season because of the Bachelor in Paradise alum.
"Hannah Ann from Knoxville, Tennessee [is a] model that actually came to us from Hannah G.," Harrison said when introducing the women in December. "She had this bright, beautiful girl from Tennessee — Hannah Ann — and gave us another Hannah."
Throughout The Bachelor Season 24, Hannah Ann and Godwin have shown support for one another on social media. So when Godwin commented on Hannah Ann's Instagram post on Feb. 19, no one thought anything of it.
"HOTTIE OMG," Godwin wrote. "Come see me!!!!!!"
However, Hannah Ann's response drew everyone's attention.
"@hannahg11 2 more weeks left until I will be living near you!!" Hannah Ann wrote.
'The Bachelor' fans wonder where Hannah Godwin and Peter Weber live
Naturally, Hannah Ann's remark made Bachelor Nation fans question Godwin and Weber's whereabouts.
"where does Hannah live? Where does peter live? Is this a spoiler? Did she just leak it? wut?" a fan commented on Hannah Ann's Instagram post.
After Bachelor in Paradise wrapped filming, Godwin and her fiancé, Dylan Barbour, revealed she moved from Birmingham, Alabama to Los Angeles, California.
"Hannah moved to L.A.; I'm living in San Diego right now," Barbour told Glamour in September 2019. Godwin also added she moved to L.A. for work.
Meanwhile, Weber lives with his parents in Westlake Village, California, which is a city in LA County. That said, the bachelor has plans to move out of his parents' home once he gets engaged.
Weber also explained he only plans to live with his parents for "a couple more months" when stopping by Jimmy Kimmel Live in January. But Pilot Pete didn't specify where he plans to live once he's out of his parents' house.
'The Bachelor' fans theorize Hannah Ann moves because she wins Peter Weber's season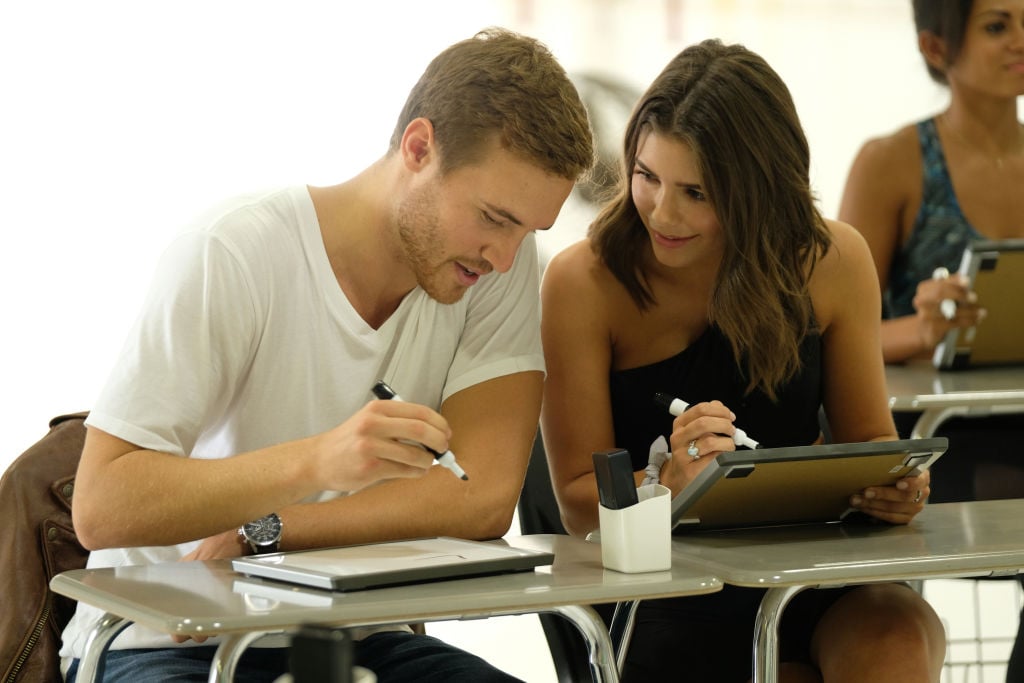 Whether or not Weber decides to leave the area after The Bachelor, many fans were quick to theorize Hannah Ann wins the season because of her response to Godwin.
"@hannahann_sluss Isn't that where Peter lives??!!! @pilot_pete Is this a hint drop??!!!" one fan wrote on Instagram.
"@hannahann_sluss you moving in with peter in California," another fan speculated.
Though other fans weren't quite as convinced. "Spoiler? Or just moving to LA for more opportunities???" a fan wrote.
Then Bachelor Nation spoiler extraordinaire, Reality Steve, weighed in on Hannah Ann's Instagram comment during his Feb. 20 podcast. The blogger noted many fans think the model's remark "means she has to win" Weber's season. However, he seemed skeptical of the theory.
"Just because she said she's moving to LA in two weeks does not mean she won," Reality Steve said. "Maybe she did. But it's not because of that. I tend to read into stuff like this sometimes. Do you honestly think that if Hannah Ann won this season … if she was with Peter, she would say that publicly on an Instagram post? Wouldn't that kind of give that whole thing away?"
He continued: "She could be playing with everybody or she could have done it without realizing what she said. I don't know. But I can confirm she is moving to L.A. once this show ends. I'm pretty sure it's to start her Instagram influencing career. I don't think it has anything to do with Peter. We'll see."
At this point, anything is possible. The Bachelor fans are still patiently waiting to see how Weber's "unspoiled" finale ends. So everyone will just have to hold on a little longer. But even so, it's clear Hannah Ann is making moves — and not just in terms of location.
On Feb. 12, Hannah Ann unveiled a 24-second teaser revealing the model is starting a YouTube channel "soon." And quite frankly, starting a project like that seems easier to tackle in L.A. than in Knoxville. So stay tuned.
Read more: 'The Bachelor': Peter Weber Debunked 3 Theories About How the Finale Ends and Honestly, We're Disappointed