'The Bachelor': Hannah Ann Sluss Says Hannah Brown and Peter Weber Had Contact After Things Wrapped and Fans Are So Confused
[Spoiler alert: The Bachelor Season 24, Episode 12.] The Bachelor Season 24 finale took so many turns on Tuesday, March 10. And honestly, we're overwhelmed. Peter Weber finally made his decision about Hannah Ann Sluss and Madison Prewett, but during After the Final Rose, word came out that the bachelor's business with The Bachelorette's Hannah Brown may not have ended when she left in the premiere. So what happened between Brown and Weber after the pilot got engaged to Sluss? Fans are still in shock.
Hannah Ann Sluss brings up Hannah Brown and Peter Weber on 'The Bachelor' finale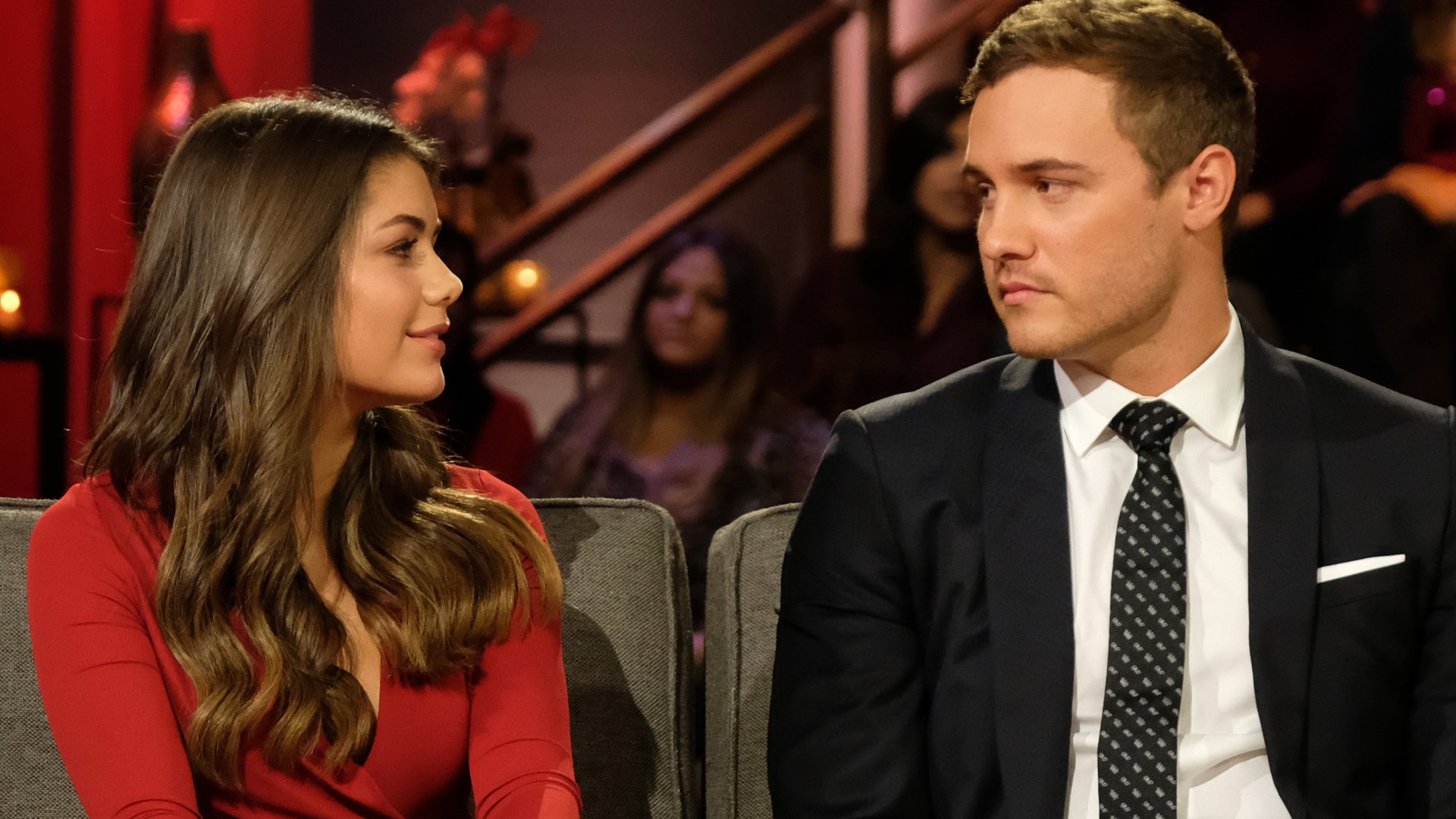 In The Bachelor finale on March 10, Weber got engaged to Sluss. However, merely a month later, he changed his mind after realizing his feelings for Prewett. Sluss and Weber broke up.
Then on the live studio taping of After the Final Rose, Sluss confronted Weber about the proposal and their relationship. She stated Weber knew exactly what to say to get her to say yes. But he wasn't honest about his true feelings for Prewett.
To add fuel to the flame, Sluss also shared Weber spoke with her family after they broke up with The Bachelor camera crew. "You told me things that kept me with you," she said. "Even after our breakup, you reached out to my parents saying you were processing your emotions. You wished more than anything we had met outside reality TV. How does that make sense?"
After some explanations from Weber, who apologized and admitted he was grieving his relationship with Prewett, host Chris Harrison gave Sluss the final word. But what came next was more shocking than the engagement and breakup combo. Sluss revealed Weber contacted Brown for "closure." Sluss said:
Peter, we've been through a lot together. I should have really picked up on the first red flag that you gave to me. It was when you wanted to reach out to Hannah Brown to find closure with her. So really, looking back at it, our engagement involved three women. Me. You still being in love with Madison and proposing to me. And you needing closure with Hannah Brown. That's three women involved in our engagement I was completely blindsided to. So word of advice, if you want to be with a woman, you need to become a real man.
'The Bachelor' fans react to Hannah Brown and Peter Weber
Following Sluss' remarks about Weber and Brown on The Bachelor finale, the fandom was floored. The 28-year-old didn't respond to the comments. So he wasn't able to confirm, deny, or expand on the claims. Regardless, everyone on social media felt bamboozled with the new piece of information.
"So Peter reached out to Hannah Brown while engaged to Hannah Ann and still in love with Madison????" a fan wrote on Twitter.
"Peter needed closure from Hannah Brown????" another fan tweeted. "After proposing to Hannah Ann???? What is happening."
Meanwhile, other fans applauded Sluss for spilling the tea.
"Hannah Ann dropped a bomb," Ria Ciuffo from Chicks in the Office wrote on Twitter. "Peter needed closure with Hannah Brown too! 'If You want to be with a woman, you need to become a real man' – Hannah Ann just destroying Peter with her words. Powerful."
"Hannah was powerful tonight," Bachelor in Paradise alum, Nicole Lopez-Alvar wrote. "Facing an ex who betrayed your trust takes courage."
Then a few hours after The Bachelor finale aired on ABC, Brown herself went on Twitter and seemingly showed her support for Sluss.
"Hannah is a great name and roll tide. #TheBachelorFinale," Brown wrote.
For now, we don't know exactly what went down between Sluss, Weber, and Brown outside of what was said on the finale. But with how Weber ended things on The Bachelor, we just hope some good will emerge from the mess and a beautiful friendship between Brown and Sluss blossoms.
Read more: 'The Bachelor': Did Peter Weber Pick Madison Prewett or Hannah Ann Sluss? The Final Choice Has Everyone in Shock