'The Bachelor': Hannah Ann Sluss and Peter Weber's Breakup Timeline Fills in Every Red Flag
The breakup timeline of Hannah Ann Sluss and Peter Weber on and after 'The Bachelor' Season 24 finale, including what happened with Hannah Brown.
[Spoiler alert: The Bachelor Season 24.] The Bachelor Season 24 finale was the most dramatic ending we've seen — but it certainly wasn't for the right reasons. In the March 10 episode, Peter Weber got engaged and broke up with Hannah Ann Sluss. The 28-year-old then showed up at the After the Final Rose live taping head-over-heels in love with Madison Prewett. So what happened to the supposed love story we were promised when the season started? Recently, Hannah Ann shared her breakup timeline with Weber, including how The Bachelorette's Hannah Brown fit into the puzzle. And quite frankly, the whole debacle has us stunned.
Hannah Ann Sluss and Peter Weber get engaged while filming 'The Bachelor' finale on Nov. 17, 2019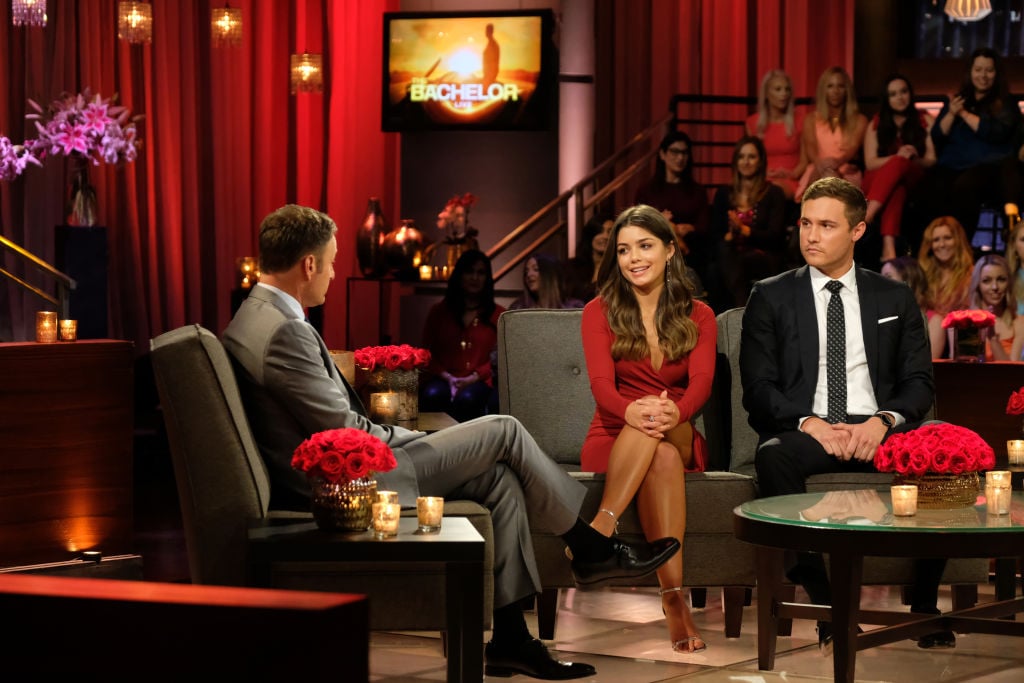 As you may know, Weber's final rose ceremony on The Bachelor was filmed on Nov. 17, 2019. Pilot Pete proposed to Hannah Ann and she accepted. However, the model was unaware of Weber's feelings toward Madison.
Two days prior to the couple's engagement, Madison left The Bachelor. The next day, Weber had his final date with Hannah Ann and noted his heart was still being torn in two. He did not say anything about Madison's self-elimination. Then when Weber proposed to Hannah Ann, he briefly explained what happened.
"So Madison, she actually left two days ago," Weber said. But was that all the bachelor said about Madison's exit? According to Hannah Ann, yes. 
When speaking with Becca Kufrin and Rachel Lindsay on the Bachelor Happy Hour podcast, Hannah Ann broke down the timeline of her breakup with Weber. And the 23-year-old shared Pilot Pete did not delve deeper into his split with Madison.
"It was completely downplayed, didn't give me the courtesy or respect to have a sit-down conversation," Hannah Ann said. "[He] just told me that very quickly and downplayed it. And then immediately went to, 'But my heart chooses you. You're the love of my life.'"
Nevertheless, Hannah Ann still said yes to the engagement. "My instincts were telling me I wasn't getting all the information I needed to make a decision with Peter," she explained. "And should I have stayed in that bed in Australia? Absolutely. But I wasn't going to give up on someone that I loved."
Hannah Ann continued: "The last words he told me on our 'last-chance' date was he was going to make a decision that was best for both of us and to trust him. When you're with someone, you trust their word. And that's why I showed up. I was going to trust his words and follow through."
Hannah Ann Sluss and Peter Weber spend time together before heading back to the U.S.
During The Bachelor finale, Weber met up with his family when he returned from Australia. Peter Sr. revealed it had been about a week since they last met. So what was Weber doing all this time? In the Bachelor Happy Hour podcast, Kufrin revealed the winning couple gets to spend a few days together before heading back home. But even at this time, Weber did not explain the Madison situation.
Hannah Ann said whenever Madison was brought up, Weber would not delve deeper. He insisted the Auburn alum was in the past. And ultimately, Weber gave Hannah Ann hope. 
"He always made sure to reassure me I was his person, that I was the love os his life, and that he would always choose me," she said. However, as the season started in early January 2020, "things weren't quite adding up."
Peter Weber tells Hannah Ann Sluss he wants to contact Hannah Brown in January 2020
When The Bachelor Season 24 premiered on Jan. 6, 2020, Hannah Ann and Weber were still together. But sometime in early January, Hannah Ann experienced her first "red flag." 
"Beginning of January was when he approached me he needed to speak with Hannah Brown. That was the first red flag," she said. "He was trying to convince me that I should feel comfortable with that."
Hannah also revealed she wasn't aware of what happened between Weber and the former bachelorette during the group date in the premiere. "I was not on that group date with Hannah Brown," she said. "I had not seen that episode of them all cozy up on the couch, crying, her possibly coming back in the house."
In the end, Weber wanting to reach out to Brown showed Hannah Ann the bachelor wasn't ready for "any kind of commitment, let alone an engagement." She added, "I was questioning my own self because he was trying to convince me that was something he needed. I didn't feel settled with that."
Peter Weber and Hannah Ann Sluss break up a week later
Still speaking with the Bachelor Happy Hour podcast, Hannah Ann revealed the split with Weber happened a week after he approached her about contacting Brown. However, as Hannah Ann mentioned during After the Final Rose, she was blindsided.
Weber mentioned having "unresolved issues" when re-watching the first few episodes of The Bachelor as it aired on ABC. However, the on-camera breakup was a surprise.
"When I showed up to the breakup, that was the first time I heard him say, 'I can't give you my whole heart,'" Hannah Ann said. And it seems the model even asked the bachelor to give her a heads up beforehand if he planned to end their relationship.
"I told him before I even went out there, I said, 'Hey, if you're wanting to end things, can you give me a little bit of a heads up? I'll be fine, trust me. I'll cry, but just give me a heads up,'" she said. "We actually had talked that morning that we weren't going to break up, that we were going to work through it."
Hannah Ann also added Weber spoke with her parents after the breakup, explaining he didn't know how to "process his emotions."
Where is Hannah Ann Sluss now?
Now it seems Hannah Ann is over Weber after watching The Bachelor unfold live on-air.
"I don't exactly what happened. Nothing really surprises me by Peter," she told Kufrin and Lindsay. "Watching back the season has been really helpful for me. It's helped me work through any unresolved feelifngs I had towards him. I'm able to see how he is consistently indecisive and confused. And who wants to be with that?"
Hannah Ann then noted Weber's actions didn't make her feel "secure" in their relationship. "It's really helped me move forward because I know I deserve more than someone just half-loving me," she said. "I deserve someone who's going to give me 100 percent."
She continued: "I felt like me being so clear and not playing mind games with him that he would give me that in return. But really, he was just reckless with my heart."
Read more: 'The Bachelor': Hannah Ann's Instagram Posts Are Like Her Breakup Speech to Peter Weber, Part Two