'The Bachelor': Hannah Ann's Dad Won't 'Give His Blessing'
After meeting Hannah Ann's family during hometown week, Peter Weber finds out that her father is less than willing to give his blessing.
During the hometown week of The Bachelor, Peter Weber met each of the families of his final four. Hoping for some more insight as to which of these women he could realistically marry, Weber met up with Hannah Ann Sluss in her hometown of Knoxville. After an ax-throwing date together, Weber shared a letter of his own, mimicking the list of "Things I Love About You" that Sluss had previously given to him.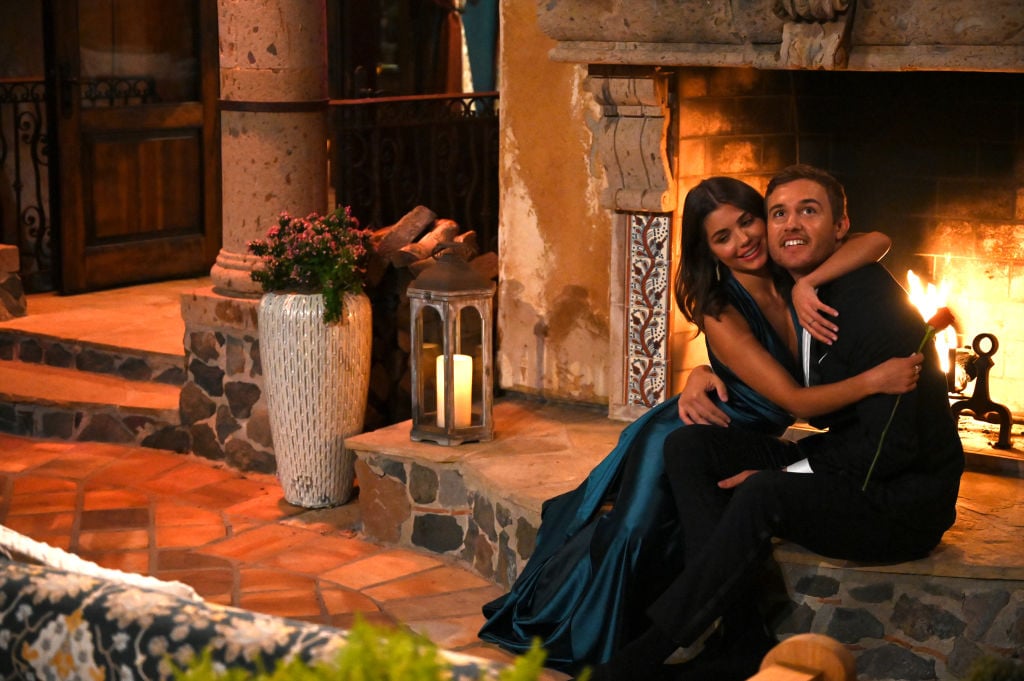 When the couple arrived at the Sluss home, Weber was welcomed with open arms. Still, as hometown visits tend to go on The Bachelor, Weber would soon learn more about what Sluss's father is looking for when it comes to a match for his daughter and why he's not too happy about Sluss's current dating situation. 
Who is Hannah Ann's family? 
Hannah Ann has two younger siblings, including a sister, Haley, and a brother, Wade. Weber met Sluss's younger sister during hometown week, as well as Sluss's mother, Jennifer, and father, Rick. Both parents were able to speak with Weber personally about their daughter.
Why won't Hannah Ann's dad give Peter his blessing?
Sluss's mother pointed out to Weber that her husband wasn't "…going to just give [Hannah Ann] away to anybody." Later, in a conversation with Sluss's dad, Weber explained that he felt like he was falling in love with his daughter.  
To protect his daughter from getting hurt, Mr. Sluss asked that Weber "…not say [that he felt like he was falling in love] to her." There are still three other women fighting for Weber's heart, which is what was preventing Sluss's dad from giving his complete blessing. 
Does Hannah Ann's dad dislike Peter Weber?
Sluss mentions that her father has spoken highly of Weber in the past. During her introductory video package, Sluss points out that when her dad references Weber, it's as if he already knows him. Sluss's father's lack of approval and the blessing of her relationship with Weber seems to stem from not wanting to see her get hurt. 
How did the rest of the hometown dates go? 
After his visit to Tennessee, Weber still had three other families to meet. In terms of the hometown dates this season, Sluss had one of the more positive experiences. Madison Prewett's visit to Auburn forced her to come to terms with the "decisions she has made for herself" regarding intimacy, Kelsey Weier expressed that she was in love with Weber in West Des Moines, and Victoria Fuller had a nightmare of a time in Virginia Beach after Weber's ex-girlfriend exposed her negative past.
Despite paying a visit to Virginia to meet Fuller's family, Weber never actually got the chance to do so. Instead, the two argued outside of her parent's home, leaving Fuller crying in the middle of the street and Weber driving off to sit pensively in his hotel room. 
With the series finale of The Bachelor drawing closer, Weber has a big decision to make. Bachelor Nation is wondering who Peter is going to choose to be with for the rest of his life. Will Sluss's dad come to terms with the fact that his daughter is in love with the bachelor? Only time will tell.