'The Bachelor': Is Hannah Brown Over Peter Weber? The Former Bachelorette Gives Her Take After the Premiere
Fans fell apart when Hannah Brown and Peter Weber reunited on The Bachelor — and for good reason. What was supposed to be a moment of closure turned into an emotional conversation seeped in unresolved feelings. But ultimately, the former flames decided to go their separate ways, with Brown competing in Dancing With the Stars and Weber returning to The Bachelor. So how does Brown feel about Weber now that filming has wrapped? The former bachelorette's recent remarks will seriously make you rethink a popular fan theory about the finale.
Hannah Brown and Peter Weber say goodbye on 'The Bachelor'
In the first two episodes of The Bachelor Season 24, Brown reunited with Weber twice. The first time was short and sweet. Brown arrived on limo night and returned Weber's pilot wings pin.
Later, Brown popped up at a group date, retelling the infamous windmill story to Weber's contestants. But after she instructed everyone to prepare to share a sexual experience in front of a live audience, Brown was found backstage crying.
Weber came by and comforted his ex. And then the two start talking about their relationship. Both get emotional and air out their thoughts. Weber called Brown out on asking Tyler Cameron out during After the Final Rose. Brown explained she and Cameron were already talking at the time and she thought Weber wanted to become the next bachelor.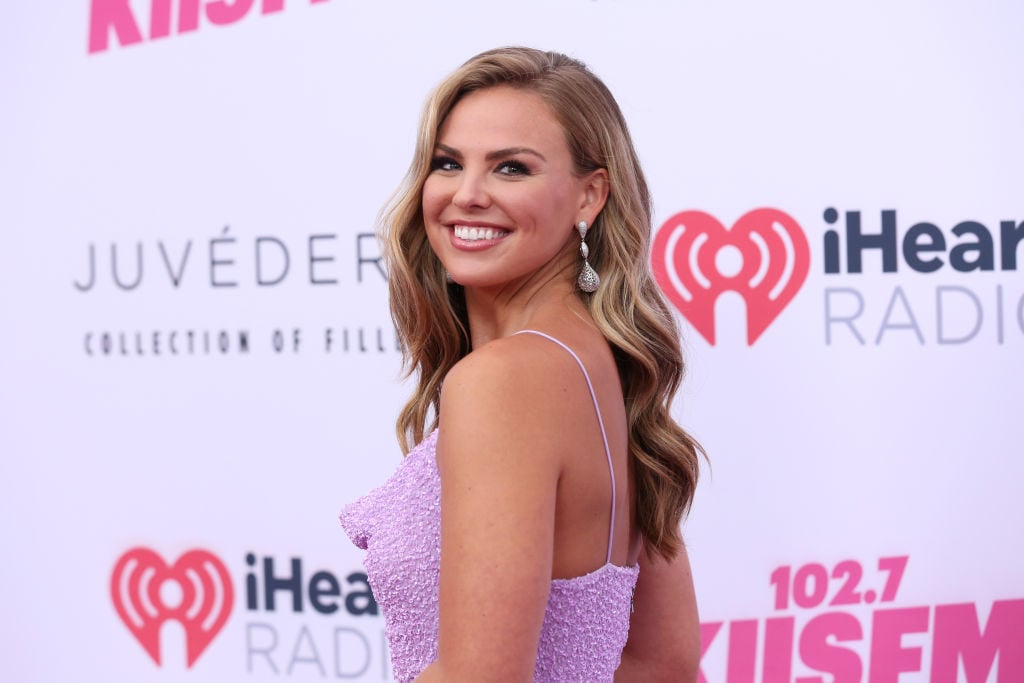 Nevertheless, Brown also expressed her doubts about choosing Jed Wyatt over Weber. Eventually, Weber asked Brown to join the house and she suggested they ditch The Bachelor and fly away together. Then Weber and Brown curled up on the couch and for a moment, it looked like the pair was going to kiss. But in the end, Weber pulled away and the two broke things off.
"I can't do this," Weber said before hugging Brown and saying goodbye. In a confessional, Weber admitted he is still trying to figure things out, especially since his breakup with Brown was still so raw.
"I'm really scared that I'm where I need to be right now for this," Weber said. "I don't know if I need to feel that love with someone else to fully move on, I don't know if I have to fully move on to feel that love with someone else."
Peter Weber explains why he didn't run away with Hannah Brown
Following The Bachelor Season 24 premiere on Jan. 6, Weber spoke with E! News about his conversation with Brown and why it happened.
"I went in because she was very emotional. I wasn't trying to catch up with her," Weber said. "She was crying like crazy and so I walked over and I see her mascara everywhere. I try to go comfort her and talk and then I get emotional. Stuff just floods back to me."
Then in an interview with Entertainment Tonight, Weber admitted he realized he was still in love with Brown when they reunited on The Bachelor. Weber also shared he thought about ending his bachelor journey right then and there.
"I definitely considered [quitting the show] in that moment," Weber said. "I know that sounds absolutely crazy insane, but… I told everyone from the very beginning I was going to be raw, be myself and do what I had to do in that moment."
Weber echoed his statement about leaving The Bachelor franchise for Brown, according to ABC News on Jan. 20.
"I considered doing whatever I had to do to try and give it another shot with her, and that was just me being in the moment," he said. "Call it smart or not, but that's the truth."
The 28-year-old then explained why he chose to break things off with Brown for good.
"In that moment, I decided OK, I have to put this behind me just out of fairness to the ladies who are here, who have given up so much to pursue something with me and see if there's something there," Weber said. "I needed this so bad to just feel good and get my mind off of everything."
Hannah Brown reveals how she feels about Peter Weber now
After Brown and Weber went their separate ways on The Bachelor, fans weren't convinced, many predicting the former bachelorette will show up in the "unspoiled" season finale. And even former contestants on Weber's season, such as Jasmine Nguyen, believe Brown will be in Weber's final three.
"Who I think his top three are Hannah Ann [Sluss], Madison [Prewett], and I'm going to stir the pot and I'm going to say it, Hannah Brown," Nguyen told People on Jan. 22. "Based on everything I saw, I think it's Hannah Brown."
She added: "He has not been emotional over anything besides Hannah Brown. From night one to canceling the date, there's something that's not done with them, and I think he's still holding on to something."
Then in an interview with Entertainment Tonight, the publication told Brown about the vastly popular fan theory.
"Wild," Brown said. "You have to keep watching. Isn't that what we have to say?" And when asked whether she will return to Weber's season, the former bachelorette smiled. "I do not know," she said.
Regardless, Brown still has a place for Weber in her heart. "I'm always going to care for him deeply," she said.
But this doesn't necessarily mean anything for Weber and Brown's relationship romantically. And in a recent Instagram Live, Brown revealed she is currently single.
"Am I dating anyone? Nope," Brown said.
Although it appears Brown and Weber don't get back together at the end of The Bachelor, it's nice to know the two former flames are still rooting for each other. But for now, fans will just have to wait and see what happens next.
Read more: 'The Bachelor': Hannah Brown's Instagram Post After the Peter Weber Reunion Is the Closure We Need