'The Bachelor': Will Hannah Brown and Peter Weber End Up Together? Becca Kufrin and Ben Higgins Don't Think It's in the Cards
Peter Weber's season of The Bachelor started off with a bang when The Bachelorette's Hannah Brown returned to the ABC reality franchise. Still reeling from their breakup, both parties felt all the emotions upon their reunion. And at one point, viewers wondered whether the journey would end then and there.
In the end, the couple chose to go their separate ways — but is it really over? Following the episode, Bachelor Nation fans speculated Brown and Weber will get back together at the end of the season. Recently, Ben Higgins and Becca Kufrin — from The Bachelor Season 20 and The Bachelorette Season 14 — weighed in on the possibility. However, they have their doubts this popular fan theory about Weber and Brown will actually play out.
What happened to Hannah Brown and Peter Weber on 'The Bachelor'?
In The Bachelor Season 24 premiere, Brown returned Weber's pilot wings pin to give the new lead a sense of closure. The pair shared a sweet moment together. But when Brown came back to host a group date, things got a little complicated.
After giving Weber's contestants their instructions for the group date, Brown broke down backstage. The new bachelor came by to check in on the former bachelorette. Brown then revealed she questioned her decision to let him go. And although both parties aired out their grievances, Weber ended the episode by asking Brown to join the mansion.
The second episode picked up where the premiere left off, with Brown and Weber confused as ever. Brown joked that she wanted to fly off with Weber, leaving The Bachelor franchise behind. At one point, she also climbed into Weber's lap and they gazed into each other's eyes. But then Weber stopped everything and said he wanted to return to his group date. Weber and Brown hugged and said goodbye, ending their relationship.
Becca Kufrin and Ben Higgins share their thoughts on Peter Weber and Hannah Brown
In multiple previews for The Bachelor Season 24, viewers saw a shot of Weber's mother pleading to her son. "Don't let her go, don't let her go," she said, tears in her eyes. "Bring her home, bring her home to us."
Given Weber's emotional response to Brown's return, many Bachelor Nation fans believe the Delta pilot brings the Dancing With the Stars champion back for another round. However, Kufrin and Higgins aren't buying into the popular fan theory, according to an interview with Life & Style Magazine.
"I think that ship has sailed," Kufrin said and laughed. "I think after everything that went down, there was part of me that was like, 'Oh! There's going to be a twist and he's gonna end up with Hannah B.' But no, I think they've parted their ways on good terms."
She added: "At this point in the game, I truly don't know who he's going to end up with. I hope he finds someone out of all the chaos that is going on right now. But I think he'll find it in the end."
Meanwhile, Higgins sees Brown repeating her role as the bachelorette. "There's a better percentage that Hannah Brown is our next bachelorette than she ends up with Peter," he said.
If Brown is chosen as the bachelorette again, Kufrin wants to see an all-star cast. "We should have a season of Hannah as the bachelorette with past bachelors," she said.
But if not, Higgins suggested a few Bachelor Nation contestants that could potentially be matched up with Brown, including Derek Peth, Shawn Booth, and Nick Viall.
Hannah Brown says she is single after 'The Bachelor'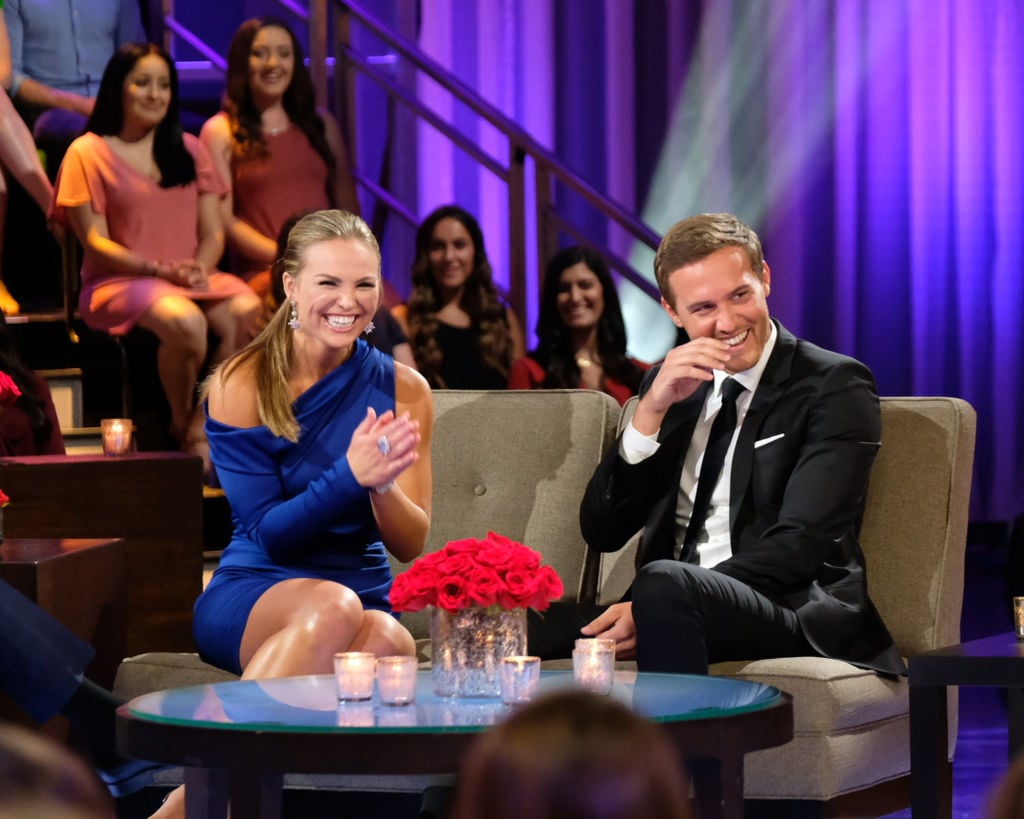 Not long after her appearance on The Bachelor and reunion with Weber, Brown went on Instagram Live and addressed her current relationship status.
"Am I dating anyone? Nope," Brown said simply.
Now, given her single status, it's unlikely Brown comes back to The Bachelor for a second time and gets back together with Weber. So does this mean Brown will become the next bachelorette? According to host Chris Harrison, it's possible.
"Look, anything's possible. I'm not against it," Harrison told Us Weekly. "I think the things that make us love her so much — and I'm included in that and adore her — is she is so open and honest and just, she's a train wreck. You get to see the good, the bad and the ugly in Hannah and that's a rare thing in any human being."
However, when speaking with Entertainment Tonight, Brown revealed she may not want to reprise her bachelorette role in the future.
"I don't know [if I'd be the bachelorette again]," Brown said. "Right now, I'm just trying to seize the opportunities that I have and feel very confident in the things that I say yes to. And also confident in the things that I know aren't the best for me right now."
She later added: "There is that like, weird… desire in my heart to find somebody. Do I have to do that as being the bachelorette? No."
Read more: 'The Bachelor': Hannah Brown's Instagram Post After the Peter Weber Reunion Is the Closure We Need