'The Bachelor': Hannah Brown's Twitter Post About the Peter Weber Reunion Is Such a Mood
What Hannah Brown wrote on Twitter after her reunion with Peter Weber on 'The Bachelor' Season 24, including fan responses.
[Spoiler alert: The Bachelor Season 24.] The Jan. 13 episode of The Bachelor wrapped the endless saga between Hannah Brown and Peter Weber. The ex-lovers reunited at the end of the premiere and left fans wondering whether the former bachelorette would whisk the new bachelor away before his season even began. But ultimately, Weber decided to pursue a new love than rekindling an old flame. That said, Bachelor Nation fans had a mixed reaction to Weber and Brown's reunion. And following the episode, Brown posted her own response on Twitter, making it clear she has no time for the haters.
What happened to Peter Weber and Hannah Brown on 'The Bachelor'?
The second week of The Bachelor Season 24 picked up where the premiere ended. Weber previously asked whether Brown would join the cast and the former bachelorette wasn't sure. Brown also admitted she felt regret and uncertainty after she sent Weber packing on her season.
Then in the new episode, both parties were still confused about their lingering feelings. However, Weber expressed his worry that Brown was missing all the "what ifs" and not him. Again, Brown confirmed she wasn't sure. And although the two seemed to get closer, almost kissing at one point, Weber stopped anything from progressing further.
"I can't do this," Weber said.
Then the two hugged before moving on. "This was not supposed to happen this way," Brown said, letting Weber go.
Hannah Brown reacts to the fan response to her reunion with Peter Weber
As expected, The Bachelor fans had thoughts about Weber and Brown's reunion. And while some viewers want Brown and Weber to be together, others were happy when the couple ended things on the show.
"Okay okay, I know that technically Peter was Hannah's third choice," a fan wrote on Twitter. "But I don't care what anyone says, they're perfect for each other."
"Why are people still rooting for Hannah B?? She had her chance. I hope Peter finds someone who chooses him the first time around," another fan tweeted.
That said, it appears Brown is aware of how her Bachelor reunion with Weber came off. However, the Dancing With the Stars champion remains unbothered.
"It seems I'm a very controversial subject," Brown wrote on Twitter alongside a thinking face emoji. "Honestly, nothing new here. #TheBachelor"
Regardless of the fan response, it seems Brown and Weber are still friends after filming The Bachelor. Before the premiere on Jan. 6, the former bachelorette sent Weber a short but sweet message on Instagram.
"Find your co-pilot. It's your turn in the captain's seat Bud," Brown wrote. "Enjoy the ride!"
"Thanks Bama," Weber replied.
What Peter Weber and Chris Harrison have to say about Hannah Brown's appearance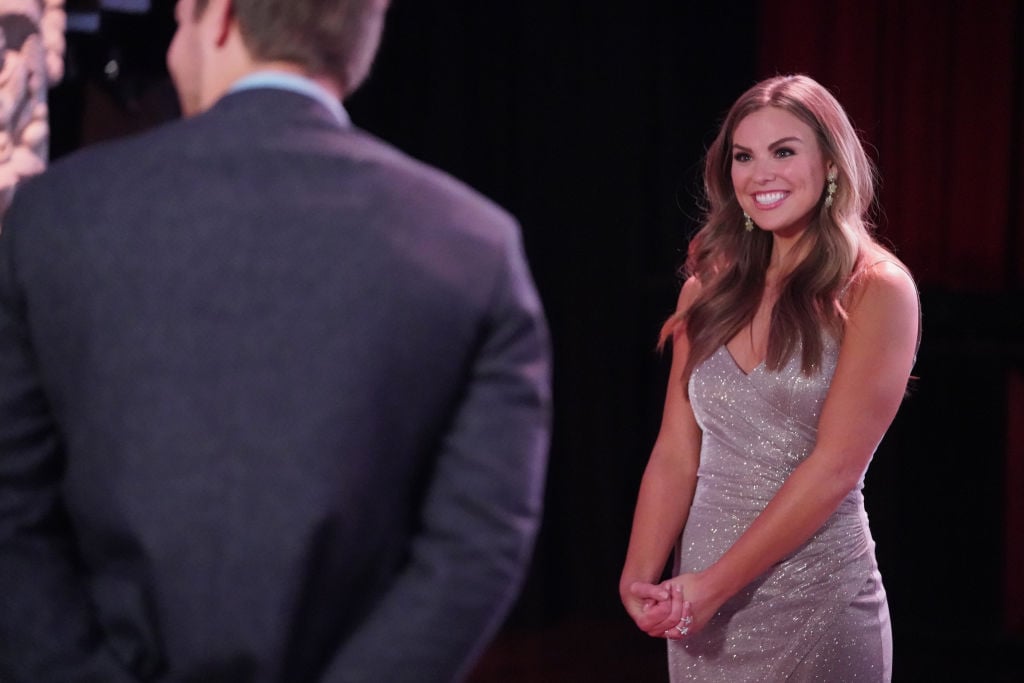 When speaking with CNN at the Television Critics Association, Weber and Bachelor Nation host Chris Harrison revealed details on Brown's appearance. And according to Harrison, the conversation between the two exes was simply meant to bring some closure.
"First of all, it was supposed to just be kind of a sweet, sincere, 'I want to give you your wings back' [moment]. And then it was supposed to be fun and light for her to come back on the date," Harrison said. "We did not intend on [them] really sitting down and having a talk. But then it all really dissolved into what you saw, this gut-wrenching, raw emotional talk."
Meanwhile, Weber felt like the situation "caught me off guard, I was really curious why she was there." He described the meeting with Brown as "really real" and "raw." And although the conversation "brought back feelings," Weber assured fans he needed it to move forward.
"Even though that conversation wasn't planned, it needed to happen, and the hardest part for me was just struggling with the fact that I had amazing women [who] just showed up, and I didn't have any feelings yet for anyone," Weber said. "It was too soon to have any legit connection. So, it was awkward, it was uncomfortable, but it needed to happen."
Read more: Will Peter Weber Get Engaged? 'The Bachelor' and Chris Harrison Say the Finale Will Break Tradition