Bachelor Nation Thinks Hunter Hayes Singing 'I Want Crazy' To Victoria F. And Peter Weber Is A Little Too On The Nose
'Bachelor' Fans think Hunter Hayes' 'I Want Crazy' is particularly appropriate for Victoria F. and Peter Weber.
There seems to be a pattern emerging involving Victoria Fuller and country music stars. When one performs a private concert for her and bachelor Peter Weber, drama's never too far behind.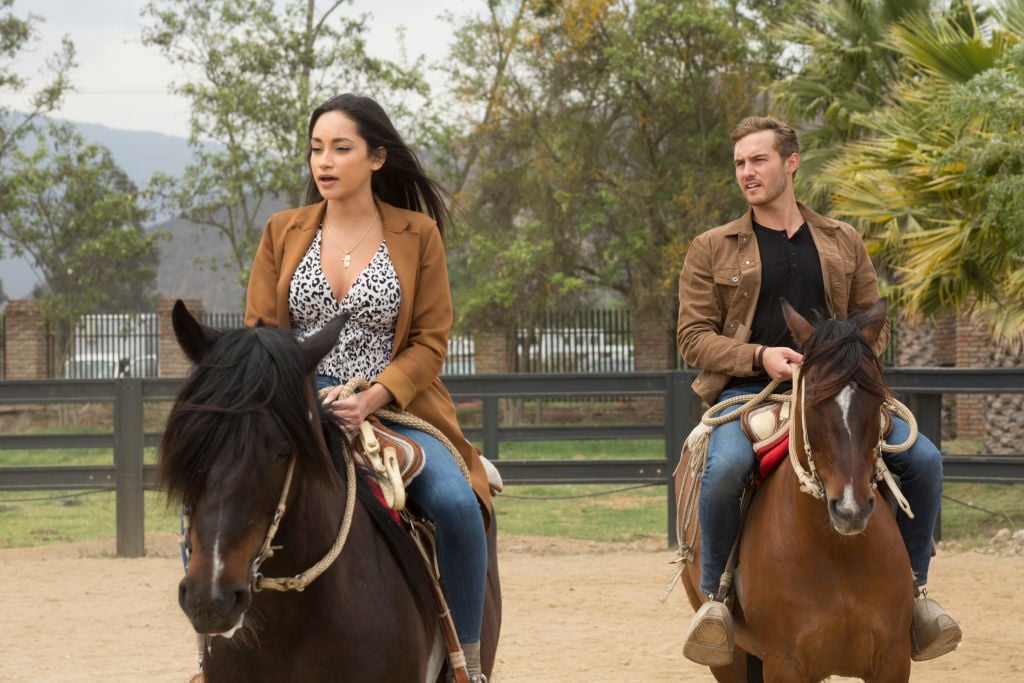 While Victoria F. doesn't have a romantic history with Hunter Hayes, a new layer of drama presented itself after her and Weber's hometown date last night.
A woman who used to date Weber, Merissa Pence, approached him after the intimate concert to let the bachelor know she knows Victoria F. and doesn't trust her.
 "I don't think you deserve what you're on a date with right now […] There's been many relationships broken up because of her," she said. "I would hate to see that come to fruition for you."
Fans react to Hunter Hayes singing 'I Want Crazy' to Victoria F. and Peter Weber
Victoria F. has been inconsistent with her feelings regarding Weber, to say the least. Fans particularly enjoyed the spot-on song choice for Hayes' private concert.
I've searched the world and I know now,
It ain't right if you ain't lost your mind
Yeah, I don't want easy, I want crazy
Are you with me baby? Let's be crazy – Hunter Hayes, "I Want Crazy"
"When you realize why Hunter Hayes chose to sing "I don't want easy, I want crazy" while Peter was with Victoria," tweeted one fan.
"THE FACT THAT HUNTER HAYES SINGS I DONT WANT EASY I WANT CRAZY WHILE PETER IS ON HIS ONE ON ONE WITH VICTORIA F IS LITERALLY COMICAL THE PRODUCERS THIS SEASON YALL…" tweeted another.
"peter, singing to Victoria: "I dOnT wAnT eAsY, I wAnT cRaZy" me: well if crazy is what he wants, he's definitely found it," wrote another fan.
""I don't want easy I want crazy" Peter and Victoria should go get that tattooed," tweeted another.
"Peter and Victoria singing along to "I don't want easy, I want crazy" Welp, Peter. You're with the right girl," wrote another.
Peter Weber is taking Victoria F. to fantasy suites
After their date, just before Weber was about to go in and meet Victoria F.'s family, he attempted to talk with her about what his ex told him. She became overwhelmed and removed herself from the conversation. The next day, she showed up at Weber's hotel room and told him the ball was in his court. As Bachelor Nation isn't soon to forget, Weber ended up giving a rose to Victoria F. (despite not meeting her family) and sent Kelsey Weier home.
Fans were, once again, vocal about their frustration.
"he really kept Victoria over Kelsey… nobody talk to me rn," tweeted one fan.
"WHAT THE F*CK PETER BOOT VICTORIA SHES A HOT MESS WHY KEEP HER EVEN KELSEY WAS BETTER WHATTTTTTTTTTT," wrote another.
It seems most fans are thinking there's no way Weber will give his final rose to Victoria F. But, based on previews, there's still plenty of drama to come. At this point, anything can happen.
Read more: 'The Bachelor': The 'Craziest' Valentine's Day Gift Peter Weber Has Ever Given A Girl