'Bachelor in Paradise': Chris Conran Apologizes to Jessenia Cruz, Says 'Death Threats' Toward Alana Milne 'Need to Stop'
In an explosive episode of Bachelor in Paradise, Chris Conran found himself mixed up in feelings for Alana Milne and Jessenia Cruz. While Chris started Paradise with a strong connection to Jessenia, he pursued his feelings for Alana and ultimately got pushed off of the show. After watching the episode for himself, Chris took to Instagram to issue a formal apology to Jessenia and "beg" fans to stop sending death threats.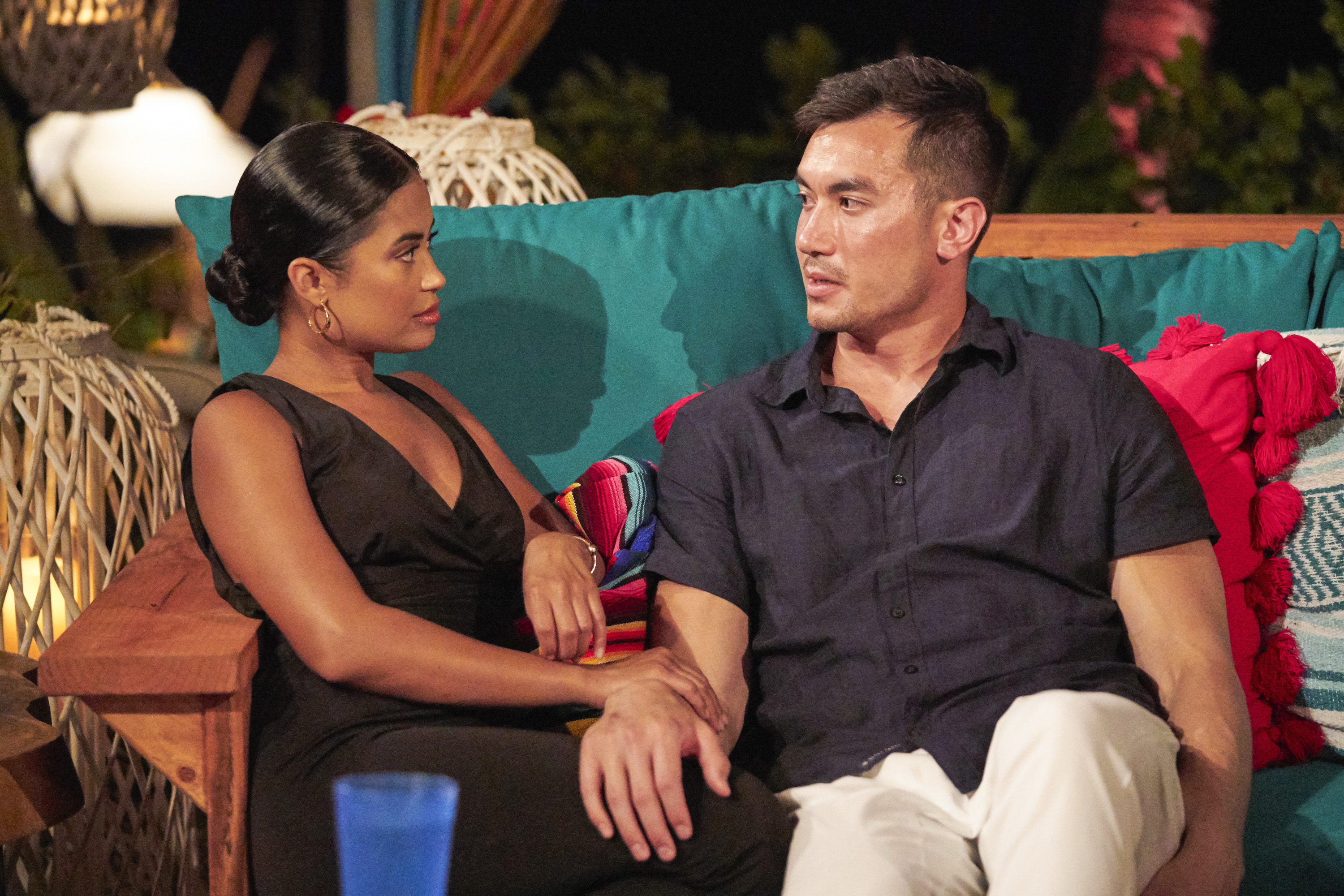 Chris Conran, Jessenia Cruz, and Alana Milne's love triangle on 'Bachelor in Paradise' 
Jessenia entered Paradise with her mind on two people: Ivan Hall and Chris Conran. Since Ivan was there first, the two hit it off. Thanks to producers, it didn't take long for Chris to show up. When he did, Jessenia decided to pursue a relationship with him. 
Fast forward to the Sept. 7 episode of Bachelor in Paradise, when Chris and Jessenia seemed to have one of the strongest relationships on the beach. Once again, producers brought in a ringer — Chris' other potential prospect and rumored "girlfriend back home," Alana Milne, arrived. 
Chris immediately pulled Alana to the side to talk. Moments later, they started kissing as Jessenia watched. When Alana asked Chris on a date the following day, many other Paradise guests got upset. Ultimately, Joe Amabile and Riley Christian told Alana and Chris that they should leave Paradise if they'd found love. 
Chris Conran apologizes to Jessenia Cruz for his actions on 'BiP' and reinforces he wasn't in a relationship
After the Sept. 7 episode of Bachelor in Paradise, many fans were outraged with Chris' behavior. "Finally watched the episode, and I feel there are a few things that need to be said," Chris posted to his Instagram Stories on Sept. 8 (via Reddit). "First and foremost, I take complete accountability for my blatant disrespect toward Jessenia and handling the situation poorly." 
Chris says he reached out to Jessenia to apologize after his return home. "I would like to reiterate my sincerest apologies to her now," he adds. "My past behavior is not a reflection of who I am or who I want to be. It was never my intention to maliciously or purposefully hurt anyone on the show." 
Chris' apology mentions the works he has been doing privately on his relationship and communication skills. "I'm an awful communicator, and I'm an extremely non-confrontational person," he says. "It's something I've needed to fix, and I'm glad it's been brought to light." 
Chris feels he "entered Paradise with integrity" and was "in no means in a relationship [before] the show." He also affirms no one from the "San Diego Crew" was in a relationship before Bachelor in Paradise. 
"I hung out with Alana and Jessenia in a group setting," Chris adds. He says he had the same "preshow relationship" with both women, which he defines as "flirty and excited to potentially see them [in] Paradise." 
Chris Conran wants 'Bachelor in Paradise' fans to stop sending death threats to Alana Milne 
Part of Chris' apology is also a plea to fans. "I'm so sorry Alana got mixed up in all of it," he continues. "I beg all of you to stop attacking and harassing her. She doesn't deserve the hate she's receiving, and the death threats need to stop." 
Fans on Reddit were shocked to hear about the alleged death threats. "Death threats?" one fan comments. "They were, at worst, jerks on a reality TV show; they didn't murder anyone."
Chris claims he is also receiving hateful messages and adds how "the way [he] was attacked and pushed out of Paradise sucked." He considers himself the "low hanging fruit" on the reality show thanks to a lack of a fan base, but Chris feels "it takes a huge level of disrespect for grown men to shut a woman down when she's trying to use her voice."
"We cannot have a culture where we silence women on this show," he adds, concluding with: "Don't compare me to Brendan and Pieper because it is not the same. I was disrespectful to Jessenia and should have carried myself better. I am sorry for my actions, but I do not regret following my heart on the show."