'Bachelor in Paradise': David Spade Details 'Sickening' Interaction While Hosting
Bachelor in Paradise Season 7 opened with guest host David Spade. He stepped in amid longtime host Chris Harrison's 2021 exit from the franchise. Summer's guiltiest pleasure will have a string of celebrity hosts after Spade including Lil Jon, Titus Burgess, and Lance Bass. In a behind-the-scenes clip, Spade revealed what he hated most about his hosting duties.
[Spoiler: This article contains spoilers for the first episode of Bachelor in Paradise Season 7.]
David Spade hosted the 'Bachelor in Paradise' Season 7 premiere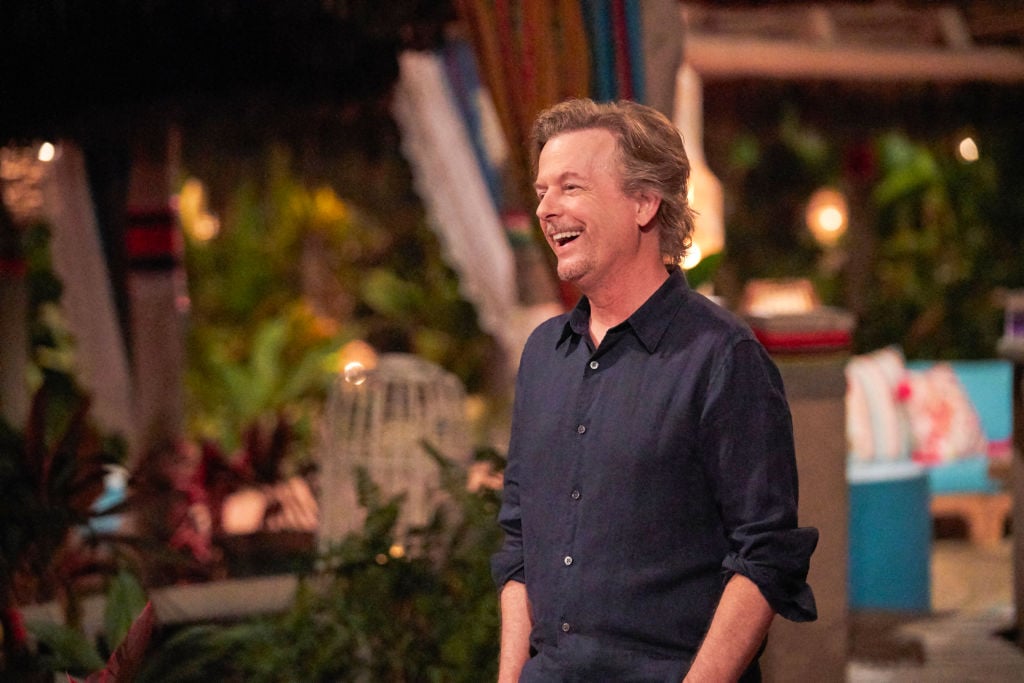 RELATED: 'Bachelor in Paradise': Could Joe Amabile Become the Next Bachelor?
The premiere episode of Bachelor in Paradise Season 7 was a doozy. After the pandemic forced ABC to cancel the 2020 season, contestants seemed more eager than ever to get a second chance (and third and fourth) at love. The Bachelor Nation spinoff is a big ratings grab for the network thanks to its juicy pair-ups between former contestants.
The recent season of The Bachelorette revealed former Bachelor Nation stars Tayshia Adams and Kaitlyn Bristowe filling in, and they'll continue for Michelle Young's season. The new BIP season introduced Spade as the first guest-host, following the exit of Harrison.
BIP bartender Wells Adams joined Spade as the Master of Ceremonies and Cocktails, making him the longest-running "celebrity" on the show, next to Harrison. Bachelorette Katie Thurston's ex, Connor Brennan, thought it was "pretty amazing to meet David Spade."
"He was the voice of the llama in my favorite film, The Emperor's New Groove, so pretty cool to meet my icon," he told Entertainment Tonight adding it was a "big moment for me, absolutely."
Spade really hated this part of filming 'Bachelor in Paradise'
RELATED: 'Bachelor in Paradise' Season 7, Episode 1 Recap: A New First-Night Kiss Record
While the idea of filming on an island sounds great in theory, Spade wasn't a fan.
"Dump is a strong word. It's not a dump. It's not," he joked in a video tweet. "No, it was a really nice room, but the problem is everything doesn't seem nice when there's crabs everywhere."
The comedian described what it was like living with crustaceans.
"I don't have a lot of interaction with crabs, so I don't really have an opinion. I think they're fine," he said. "My only interaction is maybe a California roll, to be honest. And that's very brief and they're already croaked."
The SNL alum hosted two episodes of the reality TV series — during Sayulita's crab season which meant there were more than usual.
"They're sickening, like, when you see a lot of them," Spade said. "There's holes all over the beach. I asked a staffer, 'Why is there holes?' He goes, 'Crabs.' I go, 'Hmm?' The man said, 'Crabs go in there and f—.'"
He continued: "These crabs, they're big. They're fat ones like the ones you see in movies, not like The Little Mermaid nice ones. They're on the prowl, and they want to kill — and they're in my room."
The comedian explained he had "at least six" in his bedroom "at all times."
The staff didn't provide comfort saying, "'they probably won't go in your bed.' I go, 'They just climbed a 60-foot wall to get to my bedroom, and so you think they can't go up my one-foot Sealy Posturepedic? Yeah, they can get there'. You think beach? Think Vietnam. Think Platoon. I'm in the jungle. I don't know where the beach is until I'm on the roof," he said.
Crabs weren't the only worrisome thing in 'Paradise'
RELATED: 'Bachelor in Paradise' 2021 Premiere Spoilers: Reality Steve Reveals Who Goes Home at the First Rose Ceremony
BIP has been filmed at the Playa Escondida Resort in Sayulita, Mexico since 2014 and, much to Spade's chagrin, the resort offers more than crabs. In the same clip, Spade talks about seeing a tail moving about to which a staff member said it could be a jaguar.
"He goes, 'Not too many,'" the staff member told him. "Oh, sleep tight, not too many jaguars going up to my room!"
The animal turned out to be a lemur but that didn't put Spade at ease.
"The lemur starts eating the crabs. 'You thought you were scared of f—— crabs, dude. I know where your room is'. They also fall from the ceiling. I don't love that."
Bachelor in Paradise season 7 airs Mondays on ABC.