'Bachelor in Paradise': Demi Burnett Sends a 'Sex-Positive' Message to Fans: 'F*** What Society Is Telling You to Be'
Demi Burnett and and Kristian Haggerty might have broken up after getting engaged on ABC's Bachelor in Paradise Season 6, but Burnett still broke barriers as an openly queer contestant on the reality show. 
After first appearing on Colton Underwood's season of The Bachelor, Burnett revealed she was "sexually fluid" to bestie Hannah Brown ahead of her appearance on Bachelor in Paradise. "Spoiler alert: I'm a queer queen," she wrote in a Twitter post at the time. Haggerty and Burnett both proposed to one another at the end of the season, but they ultimately broke up in the fall of 2019. 
Still, Burnett is committed to being out and proud about her queer identity, as well as her criticism of slut-shaming. The Bachelor in Paradise star recently partnered with The Laundry Room to release the Sex Positive collection of clothing and accessories. Burnett opened up about her painful past in terms of bullying and sexual shame.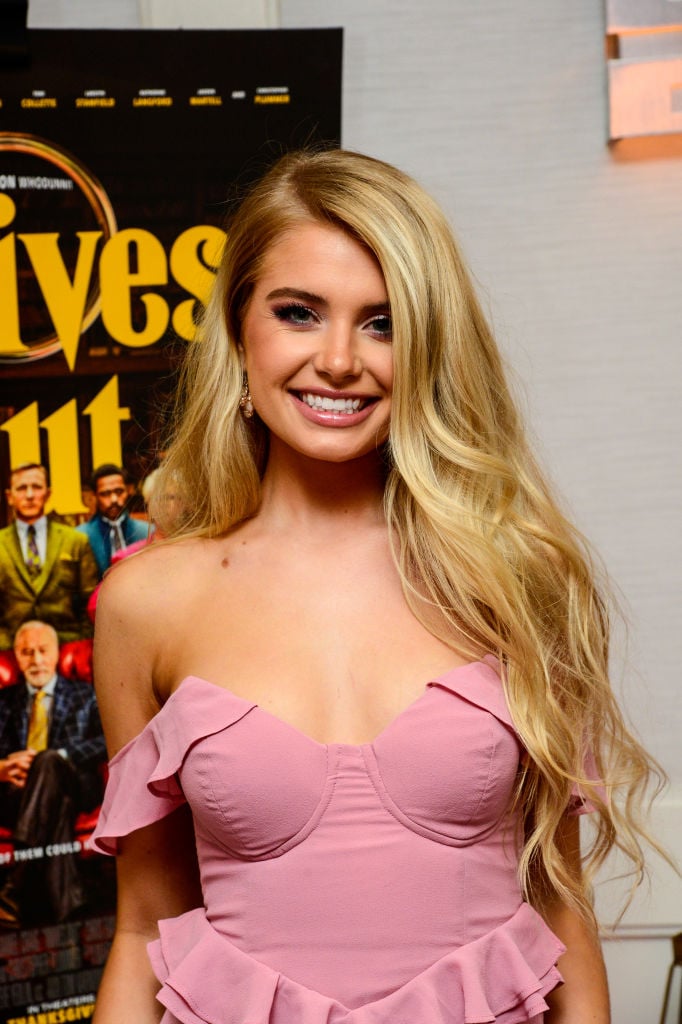 The 'BiP' star partnered with The Laundry Room to create clothing that's all about sexual freedom
In Jan. 2020, Burnett announced her partnership with The Laundry Room, releasing a collection of clothing and accessories centered around sexual equality and freedom.
In a promotional video for the campaign, the Bachelor in Paradise star opened up about a difficult part of her childhood. "People in middle school…were like, 'Oh, Demi likes girls.' Everyone was bullying me about it," Burnett confessed. "And I was like, 'No I don't! No I don't!' I was very insecure."
Still, supportive family members in her life helped her develop a sense of self-love. Burnett shared, "My stepmom, who I love so much, always says, 'Just be and let be.' I think that's a beautiful mantra."
The 24-year-old former Bachelor contestant also got real about the pain of slut-shaming, especially for young girls. 
"I've been called all of the terrible names, like whore, slut, all of these things," Burnett said. "Even before I had sex. How dare people shame somebody into calling them these mean, nasty names?"
"Just be whoever you are," she concluded. "Be sex-positive. Own that, and you will feel so liberated and so free."
Accordingly, Burnett's collection is themed around self-confidence, self-love, and sexual empowerment. The pieces she designed, from mugs and bags to accessories, include phrases like "love all," "love is love," "sex positive," and "equality." One shirt features Burnett's personal mantra: "Just be. Just be and let be. Just be you and let other people be them. Just be whoever you are. Just exist. Love is love." 
Burnett shared a series of posts about equality and sexual liberation
In a series of Instagram posts, Burnett shared behind-the-scenes footage of the design process, as well as some personal thoughts about what sex positivity means to her. 
The Bachelor in Paradise contestant wrote in one caption, "If I can inspire anyone, I just want to be the person that I always needed. And I wanna be able to be that person for you…to show you that all of it is ok. Be who you are. F*** what society is telling you to be. F*** trying to be perfect. Just be you and own that."
Burnett's new campaign is far from the first time she's spoken up about the importance of honoring yourself along the journey to self-love and sexual confidence. After Burnett and Haggerty got engaged, she shared a bold photo of herself embracing her fiancee, adding the caption: "Love whoever the hell you want."
Fans flocked to Burnett's posts to thank her for the positive, empowering message
Bachelor Nation took to Instagram right away to rave about Burnett's new collection and her empowering message. Many Bachelor fans shared their own stories of insecurity, body confidence, and bullying. 
"Love all your work since the bachelor 💕 As a queer babe it's mad inspiring," wrote one Instagram commenter about the campaign.

"Love this so much," another Bachelor fan wrote to Burnett on Instagram. "Humanity is so complex and we need to have more conversations about our sexuality. Hope this initiates waves of positivity in this arena."
Many others thanked Burnett for sharing her coming-out story, including the messier and more difficult parts. 
"I watched you on Bachelor in Paradise and [fell] in love with your kind hearted soul," one viewer wrote. "Seeing your struggle with coming out and becoming comfortable with who you are was eye opening for me, I think that what [you're] doing and the stance [you]re] taking is so important and I applaud you every step of the way for having the courage and the strength to help others with their journey! Thank you for bringing a positive light to this topic."