'Bachelor in Paradise': One of Dean Unglert's Exes Just Got Engaged
People go on The Bachelor and all of its spin-offs to find love. For most of them, that doesn't happen. And the ones who do end up falling in love find that it's usually short-lived.
Dean Unglert is one of the most notorious romeos in the franchise. When he first went on Rachel Lindsay's season of The Bachelorette, he was young and seemed innocent and ready to find love. But when he appeared on Bachelor in Paradise, his reputation took a hit after he played Kristina Schulman and Danielle Lombard. Unglert has since been on The Bachelor: Winter Games and another season of Bachelor in Paradise, leaving a string of heartbroken women in his wake. But now, one of those women has just gotten engaged!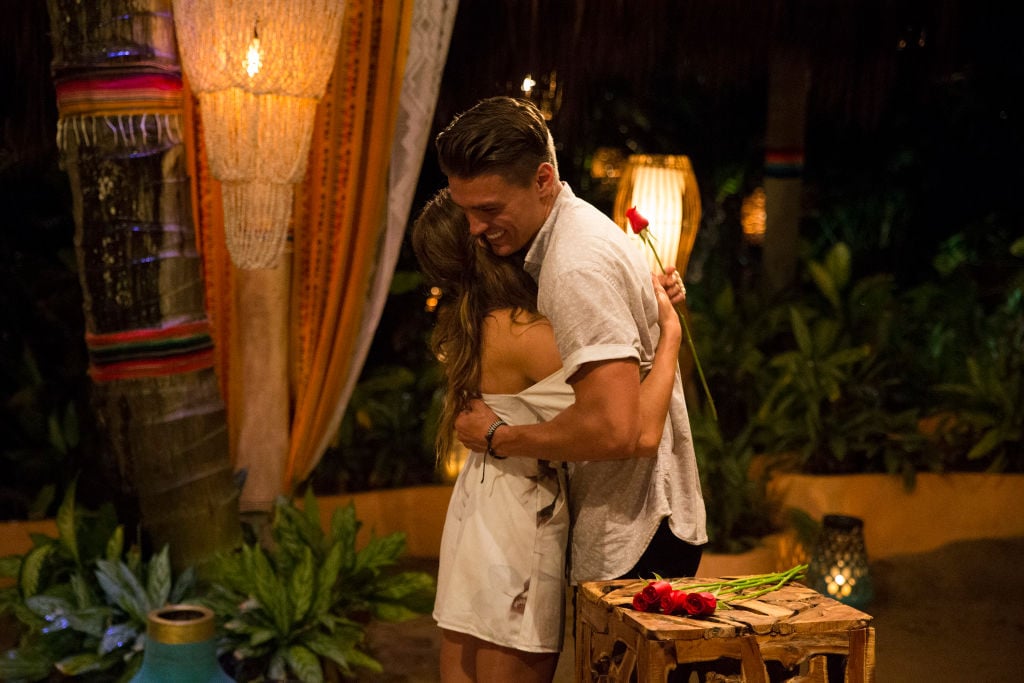 Dean Unglert's relationship with Lesley Murphy
Unglert and Lesley Murphy met on The Bachelor Winter Games. The two had an instant connection and bonded over their love of constant travel. The pair ended the season with Unglert giving Murphy a key to his apartment.
Unfortunately, the relationship didn't last long.
"Distance and traveling were a factor," a source told E! News of the breakup at the time. "They are both going to continue to be friendly and are on good terms, but their romantic relationship has ended."
Lesley Murphy gets engaged
Almost two years after her split from Unglert, Murphy is getting ready to tie the knot.
"A day I'll never forget," she wrote on Instagram. "We're boarding a plane as we speak to meet my parents in New Zealand! Looking forward to processing the last 24 hours of this incredible life at 35,000 ft."
Murphy and her boyfriend Alex Kav's engagement comes after just over a year of dating.
"It was such a special night on the beach during sunset. We met a couple of years ago through a drone, and being the exceptional drone pilot he is, I loved that he incorporated a drone in the most unique way during the proposal," Murphy told People. "I can't wait to marry this man! 202💍 is our year!"
Who is Dean Unglert dating now?
Though Unglert is not engaged, he is in a relationship right now. He met former pageant queen Caelynn Miller-Keyes on Bachelor in Paradise and the two hit it off instantly. Unfortunately, Unglert got cold feet and left the show before the season ended. Eventually, Unglert realized that he did want to be with Miller-Keyes and came back to Paradise. The two have been together ever since.
Miller-Keyes is hopeful about their relationship, but Unglert never wants to get married.
"That's never going to happen," he told Us Weekly when asked about getting married. "She does joke around about us getting married all the time, and I always say, 'Sorry, it's not going to happen.' I don't know, I'm super unconventional and she obviously is a little more conventional. We joke around about it. Just try to keep expectations to a minimum, you know? Like I said on the show, underpromise, overdeliver."
The two also have differing opinions on children.
"The older I get, I feel like the less and less I want kids," he said. "I remember when I was a teenager, I was always so dead-set on having kids, but the world's in flux," he said. "I don't know if it's necessarily the most responsible thing to do to bring a child into this world. That being said, she wants kids, so I don't know. I don't know if I don't want kids just because she wants kids, and I don't want to get married just because she wants to get married."