'The Bachelor': Jennifer Aniston Defends Hannah Brown, Slams Producers for 'Using' Women
Celebrities are fans of The Bachelor, too. First Charlize Theron suggested her love of "turbulence," and now, a popular "friend" is sharing her thoughts. During Jennifer Aniston's red carpet walk at the SAG Awards on Jan. 19, she shared what she thinks Hannah Brown should do now that Peter Weber is off the table.
Everyone is still talking about Hannah Brown's appearance on 'The Bachelor'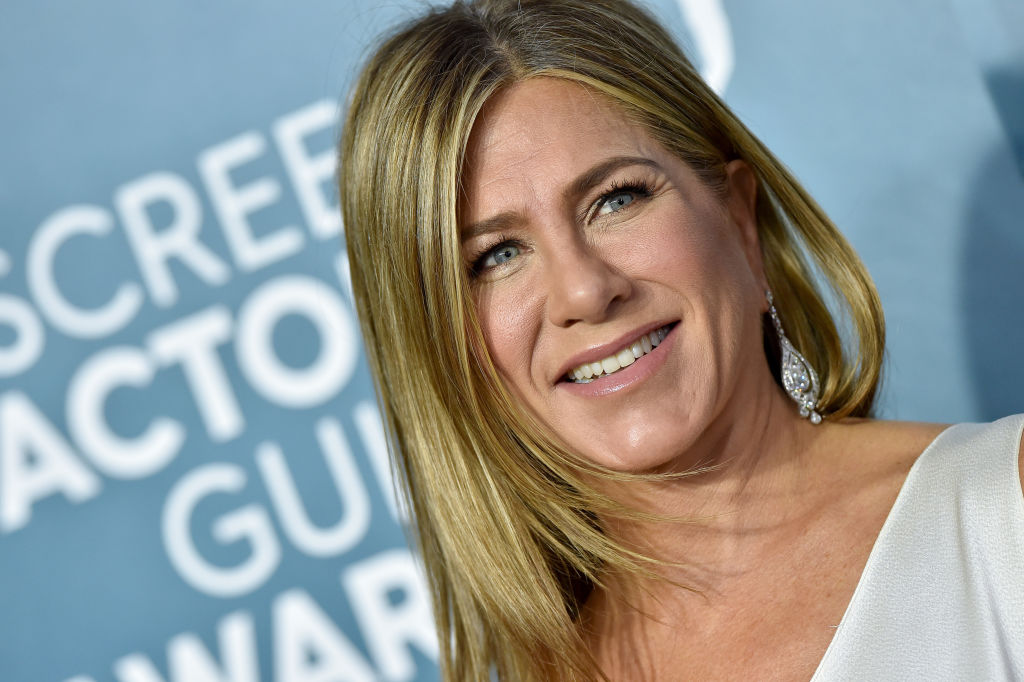 It's been a minute since Hannah Brown was The Bachelorette, but the feelings are still very much there between her and former contestant-turned-Bachelor, Peter Weber.
As fans know, Brown sent Weber home and chose Nashville musician, Jed Wyatt as the "winner" of her heart. However, that relationship ended when claims of Wyatt having a girlfriend surfaced.
Now, during Weber's season of The Bachelor, Brown showed up two separate times, making the women of the house, and Weber, uncomfortable.
Ultimately, Brown admitted she'd made a mistake in not choosing Weber, but he decided to give this whole Bachelor thing a go and told Brown he "can't do this," meaning he can't rekindle their relationship. In other words, Brown was too little, too late.
Still, people can't stop talking about the dramatic string of events. Former Bachelor star and host of Off the Vine podcast, Kaitlyn Bristowe, said, "I ship whatever makes people happy. I ship whatever they both want in their hearts. You're The Bachelor. You're on TV. You're supposed to date these women."
She added, "But if you don't follow your heart, you're a loser at the end. You're a winner no matter what if you pick what makes your heart happy." 
Briwtowe's fiance, Jason Tartick, agreed saying he doesn't think Brown and Weber will end up together at the end of this.
"I think we saw the ships leave. I think we saw the ships come back. We saw them collide," he said. "I think they're leaving and finding happiness in their own ways."
What did Jennifer Aniston say about 'The Bachelor'?
Former Bachelor Nation alum aren't the only ones with opinions about how Weber's season is going. While walking the red carpet at the SAG Awards, Jennifer Aniston was asked if she's a fan of The Bachelor, per Us Weekly.
"Of course," she said, adding she couldn't guess who Weber will choose in the end. She is sure, however, that it shouldn't be Brown.
"I do think Hannah can stay home now," she said. Aniston noted Brown and Peter's feelings for each other but slammed Bachelor producers for "just using these poor women."
Aniston isn't the only one who believes producers are to blame
Aniston isn't the only one who feels this way. Another former Bachelorette, Melissa Rycroft agreed.
"I would 100 percent imagine producers made her go back on. And I think that she was in an emotional state," she told Us Weekly.
"We all know she was on Dancing With the Stars at the time. But I also think that she found herself now with Peter, who she did have a really great connection with, and now Peter's the big deal of the moment, everybody's there for him. And I think she let all of that lead into, 'Maybe I made a mistake.'"
Rycroft added those private conversations between Weber and Brown should've happened off-camera.
"I mean, I follow her a little bit, sounds like she's a little embarrassed about the conversation. She probably went home and was like, 'Oh my God, I can't believe I did that.' But, at the same time, the audience, I feel like we kind of needed to see that conversation, and see the complete closure of the relationship," she said.
"So that we'll be OK to see Peter move on if that makes any sense. [The producers] gave her some champagne, they reminded her how great her and Peter were together, and then said, 'Off you go. There you go.'"
We don't know who Weber will choose at the end of this, but for now, it doesn't look like Brown will make a third appearance any time soon.
The Bachelor airs Mondays at 8 p.m. on ABC.