'The Bachelor': Jimmy Kimmel Predicts Who Wins Peter Weber's Season, But Will the Host Keep His Streak Alive After This 'Nontraditional Season'?
Wondering who Jimmy Kimmel predicted will win 'The Bachelor' Season 24 with Peter Weber? He are his top three picks for 2020.
As any fan of The Bachelor will tell you, the first night of the ABC reality series is critical. Each cast member makes an impression on the latest lead and audiences at home. But most importantly, the first episode drops the most hints at which contestants make it far — and which ones don't. For the past few years, Jimmy Kimmel — and his wife, Molly McNearny — have been hitting the mark when it comes to predicting The Bachelor winner after watching the premiere. And on Jan. 7, Peter Weber stopped by Jimmy Kimmel Live, where the late-night host guessed the new bachelor's final pick.
Jimmy Kimmel previously predicted who won 'The Bachelor' and 'The Bachelorette' correctly
Ahead of recent seasons, Kimmel correctly predicted who won the final rose on The Bachelor and The Bachelorette. In early 2019 Kimmel foresaw Cassiue Randolph as the winner of Colton Underwood's season of The Bachelor. He also accurately guessed Garrett Yrigoyen as Becca Kufrin's final pick on The Bachelorette.
Then when speaking with Hannah Brown in May 2019, Kimmel printed cardboard cutouts of The Bachelorette's final four choices. The host then eliminated the men until he got to Jed Wyatt, who was Brown's final pick. Now, Brown and Wyatt broke up by the finale in July. However, Kimmel's prediction was technically correct, as Wyatt was Brown's winner when the show finished filming.
Meanwhile, a similar situation happened during Arie Luyendyk Jr.'s season of The Bachelor. Kimmel foresaw Kufrin as Luyendyk's winner. And although the former bachelor proposed to Kufrin on the show, he broke up with her and got back together with Lauren Burnham in the finale.
Jimmy Kimmel guesses Peter Weber's winner on 'The Bachelor'
Following the 3-hour premiere of The Bachelor, Weber stopped by Jimmy Kimmel Live, where the host gave his — and by his, we mean his wife's — final three picks. And according to the prediction, Hannah Ann Sluss, Madison Prewett, and Kelley Flanagan will be in Weber's top three.
Hannah Ann kissed Weber on night one and received the first impression rose. Madison went on the first one-on-one date and won over Weber's family. Then Kelley fought for the first group date rose. But, of course, there can only be one who wins over the new bachelor's heart.
"We are going to say the final winner is going to be Hannah Ann," Kimmel said.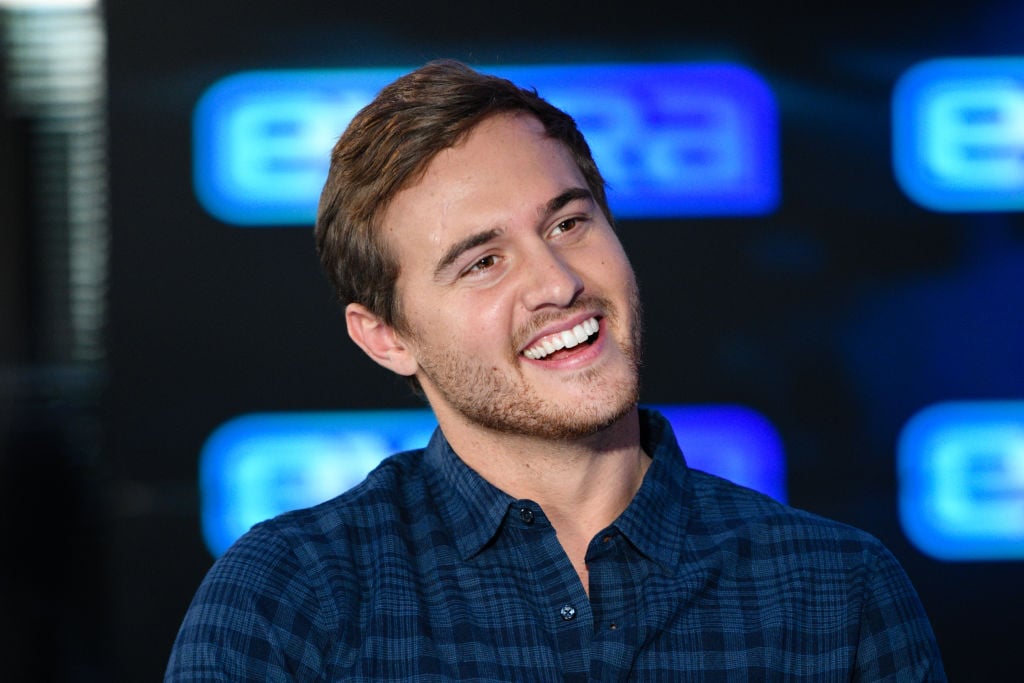 "We will see. Are you reading anything right now? Am I giving anything away?" Weber said with a big smile.
But everyone wasn't convinced by Kimmel's choice. And actress Tiffany Haddish, who was another guest on Kimmel's show, predicted Madison will win the season.
"I think it's number two because he was smiling really big," Haddish said. "He turned a little red like he's seen her naked."
But Weber didn't go any further with the speculations. "I'm not going there," he said.
Peter Weber says 'The Bachelor' ending will be unpredictable
Although Kimmel has been hitting the nose when it comes to picking who wins The Bachelor, Weber's season could prove to be a wildcard. Prior to The Bachelor Season 24 premiere, host Chris Harrison teased the ending will break tradition during an interview with The Hollywood Reporter.
"I don't think there's ever again going to be a 'traditional' show. I think those days are long gone," Harrison said. "It is a turbulent, wild, emotional, gut-wrenching ride right up until the very end. You won't predict how this comes to a conclusion."
After the premiere, Weber revealed why Bachelor Nation fans won't find out what happens in the finale just yet.
"There's a specific reason [it won't be spoiled]. Obviously I can't say [what it is, but] I feel like this a little bit unique of an ending," Weber told Entertainment Tonight. "I couldn't have predicted that last week was the hardest week of my entire life."
Harrison then offered a few more details on Weber's finale. But he certainly doesn't allude to a happy ending.
"The way this ends, no one will see coming. I can say that because we didn't see it coming," Harrison said. "The crew is beside the point. Peter and I, going through this together, had no idea this was happening and how this was going to all come to an end. So, it's riveting, and it really is breathtaking and it'll break your heart."
Read more: 'The Bachelor': Hannah Brown's Instagram Post to Peter Weber Will Destroy You After Watching the Premiere