Bachelor Nation Stans Victoria Fuller and Chris Soules Over Peter Weber and Kelley Flanagan
'The Bachelor' fans love Victoria Fuller and Chris Soules low-key relationship over Peter Weber and Kelley Flanagan's over the top one.
The Bachelor couple Victoria Fuller and Chris Soules finally announced they are officially dating, and fans are on board. Bachelor Nation is obsessed with the new relationship and comparing it heavily to Peter Weber and Kelley Flanagan's new love.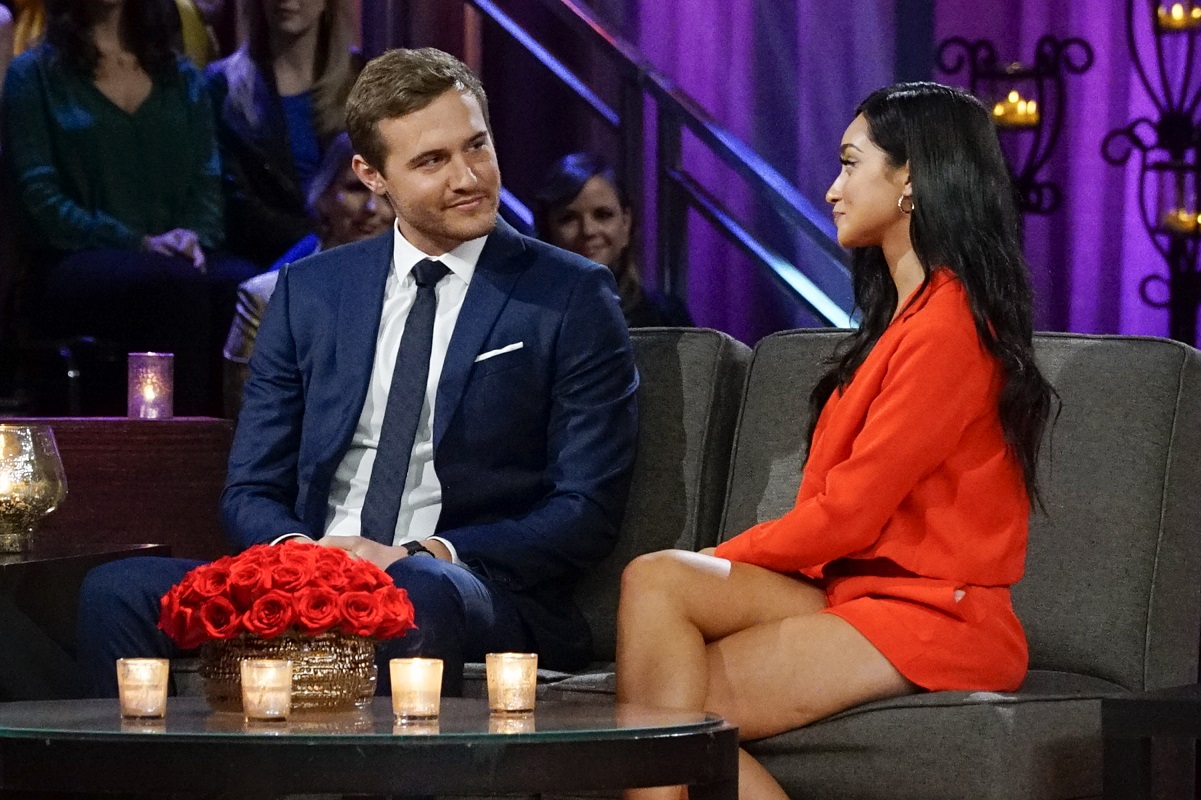 'The Bachelor' couple Victoria Fuller and Chris Soules are officially dating
The 26-year-old former Bachelor contestant shared on July 21, 2020, that she and former Soules are "really happy."
"He ended up texting me [in March], and we connected," Fuller told People. "Some people said he slid into my DMs, but he literally owns an iPhone 2 and can barely send out a text! But if he had, I would have responded."
They were both very nervous about the meeting; however, the reality TV star explained that she felt an immediate connection. The two have been dating for four months and are enjoying each other's company. 
"The last few months have been really special for us," she continued. "We're enjoying each other!"
Why do 'The Bachelor' fans prefer the Fuller and Soules relationship over Weber and Flanagan's?
Since Weber and Flanagan made their relationship Instagram official, the photos, videos, and TikToks are nonstop. Almost every day, there's another pic of the couple kissing. Fans are in love with the more secretive, low-key relationship that Fuller and Soules have.
"All we see is a glimpse of their relationship in rarely seen Instagram photos," one fan wrote on Reddit. "There are no ads from them monetizing their relationship, no silly TikTok dances, no drama, US Weekly stories, or podcasts."
The two couples have been dating roughly the same amount of time; however, Fuller and Soules have remained out of the spotlight. The Virginia Beach native is an Instagram influencer who shares ads daily; however, she never posts about her relationship. 
"It's early, but maybe these two will show others how a relationship can be successful if you just don't share every second of your life to social media followers," the fan continued.
The one photo of Fuller and Soules together comes from the Instagram account of a restaurant — The Leaping Lizard Cafe. The fourth-generation farmer visited Fuller's hometown in Virginia Beach, but the two didn't broadcast it. The little cafe took the opportunity for a bit of publicity instead.
Bachelor Nation is rooting for Fuller and Soules to work out
"I think they're one of those couples where they shouldn't work on paper but in reality actually do work," one viewer wrote.
For most of The Bachelor Season 24 with Peter Weber, Fuller received the villain edit. She was often seen crying in the corner. Plus, the producers brought on her ex, Chase Rice, as the country music singer to play during her date with the pilot. Things didn't go well for the medical sales rep as a contestant on the show. 
Outside of the show, Fuller received backlash for modeling for an agency that supported, "White Lives Matter." However, fans have changed the way they feel about her.
"I wish happiness to the both of them," another fan wrote. "In a strange kind of way, it seems like they compliment each other in a relationship."