'The Bachelor' Fans Say 'This Season Is a 'Train Wreck' After Peter Weber Made This 1 'Huge Mistake'
If you're watching this season of The Bachelor, you're already familiar with "Pilot" Peter Weber and his confused journey finding love. With two fresh episodes the week of Feb. 3, fans are speaking out against Weber after he did the one thing that, many say, proves he doesn't know what he wants.
[Warning: Spoilers from the Feb. 3 and Feb. 5 episodes ahead]
Peter Weber is among the 'least-liked' bachelors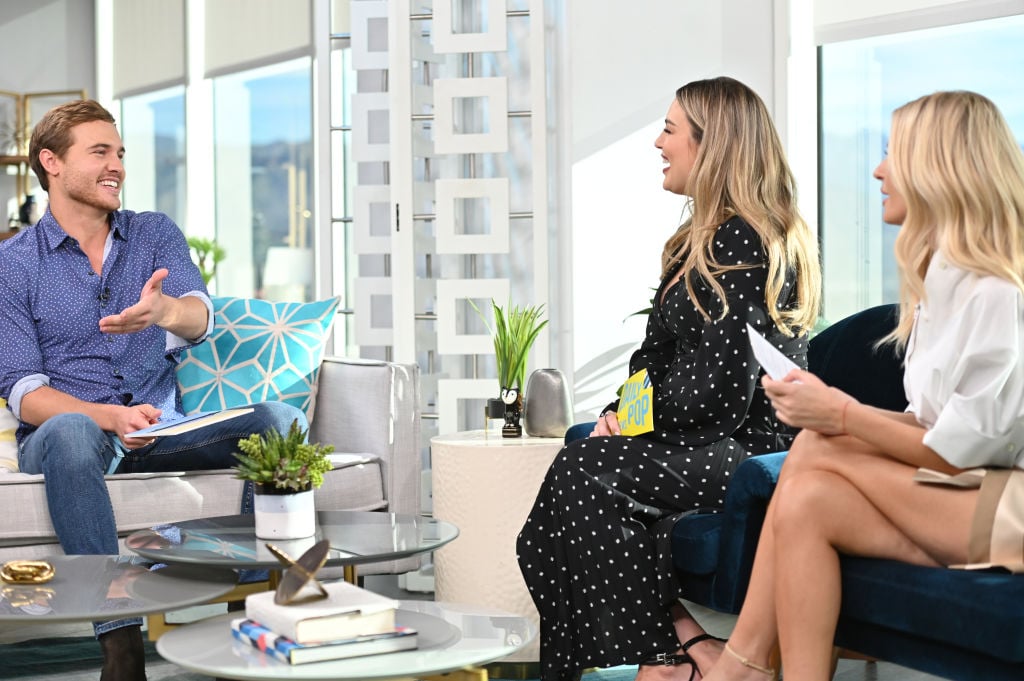 To say Peter Weber is on the list of "least likable bachelors" is an understatement. After Hannah Brown's season of The Bachelorette wrapped, Bachelor Nation rooted for Mike Johnson or Tyler Cameron to take the crown.
Cameron turned down the offer, but some can't forget Johnson's snub. Still, many gave Weber a chance to prove he could handle the responsibility of dating 30 women. So far, he has not, according to some.
Whether it was allowing former contestant, Alayah Benavidez, back into the house after sending her home, or handing a rose to Kelsey Weier when she made an impromptu visit to his private quarters, the pilot is frustrating many.
Also, asking Hannah Brown to join the party proves Weber doesn't seem to know what he wants and Bachelor Nation is fed up.
"So anyways I think the producers of #TheBachelor just picked a horrendous group of women bc the gag is at the end of the season Peter is gonna continue to say he's in love w Hannah Brown and they will end up being together after the show. that's all I have to say," this fan tweeted.
"What if the producers chose such horrible women so that nobody's mad when Peter ends up with Hannah Brown #TheBachelor," another said.
Even former contestant, Jordan Kimball weighed in saying, "Pete has one thing on his mind. Hannah Brown."
Fans are livid over Weber's decision to send this contestant home
Though Weber doesn't seem to have a favorite so far, two of the women became frontrunners early on: Victoria Paul and Victoria Fuller. Though Victoria F. somehow made her way through the latest drama, it was Weber's choice to send home Victoria P. that left fans shouting at their TVs.
The decision came during a brief chat between Weber and Victoria P., where she admitted to feeling like things between them had tapered off and wondered if he felt the same. Turns out, he did and decided then and there he couldn't see her as his wife.
It didn't take long before the tweets and memes started pouring in over Weber's choice, especially days after news broke of Victoria F.'s offensive campaign.
"wtf Victoria F??? You're always scared on dates and "going back and forth" because of the other girls??? This is #TheBachelor" this fan tweeted.
Another said, "wow he really broke up with Victoria P just like that #TheBachelor"
"I like that in the last ep. Victoria F. harps on Kesley for being emo and condescendingly tells her, "It takes a strong woman to be here-" And then this b***h goes on that one-on-one w/ Pete and pulls something like that?! Hypocrite much?" another pointed out.
Clearly there's no love lost for some who've been sent home (sorry, Tammy), but the debate between which Victoria deserved to be there more rages on.
Why many are calling Weber's journey a 'train wreck'
The official Bachelor Twitter account dared to ask how viewers felt after watching the episodes, and the responses weren't so kind.
This season is an absolute train wreck. And not in a fun watchable way," this fan tweeted.
"Victoria is on my nerves. So is Peter. And Tammy. And Hannah Ann, and Kelsey. Geez." another said.
A few joked that bringing one of the most-hated bachelors, Juan Pablo, would be much less painful than Weber's season.
"Can we start over with all new girls????" this person asked. "And a new bachelor???" another added.
All bachelors in the history of the franchise have made mistakes, but it's clear Weber wasn't ready for this journey and may not know what he wants in the end.
As some pointed out, Weber was accused of breaking up with a girlfriend after he was chosen for Hannah B.'s season of The Bachelorette, so he's not exactly working from a clean slate.
This may not be the most dramatic season of The Bachelor, but it's definitely among the most talked about within Bachelor Nation— even if it's to say they really really hate it.
The Bachelor airs Mondays at 8 p.m. ET on ABC.