'The Bachelor': Why Did Nick Viall and Vanessa Grimaldi Break Up?
Why did Nick Viall and his final rose pick, Vanessa Grimaldi, break up after their engagement on 'The Bachelor' Season 21? Plus are they friends now?
Bachelor Nation viewers were shocked when Nick Viall and Vanessa Grimaldi split after their fairy tale ending on the ABC reality series. The couple announced their separation five months after the show wrapped in March 2017. And while it seems the two exes are on good terms now, many fans are wondering why Viall and Grimaldi broke up as ABC prepares to recap the podcast host's journey on The Bachelor: The Greatest Seasons — Ever! this Monday night.
Nick Viall picked Vanessa Grimaldi on 'The Bachelor' Season 21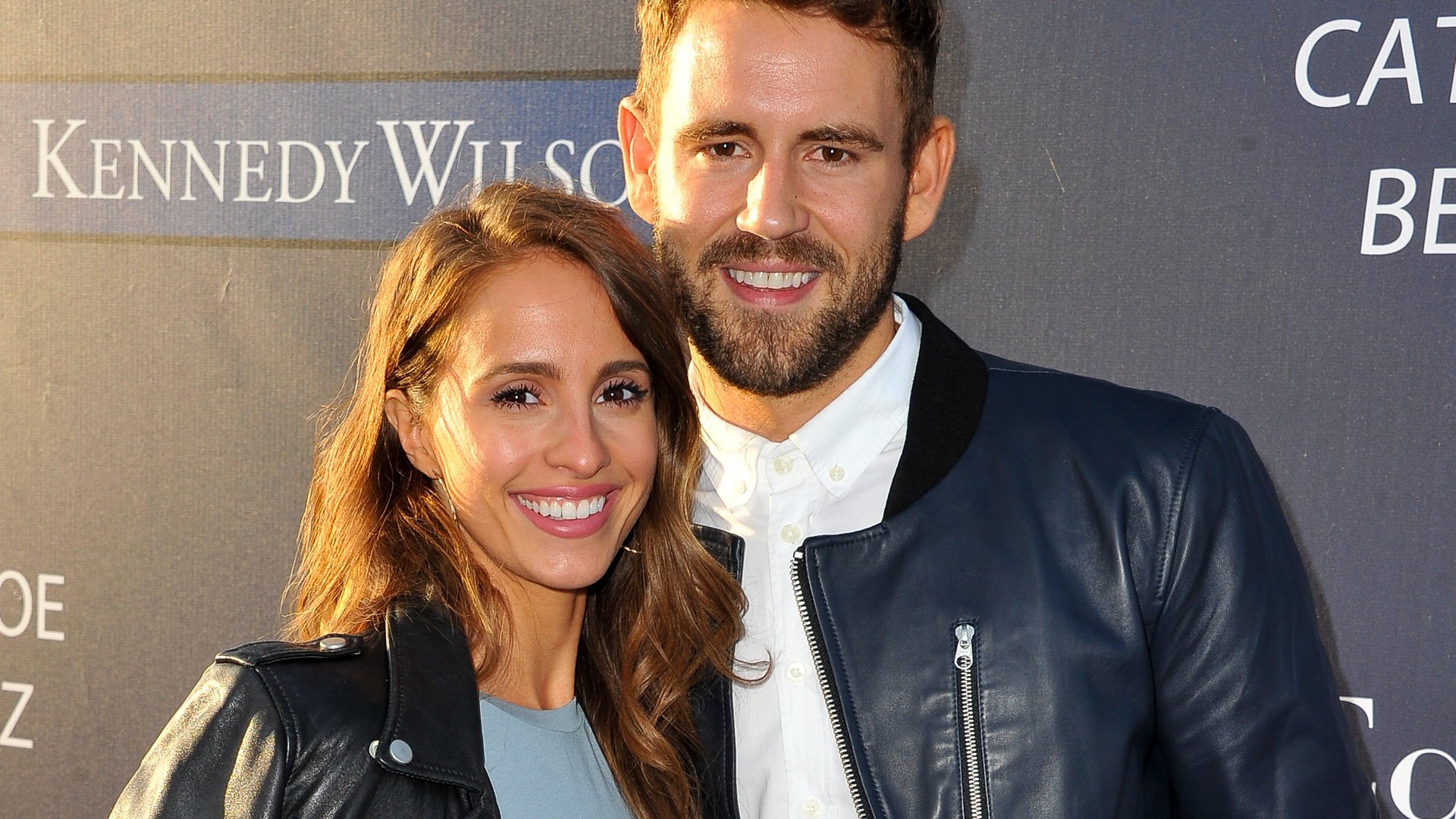 In The Bachelor Season 21 finale, Viall proposed to Grimaldi, and she accepted his final rose. 
"I'll never forget the first moment I started falling in love with you," Viall said at the time. "It was actually the second rose ceremony. Just being next to you, I felt something very special. Every moment since then, I've been falling more and more in love with you."
Then after the show wrapped, Grimaldi made plans to move from Montreal to LA to live with Viall. 
"It was a decision we both made together and we're both very happy about that decision," Grimaldi told E! News in May 2017. "Both of our families are very happy that we're together and we're starting our life together."
Nick Viall and Vanessa Grimaldi break up after 'The Bachelor'
Months after The Bachelor Season 21 aired, Viall and Grimaldi faced numerous breakup rumors. Then August 2017, the couple announced their split in a joint statement. Per Us Weekly, Viall and Grimaldi wrote:
It's with a great amount of heartbreak for the both us as we have decided to end our engagement. We gave this relationship our all and we are saddened that we did not get the fairy-tale ending we hoped for. We will continue to be there for each other no matter what. This hasn't been an easy decision, however, as we part ways, we do so with lots of love and admiration for each other.
According to Entertainment Tonight, Grimaldi didn't want to leave Montreal. The source also claimed the former reality star wasn't "really into the whole fame thing." But in the end, the couple allegedly wanted "different things." 
Then on The Viall Files podcast with guest Kaitlyn Bristowe, Viall suggested the relationship didn't last as long because of Grimaldi's on-screen drama with Rachel Lindsay and Raven Gates. 
"When I ended up with Vanessa she — for different reasons — didn't get along with Rachel and Raven," Viall said. "But I guess we didn't last as long because I suddenly was like 'I'm sorry, I'm not gonna like–that's an insane point of view.' I would try to defend her. I would definitely not defend her the way she wanted me to defend her."
Viall also noted this was one of the couple's "biggest problems early on." But even so, the former bachelor has no regrets about choosing Grimaldi.
"Even with Vanessa, we didn't work out, but … that's who I fell for," Viall told Us Weekly in August 2020. "I was nuts about her and I have no regrets about stuff like that."
Nick Viall and Vanessa Grimaldi are friends now
Both Grimaldi and Viall have moved on since their breakup in 2017. On Aug. 9, Grimaldi got engaged to her boyfriend, Josh Wolfe. 
"August 9th, 2020 will forever be my favourite DAY OF MY LIFE!!!!!!!!!!!" she wrote on Instagram. "@jbrwolfe YOU ARE MY EVERYTHING AND I CANNOT WAIT TO BE FOREVER AND EVER WITH YOU!!!!!!"
Viall also congratulated his ex. "Well thank god I followed you back a week ago to hear this news," he wrote. "Congrats to you two! Lucky guy."
Meanwhile, Grimaldi recently popped on Viall's Bachelor tell-all recap on Patreon. Then when speaking with Hollywood Life on Aug. 31, Viall revealed he's still on good terms with Grimaldi.
"The lines of communication are open. It's not as if we've decided to be best friends and talk on a regular basis. But obviously, it kind of left the door open to feel really comfortable to reach out to her and wish her congratulations when she got engaged," Viall said. "I think that happened two weeks after we recorded the episode. So I think that's kind of where it's at now."
Check out Showbiz Cheat Sheet on Facebook!