'The Bachelor': Peter Weber Displayed More Affection to Crab Rangoon Than His Contestants This Season
Peter Weber may be known as the man who hooked up with The Bachelorette's Hannah Brown four times in a windmill and remains unashamed about his strong physical chemistry with his contestants, but The Bachelor Week 8 introduced Pilot Pete to another great love — Crab Rangoon. During Kelsey Weier's hometown date, the former Miss Iowa USA introduced Weber to the crispy appetizers for the first time. And it seems Bachelor Nation fans had some powerful reactions to the moment Weber lost his Crab Rangoon virginity.
Kelsey Weier and Peter Weber have Crab Rangoon in Iowa
The Bachelor episode on Feb. 17 had plenty of drama. But early on, Kelsey and Weber shared a few sweet moments together before the bachelor sent his contestant packing at the end of the final four rose ceremony.
Throughout the day portion, Weber and Kelsey spent their time at a winery in Des Moines, Iowa. Later, the couple stopped by Kelsey's home to have dinner with the family. Then after thanking Weber for coming, Kelsey's mom, Beth, pulled out the best thing the Midwest has to offer. You guessed it — Crab Rangoon.
"We also have some of Kelsey's favorite. These are Crab Rangoon," Beth said, pushing a plate of the golden, crab and cream cheese-filled wontons towards the bachelor.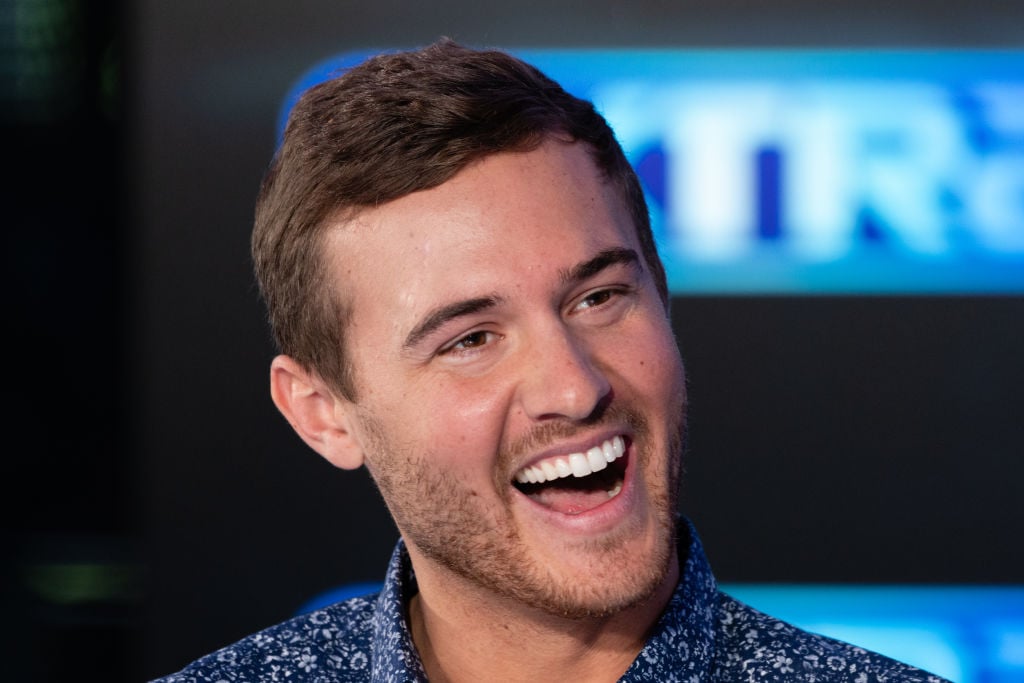 Then Weber's reaction sent a wave of shock into the fandom. "These are Crab Rangoon," he exclaimed. Weber turned to Kelsey, his eyes wide with childlike wonder.
"He has never had Crab Rangoon," Kelsey explained to her family.
"We talked about this on our first date," Weber added enthusiastically. "This is a very momentous occasion right now."
Kelsey and Weber fed each other pieces of Crab Rangoon. The bachelor took a moment and stared at the appetizer in complete awe. "Oh my god," Weber said. "That's good stuff. I'm a fan."
"It's just deliciousness," Beth concurred.
'The Bachelor' fans react to Peter Weber's Crab Rangoon discovery
In case you haven't heard, Weber is a pilot from Los Angeles who has had plenty of opportunities to travel in his 28-years of existence. So of course, The Bachelor fans were shocked Weber has never eaten — or even heard of — Crab Rangoon before.
"This is a man who literally travels for a living and his first Crab Rangoon is in Iowa," a fan on Twitter wrote.
"Peter has never had a Crab Rangoon I knew I couldn't trust this man," another fan tweeted.
And of course, some fans wondered why the hometown date included an appetizer typically associated with Chinese takeout when there are other dishes to try.
"i can't believe he's never had a crab rangoon… imagine coming to IA to eat chinese???" a fan tweeted. "they had the perfect opportunity to have corn, mac n cheese and pork burgers with a scotcharoo."
But hey, at least there's a chance it was HyChi, right?
Meanwhile, other fans poked fun at Weber's excitement towards the Crab Rangoon, particularly in comparison to how he reacts to his contestants.
"Peter just showed more enthusiasm towards the Crab Rangoon than he has towards any of the girls this season #TheBachelor," a fan wrote.
"Peter was more into the crab Rangoons than all of the girls this season," another fan wrote on Reddit.
And honestly, at this point in Weber's season of The Bachelor, some fans would rather see the 28-year-old give out a rose to the plate of Crab Rangoon.
"Plot twist: Peter chooses Crab Rangoon #TheBachelor," another fan wrote.
The Bachelor fans may not understand how Weber makes his decisions on the ABC reality series. But regardless of how the season ends, we'll always have Crab Rangoon.
Read more: 'The Bachelor': Peter Weber Debunked 3 Theories About How the Finale Ends and Honestly, We're Disappointed