'The Bachelor': Peter Weber Says His 'Biggest Regret' Is What He Did to Hannah Ann Sluss
The breakup between Peter Weber and Hannah Ann Sluss was a worst-case scenario brought to life on The Bachelor franchise. When the ABC reality series began its 24th cycle in January 2020, Weber dished on the season, warning fans he made mistakes. However, Pilot Pete reassured everyone he still ended The Bachelor with no regrets. Now, about a month after the finale, Weber has changed his tune, calling what he did to Sluss the "biggest regret" from the experience.
What did Peter Weber do to Hannah Ann Sluss on 'The Bachelor'?
In The Bachelor finale, Weber's heart was torn in two different directions after Madison Prewett self-eliminated. But despite his feelings, Weber proposed to Sluss two days later. She accepted. Then in a month's time, Weber broke up with Sluss because he knew he couldn't give her his whole heart. This left Sluss heartbroken over her first engagement.
"You took the most precious moment that I could ever imagine away from me because you selfishly did not want me to walk away or to send me home," Sluss said during the breakup. "I just need someone who is going to be true to their words. Not be torn and conflicted 90 percent of the time … I don't need anything more from you. You've done enough damage."
Meanwhile, Sluss revealed Weber not only reunited with Prewett after their split, but also reached out to The Bachelorette's Hannah Brown during their engagement. Then on the Bachelor Happy Hour podcast with Rachel Lindsay and Becca Kufrin, Sluss shared why she was so blindsided and continued to believe Weber up until their breakup.
"He always made sure to reassure me I was his person, that I was the love of his life, and that he would always choose me," Sluss said. "When I showed up to the breakup, that was the first time I heard him say, 'I can't give you my whole heart.'"
Peter Weber discusses his breakup with Hannah Ann Sluss
When The Bachelor Season 24 ended on March 10, Weber did not talk to the press. But on April 7, the 28-year-old opened up about his experience with multiple podcasts, including Nick Viall's The Viall Files. And when speaking with the Bachelor Nation alum, Weber expressed remorse for what he did to Sluss.
"I was 100 percent in the wrong with Hannah Ann and with that relationship," Weber said. "That last week was such an emotional rollercoaster for me. I probably shouldn't have got down on one knee if I wasn't 100 percent sure about that."
He continued: "I felt like I was in love with Hannah Ann and she was such a beautiful, amazing soul that I couldn't let go of. I knew I wouldn't eventually move on from my feelings and heartache from Madison. I thought that was the best thing for me to do at the moment."
Peter Weber's biggest regret from 'The Bachelor' is what he did to Hannah Ann Sluss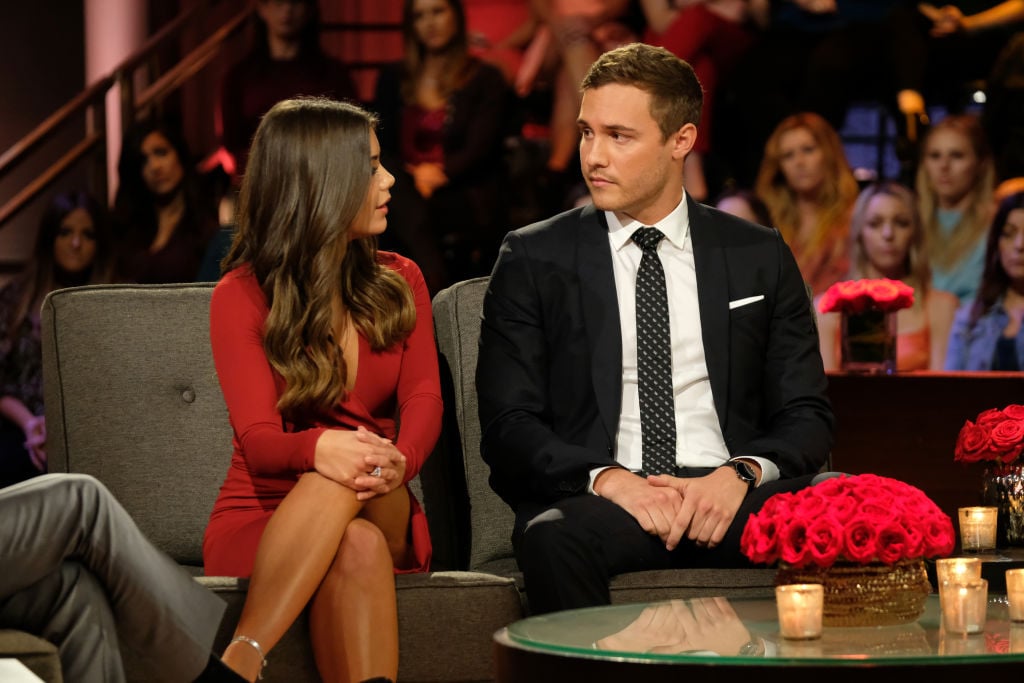 Meanwhile, in an interview with Lindsay and Kufrin on Bachelor Happy Hour podcast, Weber delved into his regrets from his Bachelor journey. And at first, he didn't mention Sluss. But rather, Weber admitted he was a "little bit too empathetic" and needed to put his "foot down in certain situations."
"If I could have a second chance, I would have tried a little bit harder," Weber continued. "But at the end of the day, I am who I am. So it's a regret, but it's a regret I continue to keep making because that's just who I am. This kind of process wasn't ideal for me — being on this side of The Bachelor. But that's who I am and I can't change who I am."
Nevertheless, by the end of the interview, Weber changed his mind about his biggest regret.
"I made a ton of mistakes. I'll fess up to that over and over. My biggest regret, I take back. It was putting Hannah Ann what I put her through," Weber said. "That, to me, is something that I will forever feel horrible about because I just care for her so much."
That said, it seems Pilot Pete has hope everyone who was affected by his season of The Bachelor will be OK.
"Through all that, I do feel like she's going to be, Madison's going to be, all of the women, myself, we're going to be forever grateful for this experience we shared together," Weber said. "And I never will regret being the bachelor. That's for sure. Just the experiences I had, the lessons I learned, will be with me for the rest of my life."
Read more: Why Kelley Flanagan Won't Be on 'The Bachelorette' or 'Bachelor in Paradise'