'The Bachelor': Peter Weber Reveals Why Madison Prewett's Concerns Did Not Stop Him From Sleeping With Other Women
[Spoiler alert: The Bachelor Season 24, Episode 9.] All eyes were on Madison Prewett and Peter Weber as The Bachelor Season 24 entered Fantasy Suite week on Feb. 24. After the final three rose ceremony, Madison told Weber she would find it difficult to move forward if he slept with anyone else. But by the end of the episode, the 28-year-old admitted he had been "intimate" with another contestant. So why didn't Madison's concerns stop Weber from having sex with other women during the Fantasy Suites? Recently, Pilot Pete explained his side of the situation.
What happened to Madison Prewett and Peter Weber in 'The Bachelor' Week 9?
At the end of The Bachelor Season 24, Episode 8, Madison pulls Weber aside to talk. During Hometowns, fans learn Madison is saving herself for marriage. So the Auburn alum plans to tell Weber the truth before Fantasy Suite week continues.
Nevertheless, Madison doesn't exactly tell Weber the whole story. In the ninth episode, Madison makes it clear she isn't uncomfortable with Weber sleeping with other contestants. And in the end, Madison says her concerns aren't an ultimatum, but actions speak louder than words. She is also unable to tell him she is saving herself for marriage.
Finally, when Madison goes on her date with Weber, she tells him everything about her expectations. Madison shares she is saving herself and can't imagine saying yes to an engagement in six days if Weber slept with anyone else. But here's the problem — at this point, Weber just had his Fantasy Suite dates with Victoria Fuller and Hannah Ann Sluss. He admits he has been intimate.
Madison is hurt and she walks out to take a breather. She breaks down. Meanwhile, Weber is also in tears. They come together for a moment and Weber begs Madison not to leave him. But the episode ends with Madison walking away. Fans must wait until The Bachelor Week 10 airs on March 2 to see whether Madison returns.
Peter Weber shares why he disregarded Madison Prewett's concerns during Fantasy Suites
Following the Feb. 24 episode, Bachelor Nation fans wondered why Weber continued to sleep with other contestants after Madison brought up her concerns, especially many viewers believed Madison to be Weber's frontrunner. Then when speaking with Access guest correspondent and Bachelor in Paradise alum, Ashley Iaconetti, Weber shared why he disregarded Madison's request.
"That was very tough for me," Weber said at The Bachelor: Women Tell All taping. "I can't fault Madison at all for sharing what was on her heart. She simply told me if I did that, it would be hard for her to move forward. But at that time, I wasn't just dating Madison."
Weber then explained he still had Victoria F. and Hannah Ann to think about. "I had two other relationships that I was very invested in, and I could honestly see any one of those [women] to be my wife," the pilot said. "I didn't think it was fair for me to hold back and continue to pursue those relationships because of what one person."
He continued: "As much as I respect [Madison] for sharing with me, I couldn't hold back the other relationships because of that. I knew it was a risk. And you have to see what happens with that."
Peter Weber answers whether his decision would have changed if Madison Prewett told him before Fantasy Suites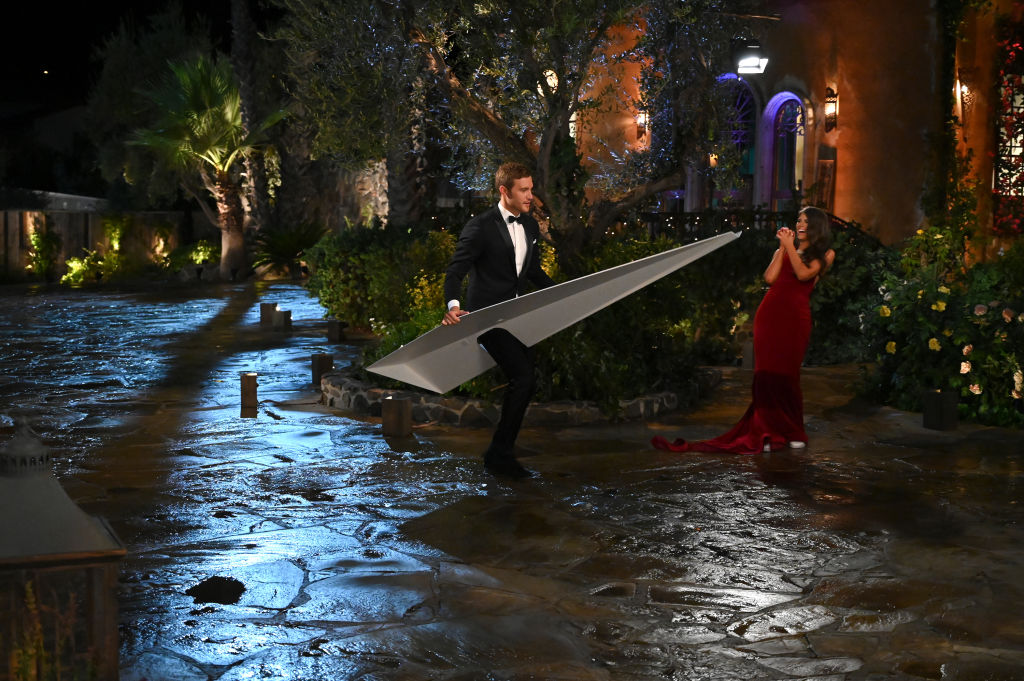 Still speaking with Access, Weber admitted things could have played out differently if Madison told him about her values before Fantasy Suite week. But even so, the past is the past, and the bachelor couldn't say what he would have actually done.
"I still don't know, at that moment, if I would have necessarily changed anything," Weber said. "I was doing my best to give every relationship that I still had there, a fair shot that it deserved."
Then in an interview with The Hollywood Reporter, Weber was asked the same question — would the situation have changed if Madison said something earlier. However, the bachelor didn't echo his previous answer. This time, Weber applauded Madison for her values and noted how their differences could lead to a "great relationship."
"Listen, I one hundred percent respect Madi's decision for that," Weber said. "It's a beautiful thing that someone wants to give that kind of gift, in my opinion, to someone else. Obviously, I have a different lifestyle and we're different in that regard, and there's no secret about that and that's OK."
He continued: "I think it has the opportunity to make for a beautiful story of two different people coming together and having different viewpoints. And they say opposites attract, or whatnot. But I think if you can find a compromise, it can be a great relationship."
Read more: 'The Bachelor': Peter Weber Debunked 3 Theories About How the Finale Ends and Honestly, We're Disappointed