'The Bachelor': Why Peter Weber and Madison Prewett Didn't Meet Up Before the Finale Is Just Confusing
Peter Weber says he didn't meet up with Madison Prewett ahead of 'The Bachelor' Season 24 finale because they decided it would be more "authentic".
The Bachelor Season 24 finale left everyone confused when Peter Weber and Madison Prewett reunited live onstage. The couple professed their love for each other. But by the end of the episode, many fans wondered whether the relationship was fake and just for the cameras. Then recently, Weber opened up about what went down with Prewett ahead of After the Final Rose. And although the explanation may seem a bit odd, it clarifies why the moment between Weber and Prewett was so uncomfortable.
What happened to Madison Prewett and Peter Weber on 'The Bachelor'?
In The Bachelor finale, Prewett realized her lifestyle didn't match up with Weber's. So during their final date, the Auburn alum self-eliminated. After this, the 28-year-old pilot could tell his heart was torn in two. But he continued on and got engaged to Hannah Ann Sluss. 
A month after the proposal, Weber broke things off with Sluss. Then The Bachelor production team went after Prewett. She admitted she was still in love with Weber. So Prewett reunited with him in LA ahead of the finale. Then, as mentioned, Weber and Prewett said they were in love at the live After the Finale Rose taping. However, the couple tip-toed around the idea of getting back together. Instead, they planned to go day-by-day because they still needed time to heal.
Meanwhile, Weber's family was openly against the relationship. Even Weber's mom, Barbara, said her son needed to "fail to succeed" in order to see Prewett wasn't the one for him. They argued and Weber stood up for his final pick.
Nevertheless, two days after The Bachelor finale, Prewett and Weber broke up. "Madi and I have mutually decided to not pursue our relationship any further," Weber wrote on Instagram. "Believe me this was not easy for either of us to be ok with, but after a lot of honest conversations, we have agreed that this is what makes most sense for the two of us. The love and respect I have for Madi will continue to endure."
Peter Weber explains what happened with Madison Prewett before 'The Bachelor' finale
On the Bachelor Happy Hour podcast with former bachelorettes Rachel Lindsay and Becca Kufrin, Weber opened up about his relationship with Prewett. Ultimately, it seems the couple broke up because they weren't compatible partners. But even so, it was difficult for fans to understand why there was so much buildup and drama in the finale for it to end on Instagram two days later. 
Then during Bachelor Happy Hour, Lindsay asked Weber what his gameplan with Prewett was going into the finale. At first, Pilot Pete promised viewers his relationship with Prewett wasn't staged. He also wished they had more time to speak in person ahead of time. Weber said:
We didn't see each other until the onstage live finale. We did talk. Obviously we FaceTime'd a lot. And we just had a lot of those talks we needed to have way sooner — that we could've had in the Fantasy Suite — with time off-camera.

It's kinda crazy, but the first time we ever spent time alone off-camera was after the show ended. And that was just crazy for such a serious relationship for that to be the first time. But we really didn't know what we were going to do. We knew there were still feelings that were there. 
The former bachelor then revealed he could have met up with Prewett before The Bachelor finale. However, they mutually agreed not to because it would be more "authentic."
"Looking back on it, I'm confused as to why we didn't see each other before [the finale]. It was an option and I wanted to do it," Weber said. "And you know, I remember her saying stuff like maybe we should make this really authentic onstage and have that be the first time."
He also shared he realized he wanted to see her a couple of days before the finale. But by then, it was too late.
Rachel Lindsay and Becca Kufrin speculate why Peter Weber and Madison Prewett's decision affected 'The Bachelor' finale
As soon as Weber revealed the reason why he didn't meet up with Prewett ahead of The Bachelor finale, Lindsay pointed out a potential red flag.
"When you love somebody and you have those happy couple weekends when you haven't seen anybody, you are itching, you are dying to see that person," Lindsay said. "And I get you saying, 'I wanted to see her, I wanted to see her.' And to hear that she was like, 'Maybe we should wait because more authentic onstage,' are you putting on a show or are you trying to get to know each other? That's where I have the conflict."
Meanwhile, Kufrin echoed her co-host's remarks. She also noted Weber and Prewett needed to spend that time together to get on the same page.
"You guys already had so much lost time. There was so much time that needed to be made up to really solidify the relationship," Kufrin said. "So if I was the two of you, I would have — from the moment she had flown out to LA, to try to rekindle things with you — I would have been like, 'Look we need to be together. We need to see if we can make this work."
She continued: "For a relationship, you want to be with someone. You want to spend those happy couple moments together. I wouldn't have reacted the same way. I would have been so terrified to get onstage and have there been so many unknowns."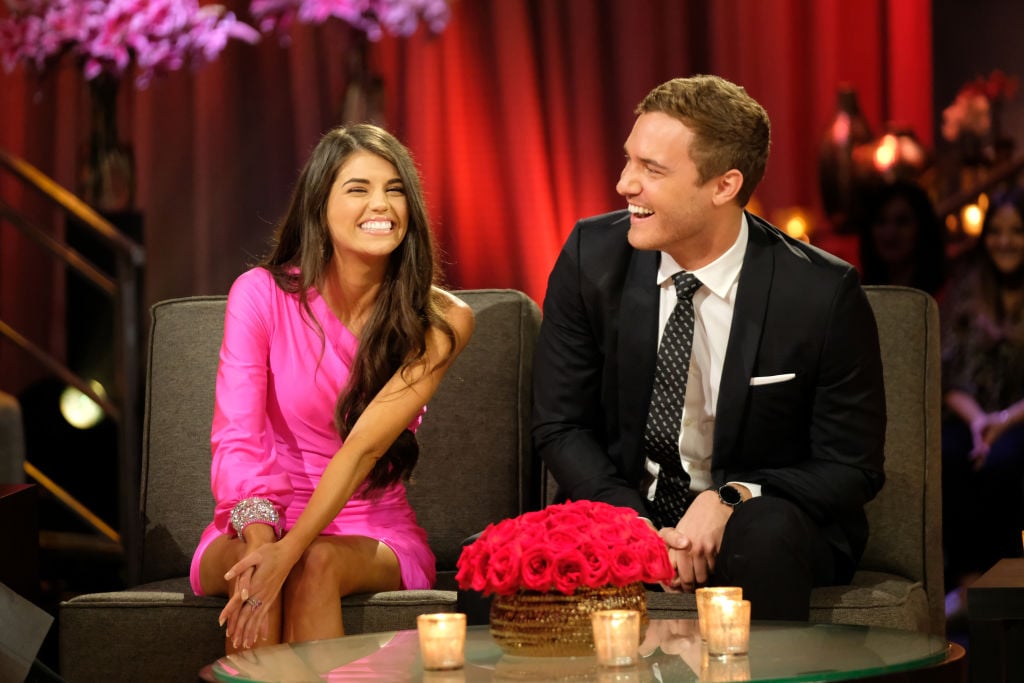 Then Lindsay said Prewett and Weber's decision not to meet up brought clarity as to why the finale was so uncomfortable. The couple just didn't have a game plan going in. And although Weber defended Prewett, confirming it "wasn't all her" and that he agreed to the plan, Lindsay shared what his remarks may say to an audience.
"I think the common theme people saw is it looked like you were giving 100 percent. And 100 percent wasn't being given back to you. That's just kind of how it comes off to an audience," Lindsay said.
In all honesty, the reason behind Weber and Prewett's choice not to meet prior to The Bachelor finale just feels weird. If they insist their relationship wasn't a show, why treat it that way? But regardless, we finally understand why the moment onstage was so awkward. And although it's nice to uncover a missing piece from the puzzle, it appears all those involved are moving on, which is all that really matters at this point.
Read more: 'The Bachelor': How Is Peter Weber Now? The Dating Reality Series Ended in Flames, But Pilot Pete Still Has Hope