'The Bachelor': Peter Weber Reveals Why He Didn't Do Press Rounds After the Finale
Peter Weber reveals why he didn't do press rounds after 'The Bachelor' Season 24 finale on March 10, 2020, despite the explosive ending.
The Bachelor Season 24 finale may have ended on March 10, but Peter Weber is finally doing the media rounds. After a turbulent season, viewers witnessed a crash landing, as layers of drama continued to pile on Pilot Pete. Then in a turn of events, Weber did not make the press rounds following the After the Final Rose taping, which is typically expected after the finale. Now, about a month later, Weber is opening up about The Bachelor ending, including why he decided to postpone the press tour.
How did Peter Weber's 'Bachelor' season finale end?
In Weber's Bachelor season finale, the 28-year-old chose and proposed to Hannah Ann Sluss. But after a few months, Weber admitted he couldn't give Sluss his full heart and broke off the engagement. Then during ATFR, Sluss tore into Weber, calling him out for blindsiding her. 
Meanwhile, Bachelor Nation fans learned Weber went after his runner-up, Madison Prewett. Well, host Chris Harrison did. Previously, Prewett self-eliminated because she recognized their lifestyles and values didn't align. But after Weber's breakup with Sluss, the production team met up with Prewett and told her everything that went down with her ex. Then after she admitted she was in love with Weber, she reunited with him in LA.
At the live finale, Weber and Prewett professed their love for each other. However, they didn't confirm anything about their relationship. Weber revealed they needed time to heal and would take things one step at a time. But he didn't specify whether he planned to date Prewett moving forward.
It also became clear Weber's parents did not approve of his relationship with Prewett. Ultimately, the Webers pointed out the couple wasn't compatible. But the delivery wasn't exactly great. And in the end, Weber's mother said, "He's going to have to fail to succeed." Nevertheless, two days after The Bachelor Season 24 finale, Weber and Prewett announced their split on Instagram. 
Peter Weber explains why he didn't do the press rounds after 'The Bachelor' finale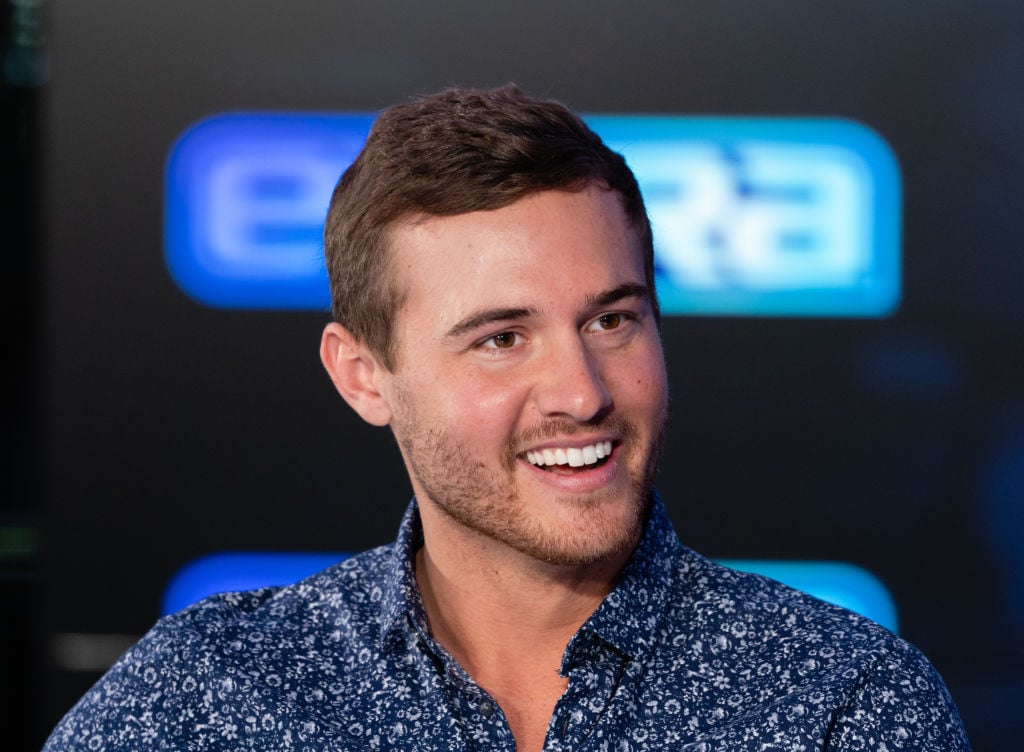 After The Bachelor finale wrapped, fans were left hanging without Weber's media rounds. Usually, everyone expects the bachelor to spill the tea through publication interviews, podcasts, and talk shows, such as Jimmy Kimmel Live and Good Morning America. But after Weber's finale, there was silence. 
The next day, ABC executive Rob Mills explained the situation in an interview with The Hollywood Reporter. 
"This decision was made weeks ago," Mills said. "I think Peter and Madison are trying to figure their way out and what's next for them, and I think that answering a million questions right now when they haven't had the time to ask those questions of themselves would have been really difficult and kind of a gauntlet. It had nothing to do with the family."
Then on April 7, Weber went on four Bachelor Nation podcasts — Off the Vine, The Viall Files, Bachelor Happy Hour, and Almost Famous — to discuss his season's ending. And when speaking with The Bachelorette's Kaitlyn Bristowe, who pointed out she wasn't able to cancel her own press tour, Weber revealed why he chose not to do interviews after the finale. 
"I guess things kind of worked out for the better for me," Weber said. "To be honest, it wasn't appropriate for where Madison and I were in the headspace right after we walked offstage. That was a tough moment for us. And I think everyone could understand that. So we were very grateful that they did."
He continued: "I just wanted to take some time for myself and reflect on stuff, talk with Madison, talk with my family. And just be there for each other. Press just wasn't the thing that was at the top of my list. I guess just got lucky that they just accommodate that."
Meanwhile, it seems Weber was supposed to do more media interviews after some time. However, the coronavirus (COVID-19) pandemic put a stop to the traditional press tour.
"[Coronavirus] kind of stopped things as well. There was going to be no tour with that," Weber said.
Weber may have remained silent after The Bachelor Season 24 finale aired. But now, Pilot Pete ready to serve the tea. So stay tuned.
Read more: Peter Weber Admits That Madison Should Have Apologized About Australia at 'The Bachelor' Finale