'The Bachelor': How Are Sean Lowe and Catherine Giudici Doing Now? Their Instagram Accounts Will Tell You Everything
Sean Lowe and Catherine Giudici will return to The Bachelor franchise with The Greatest Seasons — Ever! on June 8. The latest spinoff will take viewers down memory lane as host Chris Harrison goes over the best moments from the season within three hours. So how are Lowe and Giudici doing now, seven years after The Bachelor Season 17? The couple's individual Instagram accounts will tell you everything you need to know to catch up.
Sean Lowe and Catherine Giudici got together in 'The Bachelor' Season 17 finale
RELATED: 'The Bachelor': Why Catherine Giudici Thought Sean Lowe Wouldn't Pick Her
It's no surprise Lowe and Giudici became one of Bachelor Nation's favorite couples. The former bachelor and graphic designer had plenty of chemistry throughout their season. Then on March 9, 2013, Lowe proposed to Giudici in Thailand. 
"This has been such a crazy journey and there have so many unexpected moments with you," Lowe said before getting down on one knee. "I knew from the very beginning that you were someone I wanted to be around. I just had no idea that my feelings were going to turn into what they've turned into."
He continued, "Every time we have to say goodbye, I miss you. And I don't want to say goodbye anymore.'
And of course, Giudici said yes. The couple then rode off together, happily engaged.
Sean Lowe and Catherine Giudici got married after 'The Bachelor'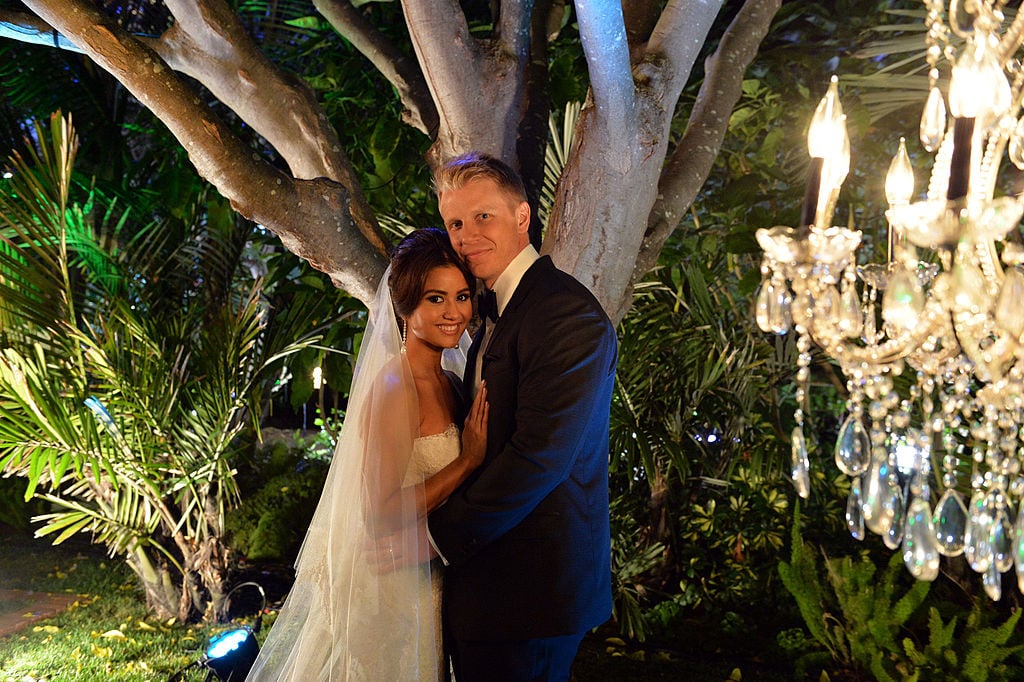 Following Lowe and Giudici's engaged in The Bachelor finale, the couple got married in front of their friends, family, and the rest of the nation. The pair had their wedding televised at the Four Seasons Resort in Santa Barbara on January 26, 2014.
Then recently on Instagram, both Lowe and Giudici gushed over their sixth year anniversary. And it seems the couple is still head over heels for each other.
"S I X – Y," Giudici wrote on Instagram. "It's been six years of having fun, learning, being challenged, becoming parents together, laughing, all while holding each other's hands which is exactly what I hoped for when he got down on a knee. Happy Anniversary my love! @seanloweksu."
Meanwhile, Lowe wrote in a separate post:
Six years ago today, I married my best friend. Our story is like many others- we met at a cocktail party, I courted her for a season, we fell in love, I proposed, we rode into the sunset on an elephant as credits rolled, and we got married in front of our family and closest seven million friends- tale as old as time. It was and will remain the best decision I've ever made in my entire life.
Sean Lowe and Catherine Giudici's Instagram accounts highlight how the couple is doing now
Now, Lowe and Giudici's Instagram feeds are more than anniversary celebrations and reminiscing about The Bachelor. For the past few years, the reality star alums have been sharing photos of their happy growing family.
In 2016, Lowe and Giudici introduced their baby boy, Samuel, to the world. Then two years later, the couple welcomed another boy named Isaiah. And in December 2019, Samuel and Isaiah became big brothers to Mia, turning Lowe and Giudici's household into a family of five.
It's also possible Lowe and Giudici's family will continue to grow. Back in May 2019, Giudici revealed she wanted to adopt at some point.
"Originally when I met Sean, I wanted five [kids]. He's like, 'Whoa.' I'm like, 'OK, maybe four,'" Giudici told Us Weekly. "I want a girl naturally next and then [to] adopt a girl. Then you get sisters and brothers."
The Bachelor isn't exactly known for creating lasting relationships. So, as the fandom relives Lowe and Giudici's love story on The Greatest Seasons, it's nice to see the couple is still going strong seven years after they met on reality TV.
Check out Showbiz Cheat Sheet on Facebook!