'The Bachelor' Fans Think Victoria Fuller Could Teach a Master Class in Manipulation After Her Argument With Peter Weber
Why 'The Bachelor' fans think Victoria Fuller manipulated Peter Weber after flipping the narrative during their week 8 argument at hometowns.
Watching The Bachelor Season 24 is kind of like Peter Weber's relationship with Victoria Fuller — we just can't give it up, no matter how many times outsiders beg us to stop. The Feb. 17 episode highlighted three typical hometown dates. Then all the drama exploded once Weber arrived at Virginia Beach for Victoria F.'s hometown. Eventually, the pair ended up in a heated argument. And now, The Bachelor fans are calling out Victoria F. for manipulating Weber once again.
Peter Weber's ex accuses Victoria Fuller of breaking up relationships
Victoria F. and Weber's hometown date in The Bachelor Week 8 started off drama-free. The two take some old-timey photos, hang out with the Victoria F.'s dog, and wind up at a Hunter Hayes concert. They seem to hit it off as the country star singer, "I don't want easy, I want crazy." Fitting for what's to come.
After the concert, Weber's ex-girlfriend, Merissa Pence, shows up. She previously dated the current bachelor back in 2012 and she knows Victoria F. — as well as the medical rep's past. Pence tells Weber his date has broken up multiple relationships.
Naturally, Weber panics. So when he arrives at Victoria F.'s house to meet her family, he takes a moment to chat about the situation. "[Merissa] told me you've caused a lot of relationships to end. I don't know what she's referring to. But those are her words," Weber says.
"For her to say that, that's very disappointing. I haven't broken up any relationships," Victoria F. responds. "What relationship did she say that I break up?"
When Weber explains Merissa didn't give any details, Victoria F. doesn't want to continue talking. She says she is "disgusted" and "done" with the drama. Weber then asks for the truth, but she doesn't dive in any further. Weber doesn't bring up the allegations again.
Victoria Fuller turns the tables on Peter Weber in 'The Bachelor' Week 8
At this point in their argument, the narrative turns. Weber wonders why his contestant is so willing to give up. Now, Victoria F. appears offended. "You literally just came here to act like that? Are you kidding me?" she says.
Weber is caught off guard and says, "Excuse me?" To which Victoria F. responds, "Excuse you, what?" She later adds, "You're supposed to meet my family tonight and you decided what Merissa told you is more important than meeting my entire family."
Once again, Victoria F. tries to run away. "Do you ever fight for anything that you really want?" Weber asks. Victoria F. says she does and when the bachelor brings up that he has been fighting for her, the contestant says, "Really, you have been? That's funny."
After some back and forth, Victoria F. escapes the cameras. Later, Weber finds her and apologizes. "I really didn't come in here trying to attack you," Weber says. "And if somehow it came off that I was taking her side, and not yours, I'm sorry for that. That's not what I was doing."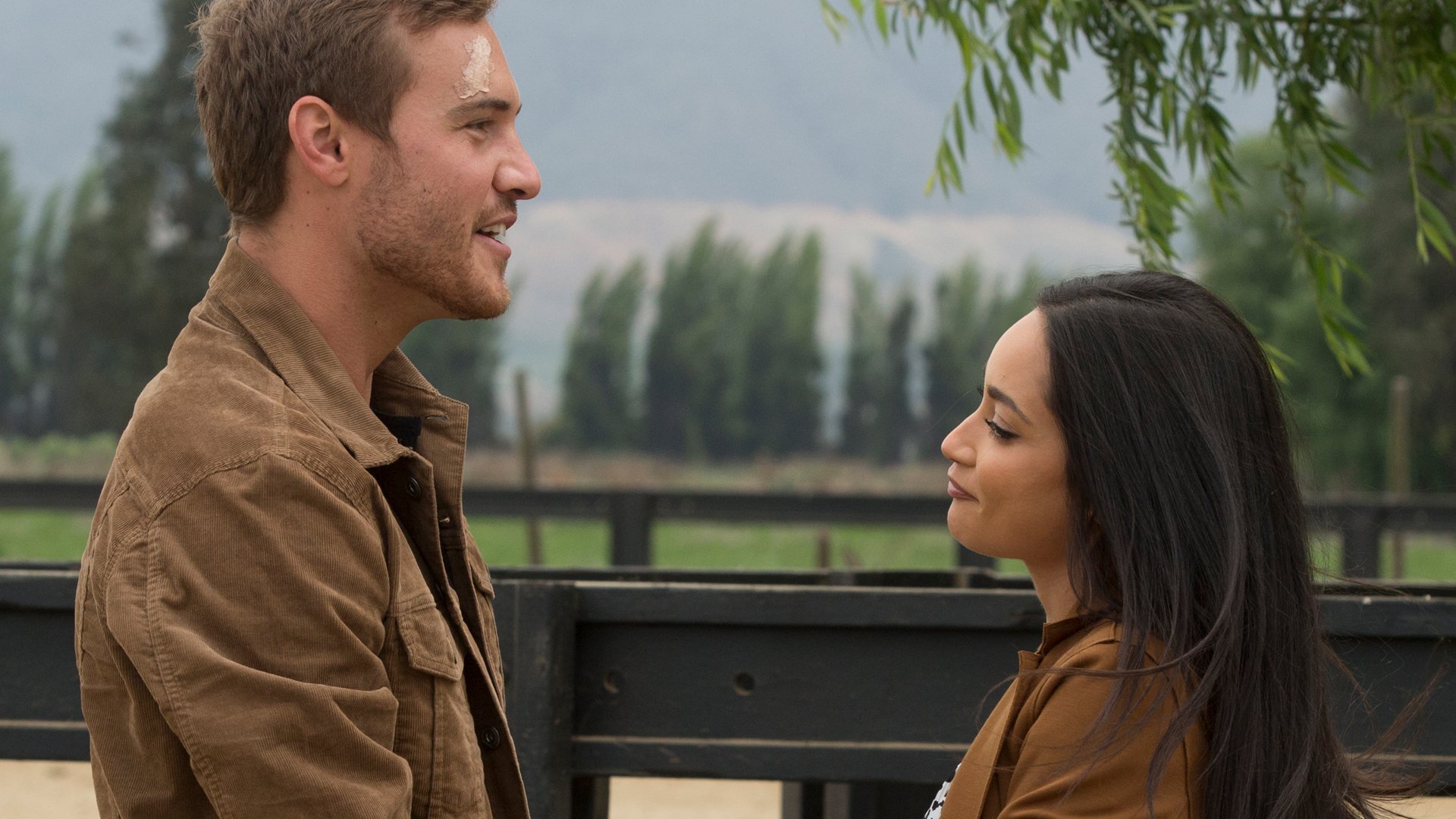 Victoria F. says she wanted to tell Weber she was falling in love with him. However, she is spooked "because how am I supposed to… you sit there and basically say that you take this stupid girl's side?"
Then before Weber leaves for the night — without meeting the parents — Victoria explains why she is upset. "I finally felt like you were someone who I could be with," she says. "I just had high hopes for you to meet my family and I'm so disappointed. But I'm so embarrassed now."
The next morning, Victoria F. comes and apologizes. Once again, she tells him she is falling in love. Meanwhile, Weber expresses his concerns, admitting he is scared and confused about all the drama and lack of communication. "It's the most terrifying thing for me to continue to want to invest with the possibility of you just walking away," he says.
Regardless, Victoria F. says it's up to Weber now. She's fine with his decision but reinforces that she's falling in love. At the rose ceremony, Weber keeps Victoria F. 
Bachelor Nation reacts to Victoria Fuller and Peter Weber's argument
Following the argument between Victoria F. and Weber in The Bachelor Week 8, the fandom went into a frenzy. The allegations made against Victoria F. aside, many viewers believe the contestant turned the tables on Weber, making the bachelor apologize for bringing the subject up in the first place.
"Victoria F is the QUEEN of manipulation," one fan wrote on Twitter. 
Then during the Access recap of The Bachelor episode, Zuri Hall and Bachelor Nation's Ashley Iaconetti Haibon and Kristina Schulman gave their take on the situation. 
"She's so good at flipping it. And Peter's such a good, innocent-seeming guy, that by the end of it, she's waiting for him to apologize for not even doing anything," Zuri said. 
"Which he did! He apologized," Haibon added, noting her disbelief. "It was two sentences of 'denial' and then a total flip, completely throws him off." She also expressed her shock that Weber didn't address the allegations more than once. Though it's possible those scenes didn't make the final cut. 
Meanwhile, other fans — including a number of Bachelor Nation alums — accused Victoria F. of gaslighting Weber. 
"watching this gaslighting from the sidelines #TheBachelor," Derek Peth from The Bachelor and Bachelor in Paradise wrote. 
Regardless, The Bachelor fandom is not here for Victoria F. and Weber to stay together. 
"how is victoria f still on here?" YouTuber Gabi Demartino wrote on Twitter. "i could never imagine speaking to a man or bf that way… she's manipulative and miserable. why is he tolerating this & chasing this behavior."
"Alright Victoria F is the worst person to ever be on the bachelor… in history… so manipulative and conniving. I'm so over her and her toxic actions," another fan wrote.
No matter how fans reacted during hometowns, The Bachelor Season 24 continues on and Weber already picked Victoria F. to be part of his final three. But will Weber get engaged to the controversial contestant? Everyone will have to wait and see.
Nevertheless, Weber has defend Victoria F.'s character once before. When the "White Lives Matter" scandal broke headlines, the bachelor stepped in. He told BUILD Series:
All I can speak on is the time I was able to spend with Victoria throughout this experience. And I truly enjoyed my experience with her. I really feel she's a good person. She's got a lot of endearing qualities. I just hope that people can form their opinion on her based off what they see between the two of us and her time on the show. She's not perfect. I'm not perfect. No one's perfect.
Read more: 'The Bachelor: Listen to Your Heart' Trailer Dropped and Fans Are Still Haunted by Jed Wyatt