Who Went Home on 'The Bachelor' Week 4? Peter Weber's Season Just Got Messy
How are you holding up, Bachelor Nation fans? Let's just hope you're doing better than Peter Weber. In The Bachelor Season 24 episode on Jan. 27, Weber got into some trouble after an eliminated contestant returned to the ABC reality series. But then everything sort of exploded, leaving Weber rethinking his decisions. So who went home on The Bachelor Week 4? The episode left off on a cliffhanger.
[Spoiler alert: The Bachelor Season 24 Episode 4.]
Victoria F. runs into her ex-boyfriend, Chase Rice, in 'The Bachelor' Week 4
All is well when The Bachelor Week 4 takes flight. The women are calming down from Alayah's elimination from the previous evening. Then Chris Harrison arrives, he tells everyone they will travel to Cleveland, Ohio. And once they arrive, Victoria Fuller receives a one-on-one date with Weber. 
To kick off the date, Victoria F. and Weber fly over Cleveland in a plane. They also head over to an amusement park and discuss their future plans, including the possibility of children — 4 to be exact. But then things start to crumble.
Weber has one more surprise for Victoria F. — a concert with Chase Rice. The couple share a moment in front of a crowd and seem to have a good time. However, in a confessional, Victoria F. is freaking out. As it turns out, Victoria F. used to date Rice before the show and previously didn't want her to join the cast.
Victoria F. and Rice have a brief conversation and the singer tells his ex to "just be real with him, just be you." Then at the dinner portion, Victoria F. comes clean.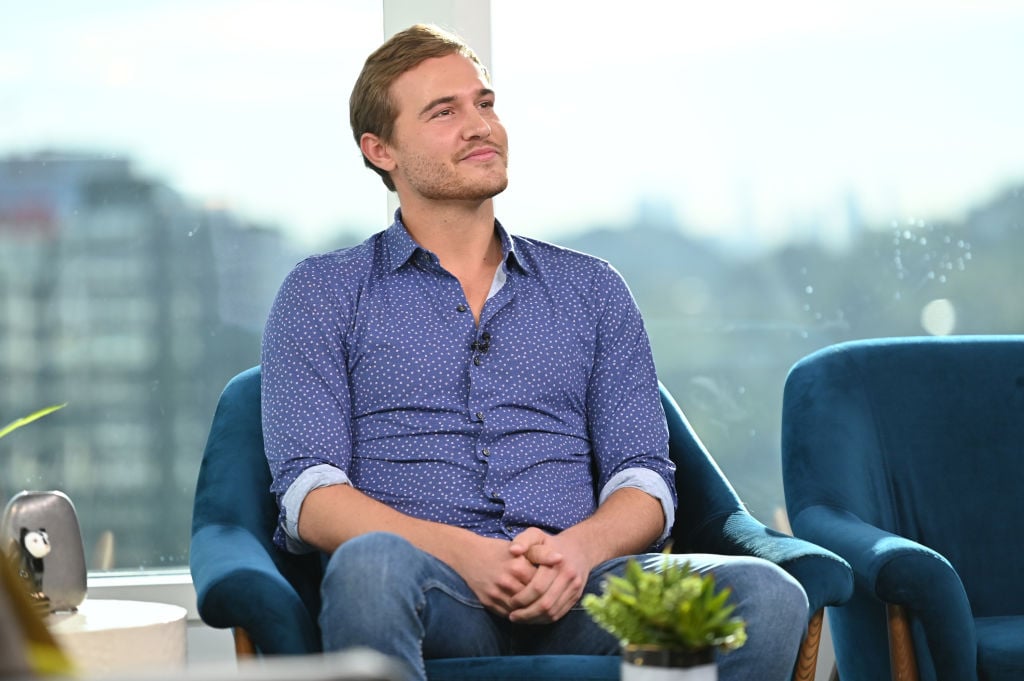 "Chase and I used to date," she tells Weber. "We dated but we broke it off with him because his lifestyle doesn't really match up with what I want. And I knew that I wanted to give this a try with you. I really didn't want to ruin the moment."
Victoria F. confirms she has no lingering feelings and just didn't want to ruin the moment because she wanted Weber to remain happy. And after a short breakdown, Weber and Victoria F. have a conversation to clear the air. But in the end, the couple comes out stronger than ever and Victoria F. receives a rose.
"We took a really good step forward tonight. She was very honest with me," Weber says. "That is what is so impactful to me and so meaningful. That's what I'm looking for. That's how I know I'm building a solid relationship with someone. So I'm feeling really good about Victoria."
Alayah returns to win Peter Weber's trust on 'The Bachelor'
Next up, Kelsey Weier and Weber go on a one-on-one date. They roam Cleveland and get to know each other more. It's the proper romance Bachelor Nation fans deserve with no "Champagne Gate" nonsense. In the end, she gets the rose. Once again, all is well. But of course, there's more drama during the group date.
On the first and only group date of the fourth week, 13 women go to the FirstEnergy Stadium, home of the Cleveland Browns. The women run drills and play a game. Later at the cocktail party, it's clear everyone is stressed to get time with Weber. And then it happens — Alayah Benavidez returns.

Alayah is back to set the record straight about all the claims made about her in week 3. She says Victoria Paul is lying, revealing the two were friends during their pageant days, even embarking on a trip to Vegas together at one point. Meanwhile, Weber confronts Victoria P. and she confirms their friendship and trip. However, the former Miss Louisiana USA breaks down and still tells him she has always remained honest. Then when Weber, Victoria P., and Alayah come together, the bachelor sees Victoria P. in a new light and "not exactly who I think she is."

'The Bachelor' contestants go off on Peter Weber
As a result of her bold comeback, Weber asks Alayah to come back to the mansion. But wait — to top things off, he also gives the former Miss Texas USA the group date rose. Naturally, this doesn't sit well with the women. More drama is also brewing with Alayah, who reveals Victoria P.'s past with Rice. Once again, Alayah is called out for being manipulative.
All the cumulative drama spills over into the rose ceremony cocktail party. However, before anything can really begin, the women begin calling out Weber for bringing Alayah back.
"I'm sorry Peter, but I've never felt so under-recognized by somebody," Deandra Kanu said. "For us who busted our *sses out there on the football field and literally have the physical bruises, and then for you to come to the cocktail party and ignore us, who didn't get time, and then walk in hand-in-hand with Alayah, it was like the biggest slap in the face. I couldn't even look at you."
More women confront Weber and he seems understanding, dumbfounded by the mess. He pulls Victoria P. out of the group and she calls him out on dragging her into the middle of the drama. She claims Alayah is manipulating him and also brings up the Victoria F. situation and to talk to her about the drama Alayah brought in from the outside world.
Meanwhile, multiple contestants are having it out with Alayah. Everyone is fighting and it's a mess. Alayah refutes the attacks and leaves to speak with Weber, who wonders why the other women don't like her. And it seems Alayah is beginning to regret her return.
Who goes home on Peter Weber's season of 'The Bachelor' Week 4?
Now, everything is coming down on Weber, and he's clearly nervous about messing up. "I'm worried all these girls are going to walk out," Weber says. "I feel like they're disappointed in me." Yikes.
And then the episode ended. No rose ceremony, no elimination. So fans will have to wait until the Feb. 3 episode to find out who goes home next.
Alayah, 24-year-old orthodontist assistant from Texas: Came back
Deandra, 23-year-old home care coordinator from Texas: In the running
Hannah Ann, 23-year-old model from Tennessee: In the running
Kelley, 27-year-old attorney from Illinois: In the running
Kelsey, 28-year-old professional clothier from Iowa: In the running
Kiarra, 23-year-old nanny from Georgia: In the running
Lexi, 26-year-old marketing coordinator from New York: In the running
Madison, 23-year-old foster parent recruiter from Alabama: In the running
Mykenna, 22-year-old fashion blogger from Canada: In the running
Natasha, 31-year-old event planner from New York: In the running
Savannah, 27-year-old realtor from Texas: In the running
Shiann, 27-year-old administrative assistant from Nevada: In the running
Sydney, 24-year-old retail marketing manager from Alabama: In the running
Tammy, 24-year-old house flipper from New York: In the running
Victoria F., 25-year-old medical sales representative from Virginia: In the running
Victoria P., 27-year-old nurse from Louisiana: In the running
Read more: The Real Reason Why Halsey Wanted BTS' Suga to Collaborate On Her New Album Will Send Shivers Down Your Spine