'The Bachelor': Who Is Merissa Pence? Peter Weber's Ex Puts Victoria Fuller on Blast
[Spoiler alert: The Bachelor Season 24, Episode 8.] Peter Weber's season of The Bachelor is truly the season of the exes. Early on, we caught up with The Bachelorette's Hannah Brown, which almost led to a bachelor-less year. Later, the producers set up cast member Victoria Fuller to go on a date with her old flame, Chase Rice, as a musical guest. Now, in The Bachelor Week 8, we're going to meet Merissa Pence, Weber's ex-girlfriend who also happens to know Victoria F.
How Merissa Pence knows Victoria Fuller and Peter Weber from 'The Bachelor
On Feb 13, Us Weekly released an interview with Pence, who dished on her relationship with Victoria F. and Weber from The Bachelor. According to Pence, she dated Weber for five months back in 2012.
"We had a great relationship," Pence said, adding she was friends with Pilot Pete even after they broke up. "But then I was in a serious relationship and Peter had started dating someone else as well. So we really didn't chat too much."
Pence then revealed she met Victoria F. through a mutual friend in Virginia Beach around three years before The Bachelor. That said, Pence's first run-in with the medical sales rep wasn't exactly what you would expect.
"Our first encounter was that she told me she was going to slash my tires because I was hanging out with one of her ex-boyfriends," Pence said.
Nevertheless, Pence grew a "forced friendship" with Victoria F., as they ran in similar circles. And right before leaving Virginia Beach to film The Bachelor, Pence claimed Victoria F. "became a very self-centered person." Pence also questioned Victoria F.'s soft-spoken persona highlighted in the ABC reality series. She told Us Weekly:
[Victoria F.] just thinks that the world revolves around her and she's the hottest thing that's ever hit this planet. And actually the most disturbing thing so far of all of this was the lingerie episode that she just acted like she was this coy person. The people in Virginia Beach are even seeing that that's not you at all. You're always the one in the bar wanting attention.
What happens to Peter Weber, Merissa Pence, and Victoria Fuller in 'The Bachelor' Episode 8?
Pence did not confirm her appearance in The Bachelor Season 24 during her interview with Us Weekly. However, in October 2019, franchise blogger Reality Steve revealed Pence saw Weber and warned her ex-boyfriend about Victoria F., who is an alleged serial cheater.
According to Reality Steve, Pence's conversation with Weber was filmed for The Bachelor. The blogger also reported Pence wasn't hooked up to a mic and Weber left immediately after they talked. Regardless, Weber was shocked by the news, visibly upset because of his strong connection with Victoria F.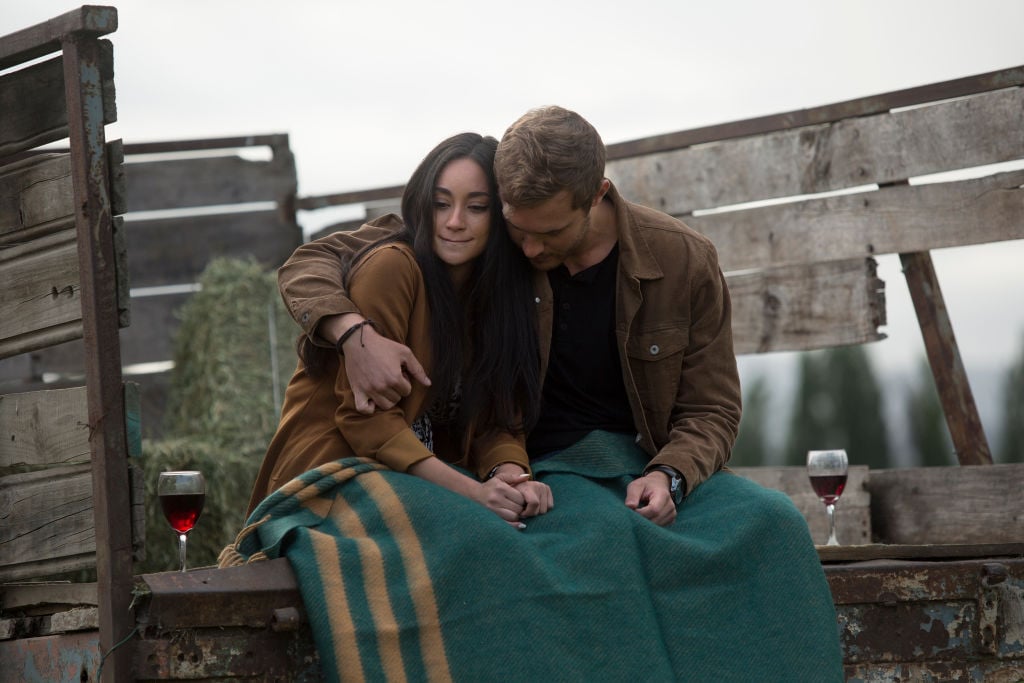 Now, it's likely Pence and Weber's discussion will be a focal point of The Bachelor Week 8. In the promo for the Feb. 17 episode, Weber dives headfirst into hometowns. Then in a preview from Entertainment Weekly, a "mystery woman reveals Victoria's secret." And as a result, Weber confronts Victoria F.
"She brought some stuff to my attention that she thought I should know," Weber tells Victoria F. He then asks her for "the truth" and the pair get into an argument.
But even so, Pence's warning may not end Weber and Victoria F.'s relationship for good. In January 2020, Reality Steve spoiled the hometown date and shared Weber broke up with Victoria F. before meeting her parents. However, she showed up at Weber's hotel and they got back together, making it through to overnights.
Victoria Fuller responds to the claims made by Reality Steve
As of this writeup, Victoria F. has yet to directly respond to Pence's remarks. But in November 2019, she briefly addressed the allegations presented by Reality Steve.
"The RUMORS you are hearing are FALSE," Victoria F. wrote on Instagram. "There will be a time & place where I can defend myself, but for now I choose to wait."
She continued: "HOWEVER, bullying is NOT ok. Nor is it fair. Especially when casting judgement and basing opinions upon pure speculation, assumptions, & LIES."
Of course, The Bachelor fans will have to wait and see how the Pence, Weber, and Victoria F. situation actually plays out on Monday, Feb. 17. So stay tuned. We don't think anyone's ready to witness what unfolds.
Read more: 'The Bachelor': Peter Weber Debunked 3 Theories About How the Finale Ends and Honestly, We're Disappointed