'The Bachelorette': Chris Harrison Says Clare Crawley's Season Won't Return Until They Can 'Do It Safely'
When will Clare Crawley's season of 'The Bachelorette' return after production was postponed in March 2020? Chris Harrison has an update.
Bachelor Nation fans will have to hold on a little longer for Clare Crawley's season of The Bachelorette — and for good reason. Amid the coronavirus (COVID-19) pandemic, the ABC reality series postponed production for the 2020 cycle. But when will The Bachelorette Season 16 return? Recently, franchise host and executive producer, Chris Harrison, shared an update. And ultimately, the cast and crew's safety comes first.
'The Bachelorette' Season 16 postponed production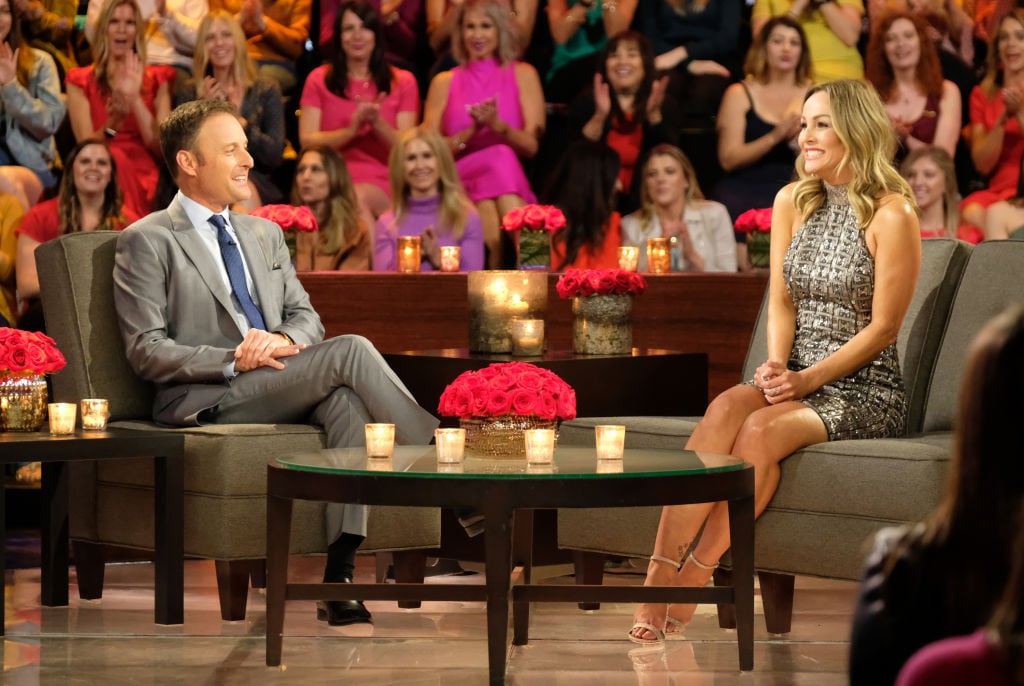 On March 13, Warner Bros. Television Group halted production on over 70 series and pilots due to the coronavirus. The list of shows included The Bachelorette Season 16, which was originally set to start filming on the same day. Per Entertainment Weekly, the statement read:
With the rapidly changing events related to COVID-19, and out of an abundance of caution, Warner Bros. Television Group is halting production on some of our 70+ series and pilots currently filming or about to begin. There have been no confirmed cases of COVID-19 on any of our productions, but the health and safety of our employees, casts and crews remains our top priority. During this time, we will continue to follow the guidance of the Centers for Disease Control as well as local officials and public health professionals in each city where our productions are based
Meanwhile, Harrison addressed the postponement on Instagram. 
"It was not only the right thing to do, it was the only thing to do," the host said. "But that doesn't mean this decision wasn't hard to make, because this will affect a lot of people. To my friend Clare, you are still my bachelorette. Hopefully, we're still going to have the opportunity to help you find love and make this work."
Chris Harrison updates the status on Clare Crawley's season of 'The Bachelorette' 
Over two weeks after the announcement, Harrison gave an update on Crawley's Bachelorette season in an interview with People on March 31. And for now, filming is still indefinitely postponed. 
"Until we can do this show and do it safely, we won't do it," Harrison said. "Right now we are just on hold and it's being postponed. But we're all chomping at the bit to get back to it and to have Clare be our bachelorette."
The host also touched on how the coronavirus outbreak may affect storylines on Crawley's season of The Bachelorette when the reality series returns. 
"When we shoot Clare's season, it's going to be indicative of what's happening in the world," Harrison said. "Obviously there will be talks of the pandemic and, 'What were you doing quarantining and who were you with?' Those are going to be the conversations that we're going to embrace."
He added: "Then when you watch Clare's season, 20 years from now, you're going to think, 'What? What were these people doing? Why did they not hug? Why were they scared to embrace?' And that's kind of the beauty of this show is it always embraces what's happening in the real world."
But regardless of what happens when The Bachelorette Season 16 resumes filming, fans hope Crawley finds her perfect match when it's safe for everyone involved. In an interview with The Ringer's Bachelor Party podcast, ABC executive Rob Mills predicted the hairdresser from Sacramento will receive the best break.
"When we do this season, it's going to be awesome," Mills said at the time. "You can't keep getting bad breaks and then not get a good break. I think she's going to get the best break. Something is going to happen that this all happened for a reason. I think she's very much a big believer in that, too. Everything in its own time."
So fingers crossed Crawley receives the most romantic season of The Bachelorette — no matter when that may be.
Read more: Why ABC Chose Clare Crawley to Be The Bachelorette