'The Bachelorette': Clare Crawley Kept the Dress From Her Iconic Breakup With Juan Pablo Galavis
Fans rejoiced when Clare Crawley from Juan Pablo Galavis' season of The Bachelor was announced as the next bachelorette. The 39-year-old has had her fair share of memorable moments. But Crawley's iconic breakup with Galavis is what made the hairdresser from Sacramento a Bachelor Nation fan-favorite. Then recently on Instagram, Crawley revealed she kept the dress from the "most empowering moment" of her life. And basically, we're ready to watch her take the reins on The Bachelorette right now.
What did Clare Crawley say to Juan Pablo Galavis on 'The Bachelor'?
In The Bachelor Season 18, Crawley made it to Galavis' final two, alongside Nikki Ferrell. But after a rollercoaster of a season, Galavis and Crawley had the worst possible ending to their final date.
During a helicopter ride, the couple shared some privacy without microphones or cameras. However, instead of spewing out sweet nothings, Galavis chose to tell Crawley something obscene. According to Us Weekly, he said, "I love f*cking you, but I don't know you."
Later at the final rose ceremony, Galavis broke up with Crawley to be with Ferrell. Nevertheless, Crawley had the final word. Before walking out, the new bachelorette tore into Galavis.
"I lost respect for you," Crawley said. "Because I'll tell you what, I thought I knew what kind of man you were. What you made me go through, I would never want my children having a father like you."
'The Bachelorette's Clare Crawley reveals she kept the dress from the Juan Pablo Galavis breakup on Instagram
On March 4, Crawley shared a blast from the past on her Instagram Story. The next bachelorette did a bit of spring cleaning and unveiled the teal dress from her dramatic breakup with Galavis on The Bachelor. 
"Cleaning out closets today… look familiar?!" Crawley wrote.
Then hairdresser shared a bit of behind-the-scenes info. "Fun fact: the entire zipper is shredded and unusable because I ripped this dress off as soon as I got in the car," Crawley wrote. And in all honesty, we don't blame her.
Meanwhile, Crawley also explained why she has held onto the dress from 2014. "2 reasons I kept it: 1) [Bachelorette stylist Cary Fetman] hand-beaded this and it meant the world to me. 2) It was the most empowering moment of my life," she wrote.
But aside from the sentimental value of the dress, it appears Crawley has moved on and is ready to embark on her next adventure. "Just wait til you see my Clare 2.0 dress," Crawley wrote, teasing The Bachelorette Season 16.
When will Clare Crawley's season of 'The Bachelorette' start?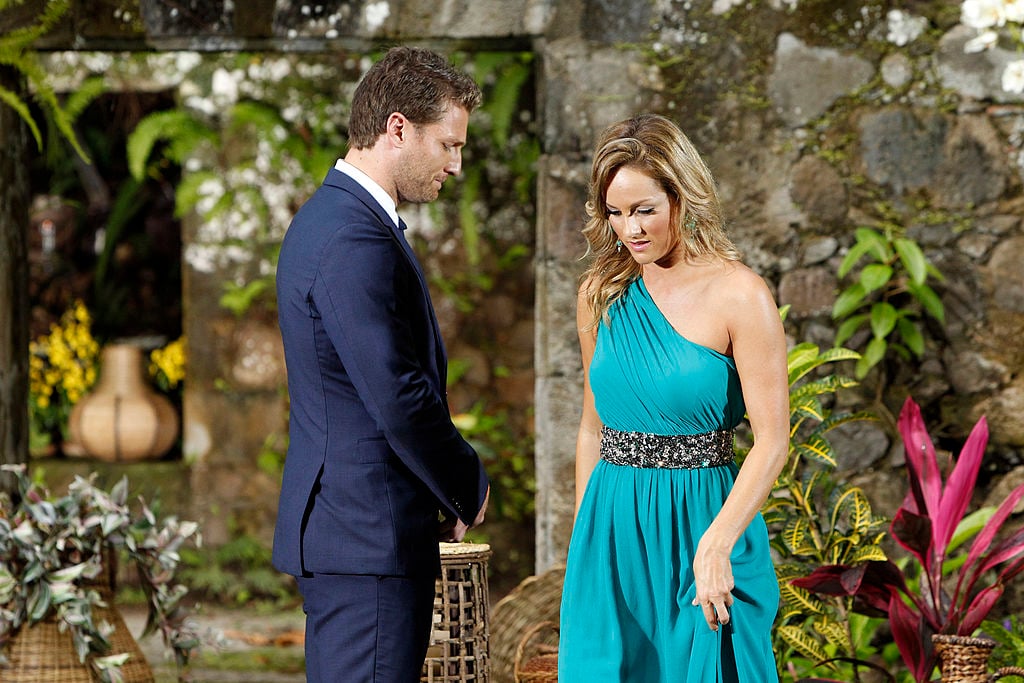 On March 13, Crawley's season of The Bachelorette was postponed due to the coronavirus (COVID-19) pandemic. The Sacramento native addressed the news in an Instagram post. She wrote: 
Well hello! Talk about most dramatic season ever! In all seriousness, Everyone's health is the most important priority at this time, and as I'm sure you've heard, we are pressing pause for now on filming The Bachelorette. We are taking it day by day and even hour by hour as this is so unpredictable. All I know for sure is that my heart is so full from all the love and support this far, and am still so excited for my journey to begin! I've waited 38 years for these moments, what's a little bit longer, right!
Then on April 1, host Chris Harrison updated the status on the situation. He confirmed the ABC reality series will not resume production until it's safe to do so.
"Until we can do this show and do it safely, we won't do it," Harrison told Entertainment Tonight. "Right now we are just on hold and it's being postponed. But we're all chomping at the bit to get back to it and to have Clare be our bachelorette."
Even so, it appears Crawley is still excited about what's to come on The Bachelorette. On April 2, a fan tweeted expressed their disappointment in the delay.
"I feel so bad for Claire because she hasn't got start her journey to find love yet," the fan wrote on Twitter.
But Crawley reassured the Bachelor Nation fan about her quest for love. "The journey already began long before I had this opportunity," she wrote. "Don't feel bad! It's an exciting new chapter!"
Although The Bachelorette Season 16 production is indefinitely postponed, Crawley's recent comments tell us it'll be worth the wait. So get ready. 
Read more: 'The Bachelorette': Clare Crawley's Season Is Postponed, But There's a Silver Lining