'The Bachelorette': Demi Burnett on Hannah Brown's Run-In With Jed Wyatt Last Weekend
Demi Burnett talks about former bachelorette Hannah Brown and Jed Wyatt being at the same party.
While it's not uncommon for former bachelors and bachelorettes to remain on good terms with their "exes" after their seasons end, Hannah Brown isn't exactly besties with Jed Wyatt.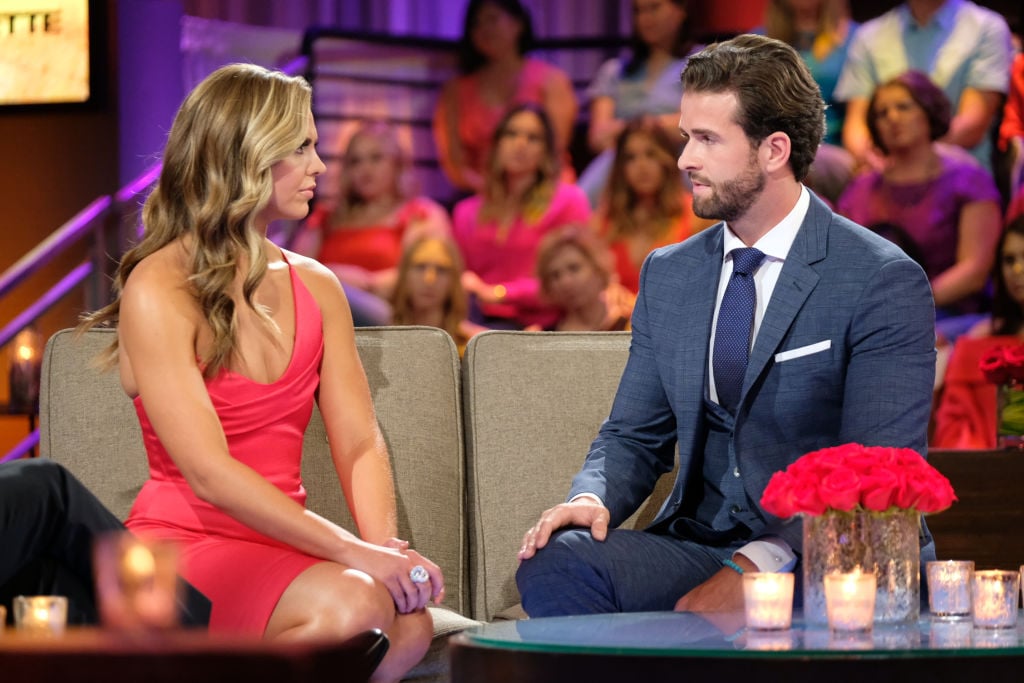 Brown gave Wyatt her final rose only to discover, a short time later, the musician had come on the show with a girlfriend waiting for him back home. The former beauty pageant queen announced that she broke off their engagement during "After The Final Rose." Since that time, Brown has taken little jabs at Wyatt here and there in the press and while on tour with Dancing with the Stars, but nothing major.
Meanwhile, Wyatt has moved on with a new girlfriend (when they first started getting cozy on Instagram the musician received quite a bit of flak from fans about moving on too quickly after being engaged to Brown). Her name is Ellen Decker and she's a personal trainer, model, and teacher, according to her Instagram.
Two weekends ago, Bachelor couple Dylan Barbour and Hannah Godwin had their engagement party in Beverly Hills. Barbour is close with Wyatt and Godwin is good friends with Brown. So both were invited. Wyatt attended with Decker, and Brown partied solo.
Demi Burnett on Hannah Brown and Jed Wyatt at Dylan Barbour and Hannah Godwin's engagement party
According to Bachelor alum and Brown's friend, Demi Burnett, "everybody was fine."
"Everybody was having a good time — it was fun. Her and Jed, they were all fine. Everybody was fine," Burnett told Entertainment Tonight.   
"I think Hannah's doing everything she needs to be doing and she's figuring it out. Her life has been so busy for so long and so now she's getting to reconvene with all her friends," she added. "Everybody can coexist and she's mature about it and I really respect that."
Burnett went on to say that Brown's not currently worried about finding a romantic partner.
"I think Hannah is doing the most amazing things she can be doing. She's living her best life and I think she just needs to do that for a little bit, and if somebody comes along, somebody comes along," said Burnett. "She's a rockstar, she's doing all the best things, so she doesn't need to worry about a man."   
Demi Burnett would have liked one of her friends to be the bachelorette
It was just announced that Clare Crawley is the next bachelorette. When Burnett gave this interview on Friday, she was still hoping for one of her friends to snag the lead role.
"I wish it would be Hannah Brown again because of course, I like watching my friend. But I'm up for any of my friends being the bachelorette," she shared. "I'm all about Tayshia [Adams] being the bachelorette. I wish Katie Morton would be the bachelorette. That would be amazing. Katie should be the bachelorette!" 
Read more: 'The Bachelor': Colton Underwood Makes a Good Point About Madison Prewett's Fantasy Suite Ultimatum