'Bachelorette' Stars Hannah Brown and Tyler Cameron Called Out For 'Attention Whoring,' By Reality Steve
Everyone wants to know whether former 'Bachelorette' Hannah Brown and Tyler Cameron are a couple. Reality Steve thinks he knows why the two are constantly posting videos together.
If you follow former Bachelorette Hannah Brown and her number two choice, Tyler Cameron, on social media, then you know they are quarantining together in Florida during the coronavirus (COVID-19) pandemic. What many fans are wondering is whether or not the two are an official couple. The well-known spoiler-king Reality Steve believes they are 'attention whoring.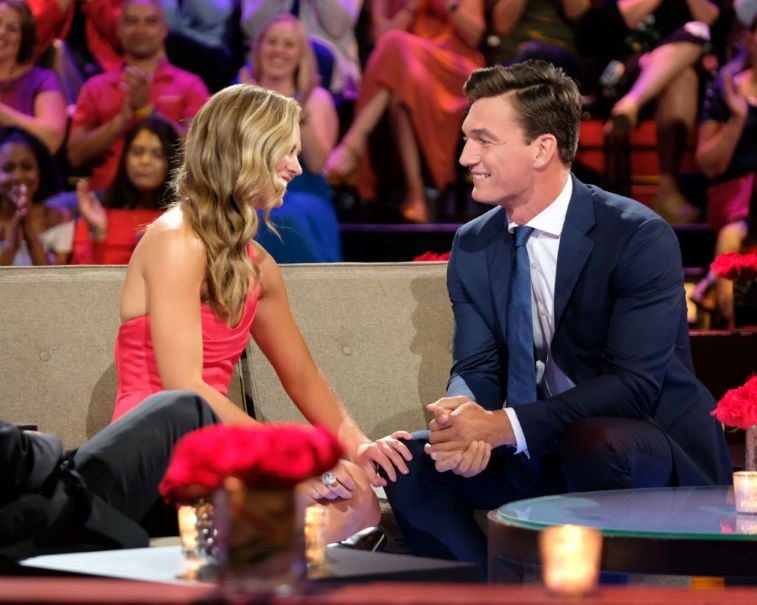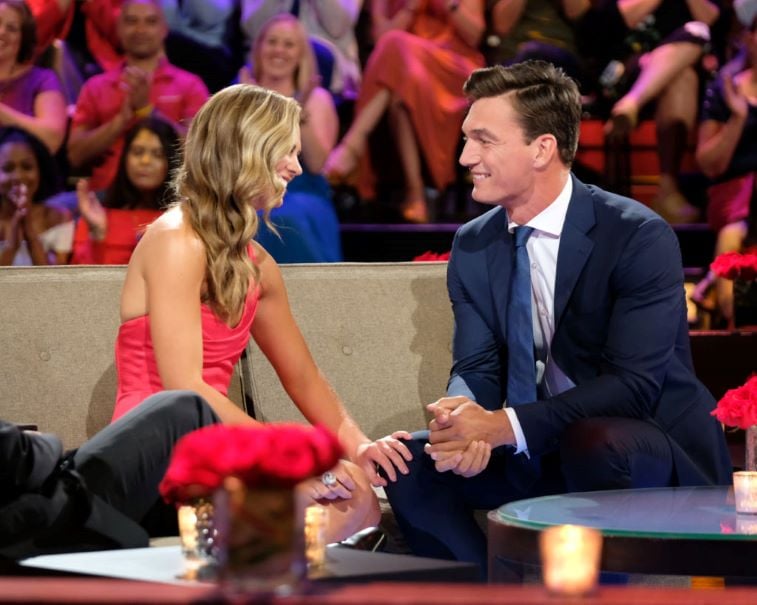 Why is Hannah Brown quarantined with Tyler Cameron in Florida?
Cameron's mother, Andrea Hermann Cameron, died of a brain aneurysm on February 29, 2020, according to The Palm Beach Post. She lived in Jupiter, Florida, and worked as a real estate agent. She died two days after she went to the hospital, so it was very sudden for Cameron and his brother, Ryan.
On March 10, 2020, Brown flew to Florida to attend a celebration at Miller's Ale House in memory of Cameron's mother. Then on March 15, 2020, fans spotted Cameron picking Brown up at the airport again. The two began quarantining together at this point, and a few days later, the Instagram handle, The Quarantine Crew, was formed. The crew consists of Brown, Cameron, Ryan, and five other friends. (One is not pictured below)
The Quarantine Crew posts silly videos and photos daily, chronicling their life during the coronavirus. In several of the videos, Brown and Cameron get very flirty. Fans often comment that Cameron looks at her with love in his eyes. There are daily debates on social media and in the news regarding whether or not the pair are officially dating. 
Reality Steve believes that 'Bachelorette' Brown and Cameron are 'attention whoring'
"If they're gonna keep putting themselves out there on videos and purposely not address what's going on, to me, they're attention whoring," Reality Steve wrote in his latest blog post. I just have a hard time seeing it any other way." 
Steve believes the couple is purposely not telling the media whether or not they are dating so that fans will keep speculating.
"They seem to enjoy the fact that everyone is talking about whether they are or aren't [dating], so they just keep posting and not addressing it," he continued. "To me, that screams they're loving the speculation and the guessing, and it comes across as self-serving." 
The Tik Tok videos, Instagram stories, and constant photos of the two spotted together is enough to keep the media busy daily.
What happened with Hannah Brown and Tyler Cameron on her season of 'The Bachelorette'?
So, why didn't the couple get together after Brown's season on The Bachelorette? Well, if you will remember, she chose Jed Wyatt. However, it turns out that he was in a relationship with Nashville musician Haley Stevens before and during the filming of the season. Stevens told the media that Wyatt only went on the show to further his musical career. 
Brown broke off things with Wyatt when she found out about his lies. During the live season finale of the show (After the Rose Ceremony), Brown admitted she still had feelings for Cameron. She asked him out for drinks, and many fans thought the pair would rekindle their relationship.
However, Cameron was later spotted with GiGi Hadid. After months of speculation about the two dating, Cameron finally told Entertainment Tonight that the two are only friends in September 2019.   
Maybe Cameron and Brown want to keep their relationship private. Or they might not be a couple at all. Only time will tell. Fans hope that they give up the news soon. In the meantime, we will all be watching their endless Tik Tok videos.