'The Bachelorette': Are Rachel Lindsay and Bryan Abasolo Married?
Did Rachel Lindsay and Bryan Abasolo get married after 'The Bachelorette'? An update on the Bachelor Nation couple now in 2020.
Rachel Lindsay and Bryan Abasolo made fans believe in love on The Bachelorette Season 13. Now the couple is headed back to The Bachelor world as guest judges on the May 4 episode of Listen to Your Heart. So what are the reality stars up to today? Although their wedding wasn't televised for all of Bachelor Nation to see, Lindsay and Abasolo got married two years after they got engaged. And that's not the only change that's happened since cameras stopped rolling.
Rachel Lindsay and Bryan Abasolo get married in August 2019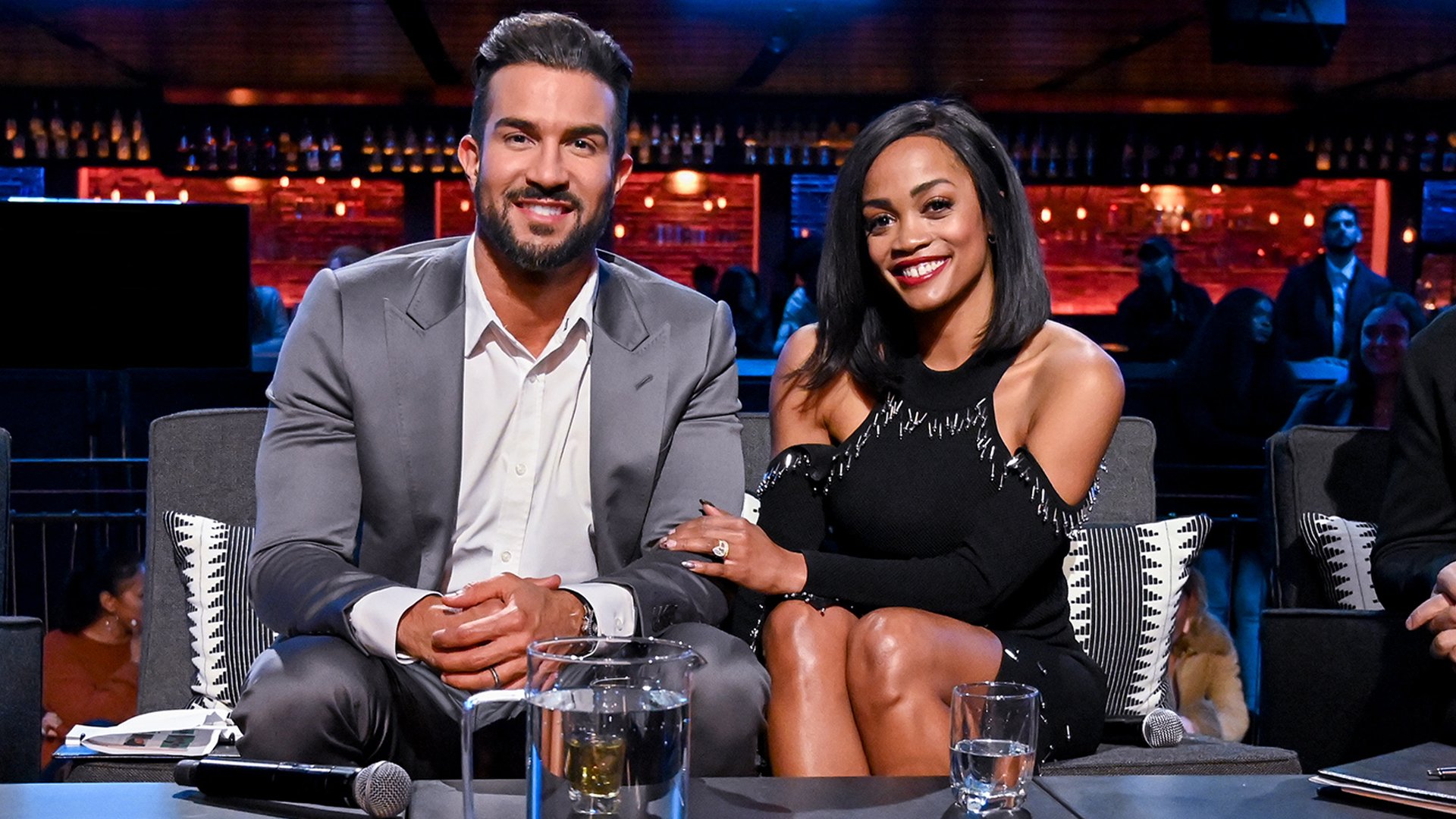 Lindsay and Abasolo got married on Aug. 24, 2019. The Bachelorette alums held their rooftop wedding at the Royalton Suites in Cancun, Mexico. 
"Rachel was the epitome of elegance and grace as she walked down the aisle towards Bryan. The ceremony was filled with so much joy, love, and laughter," Lindsay and Abasolo's wedding planner, Michael Russo, told People at the time. "As they exchanged their personal handwritten vows, you could feel the unbridled emotion and powerful connection between them."
Meanwhile, Lindsay and Abasolo decided not to televise their nuptials for The Bachelor franchise. Still speaking with People, Lindsay revealed she originally wanted a TV wedding. However, the couple decided to keep their special day out of the public eye.
Lindsay said:
As we got to know each other in the real world and things became normalized, and then I started hearing horror stories about these TV weddings, I am very thankful that we don't have one and that we're doing it on our own. I also think that it shows to the world or Bachelor Nation that what we have is more real. We don't need TV. We don't need to get paid. We're doing this because this is what we want to do. And I think it has more meaning.
Even so, Lindsay and Abasolo shared a sneak peek inside their wedding through PeopleTV. Fans also felt the couple's excitement through social media.
"Married my best friend this weekend!" Abasolo wrote on Instagram from his honeymoon in Greece. "Without a doubt, the most memorable time of our lives. Huge thanks to our family, friends, and every single one of you for all your love and support throughout our journey! Can't wait to share all our memories with you all soon!"
Where are Rachel Lindsay and Bryan Abasolo now in 2020?
When Lindsay and Abasolo got married, the former bachelorette changed her name to Rachel Lindsay Abasolo. Of course, the public still knows her as Rachel Lindsay. Nevertheless, this isn't the only change the couple has gone through since the ABC reality series ended in 2017. 
At the start of 2019, Lindsay and Abasolo revealed their big move to Miami, Florida. Abasolo is still a chiropractor. He also has his own podcast called Dr. Abs Healthcast. Meanwhile, Lindsay left her law firm and took on multiple roles within the entertainment industry. 
Now Lindsay is the host of the Bachelor Happy Hour podcast with The Bachelorette's Becca Kufrin. Lindsay also hosts Ghosted: Love Gone Missing on MTV and contributes to ExtraTV as a guest correspondent. Then in April 2020, Lindsay launched a blog where she answers fan questions. 
"My brand new website also featuring #HonestlyRach which is a weekly straightforward and real blog of questions answered by yours truly." Lindsay wrote on Instagram. "I get a lot of questions ranging from love, life, career, friendships and everything in between. I look forward to using this platform to honestly connect with you and provide an intimate and empathic atmosphere for you to freely ask whatever you desire."
Meanwhile, it seems Lindsay and Abasolo could be ready for parenthood. In an interview with Us Weekly from October 2019, Lindsay opened up about starting a family. "We hope [to have kids] sooner rather than later," she said at the time. "We're not preventing it, but if we're planning, in the next year."
With Lindsay and Abasolo's return to The Bachelor franchise on Listen to Your Heart, it's nice to know the reality stars are still standing strong as individuals and as a unit. Now, who knows where life will take the couple moving forward.
Read more: Where Was 'The Bachelor: Listen to Your Heart' Filmed? Fans Already Miss the Original Mansion