Bad Suns Concert Review: Heaven Is a Stop Along the 'Apocalypse Whenever' Tour
The apocalypse never sounded so good. Even with rainy weather waiting for fans outside the music venue, Bad Suns were shining at their Apocalypse Whenever-themed performance at New York City's Webster Hall. 
Bad Suns released full-length album 'Apocalypse Whenever'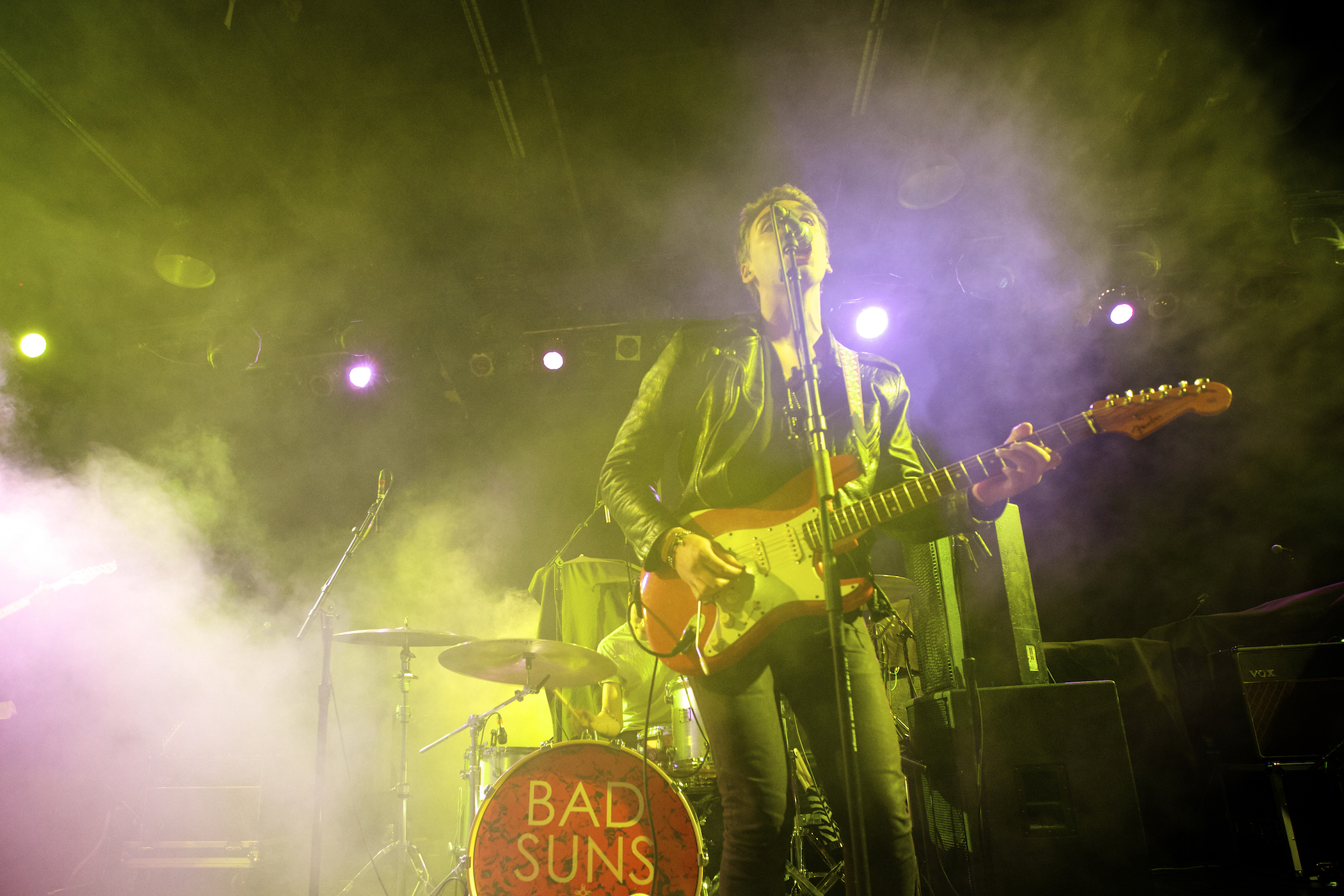 As an intentional reference to COVID-era life, Bad Suns debuted Apocalypse Whenever in 2022, introducing fans to "Baby Blue Shades," "Life Was Easier When I Only Cared About Me," and 11 other original tracks. 
After months of anticipation, Bad Suns embarked on their Apocalypse Whenever tour, promoting songs like "Silently Screaming" and "Peachy." According to frontman Christo Bowman, live music is back, baby. "And it's here to stay." 
Bowman sported an all-black outfit and shiny black jacket that he didn't wear beyond "Disappear Here." The singer/guitarist shared that he's falling in love with New York City again. Based on the applause from fans, the feeling is mutual. 
Bad Suns performed at New York City's Webster Hall
The performance was nothing short of energizing, with not-so-silent screams coming from the audience. One attendee danced around with a vinyl copy of Language & Perspective. Another used their phone flashlight to get Bowman's attention. 
"I'm looking out into the crowd, and I'm seeing multiple people holding up DVD copies of Top Gun," Bowman said, then asking fans to fling their DVDs at the stage. "I wish I didn't have to explain myself right now, but we're trying to go for the Guinness World Record of most copies owning Top Gun, so thank you for your contributions."
The performance included live versions of Mystic Truth and Disappear Here hits, each track coming to life with bright and colorful visual effects. 2022 also marked a significant milestone for the California-based group.
"Almost as cool as that — we've been a band now for 10… years," he continued, saying the first song Bad Suns ever performed as a band was "Transpose." "However long you've been with us for that ride, I want to say thank you so much to everybody in this room."
There was plenty of dancing, both from the band and the audience. Bowman even added some musical easter eggs, using a mini-version of "There She Goes" by The La's. 
The concert only emphasized the best parts of Bad Sun's music — upbeat, feel-good songs perfect for jamming out alone in your car or feeling peachy with friends. Bad Sun's Apocalypse Whenever tour is a must-see experience for those who just want to dance until the world ends.
Bad Suns continues their 'Apocalypse Whenever' tour throughout 2022
Bad Suns is back, turning 2022 into a celebration of music and brightly-colored guitars. The Apocalypse Whenever tour is coming to major North American-based cities, like Santa Ana, San Antonio, Dallas, Atlanta, and Nashville.
Music by Bad Suns is available on most major streaming platforms. To learn more information about this band's tour, visit their website.