Baker Mayfield Made 1 Major Move That Paved the Way For Patrick Mahomes
The Cleveland Browns are taking on the Kansas City Chiefs this weekend in the NFL playoffs. And that means that Baker Mayfield and Patrick Mahomes will once again be going head-to-head.
Despite both quarterbacks being in their mid-20s and having just a few years of NFL experience, Mayfield and Mahomes actually have quite the history. In fact, it was Mayfield who paved the way for Mahomes at Texas Tech.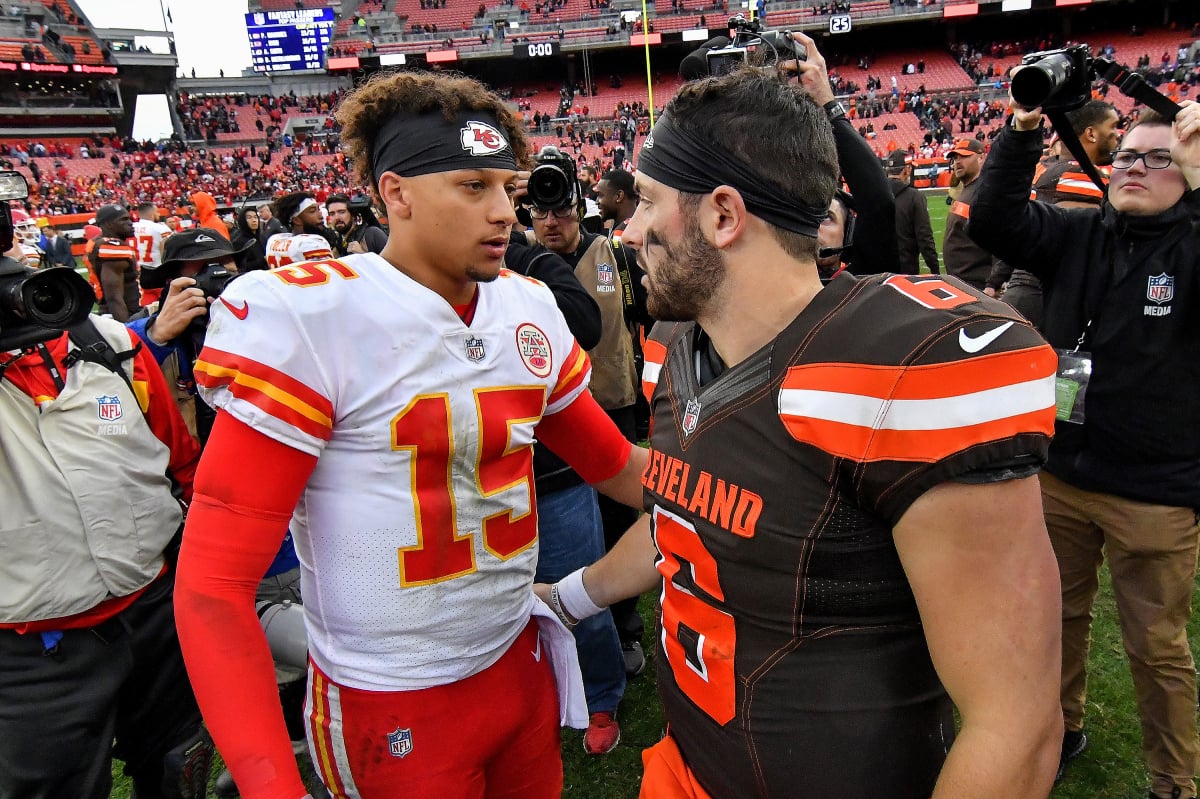 Baker Mayfield and Patrick Mahomes were part of an epic college football game
Two years before Mayfield and Mahomes started making headlines in the NFL, they were part of an epic college football game. In 2016, Mayfield was QB for the Oklahoma Sooners and Mahomes was at the helm for the Texas Tech Red Raiders.
In one of the highest-scoring college football games ever, both Mayfield and Mahomes lit up the scoreboard. The Sooners would eventually outscore Texas Tech 66-59. And along the way, they broke a lot of records.
According to ESPN, the two sides combined for 1,708 yards of offense, which was an FSB record. Mahomes himself also set a record with 819 yards in total offense, including 734 passing yards. Mahomes and Mayfield combined threw the most ever passing yards in a college football game – 1,279. And, Mayfield threw seven touchdown passes, which broke the OU record for most touchdown passes thrown in one game.
"That night, those two did it as good as you could ever do it in college," Texas Tech coach Kliff Kingsbury said. "I've never seen two guys do it better on the same field. They were both on fire."
The Oklahoma quarterback started his career as a Texas Tech Red Raider
Even though Mayfield and Mahomes faced each other in one of the most epic college football games of all time, they were actually almost teammates.
Yahoo Sports columnist Dan Wetzel recently pointed this out when he tweeted, "When Patrick Mahomes took his official recruiting visit to Texas Tech, his host was … Baker Mayfield. They meet next week in the NFL playoffs."
That's right. Mayfield hosted Mahomes on his official recruiting visit to Texas Tech. How is this possible? Well, Mayfield spent his freshman year at Tech as a walk-on. He also surprisingly began that season as a starter and led the Sooners to five straight wins.
But when Mayfield got injured, things quickly turned sour between Mayfield and Texas Tech. He says there was no communication from the coach and he got frustrated.
"When I got hurt, there was no communication between me and my coach," Mayfield explained "When I got healthy, I didn't know why I wasn't playing right away. At that time, we were losing a couple games in a row. I was still clueless as to why I wasn't playing. That was really frustrating for me because I started the first five games and we won."
Baker Mayfield transferred to Oklahoma after his freshman year
Mayfield was the first true freshman walk-on in FBS history to start in a season opener as quarterback. But by the end of the season, he was ready to transfer. Mayfield claimed that Tech didn't offer him a spring scholarship. So instead, he announced in December 2013 that he would be transferring to Oklahoma.
Things got ugly after the transfer due to eligibility rules. At the time, when a Big 12 player transferred inside the conference, they had to sit out one year and lose that year of eligibility. But after sitting out that one season, the conference gave him back that year of eligibility by tweaking the rules. It's now known as the Baker Mayfield rule.
Mayfield would go on to win the Heisman Trophy before getting drafted as the number one overall pick in the 2018 NFL draft. Meanwhile, after Mayfield left Texas Tech, Mahomes became their starting QB. The Chiefs selected him as their first pick (10th overall) in the 2017 draft.
Baker Mayfield and the Cleveland Browns will face Patrick Mahomes and the Kansas City Chiefs in the AFC divisional playoffs on Sunday, January 17 on CBS.