Barack Obama and Jay-Z Weren't as Close as Jay-Z Made it Seem
One would be hard-pressed to find a more powerful combination of people than Barack and Michelle Obama and Jay-Z and Beyoncé. For years, Jay-Z touted his friendship with the former first family and spoke about how much that friendship meant to him. However, on the Obama side, the friendship seems more like an acquaintanceship and less like a group of buddies texting through it all.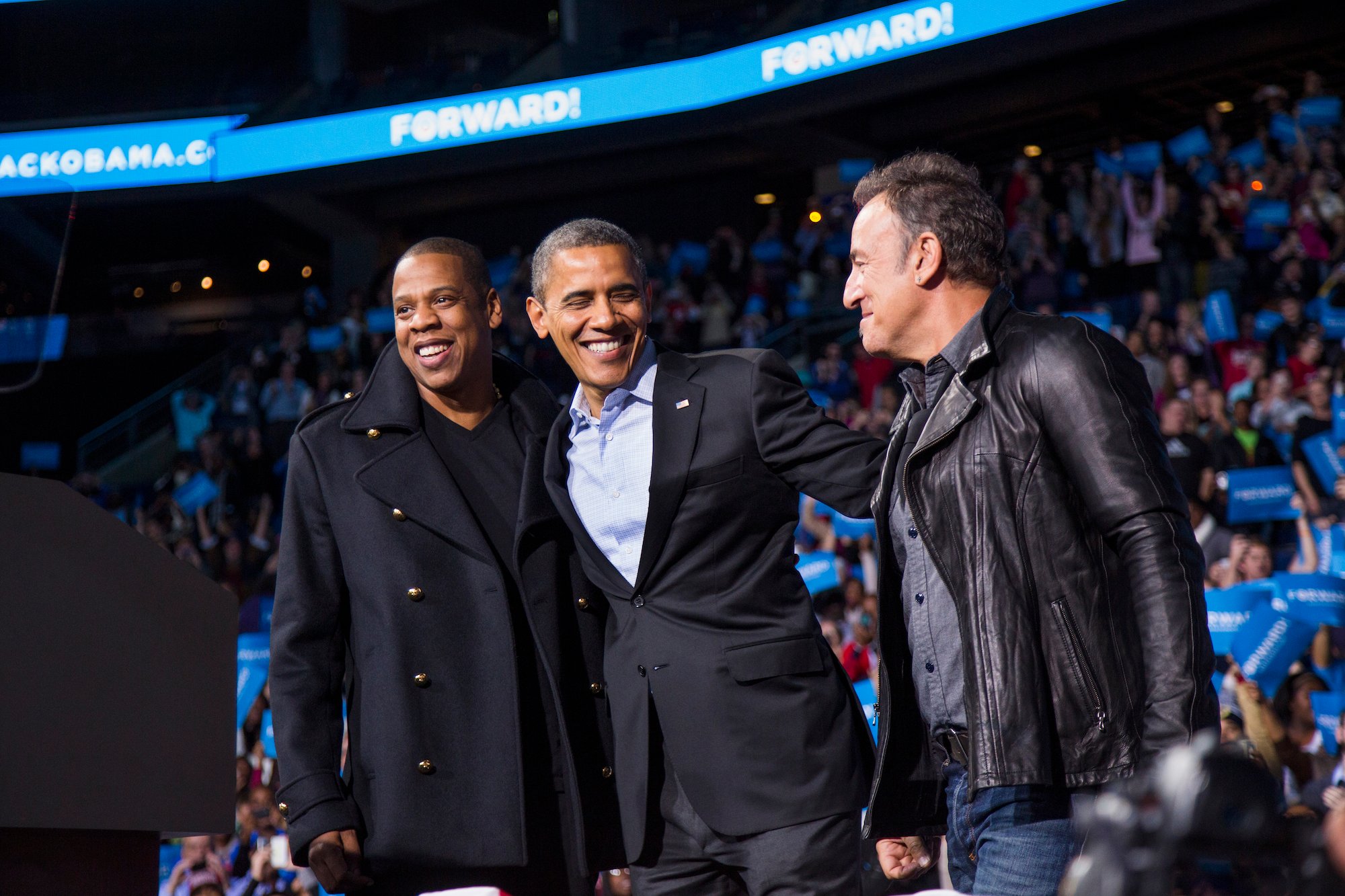 Dawn of a friendship
Barack Obama's election in 2008 was a turning point in America. Before him, there was no racial diversity in the roster of presidents leading up to him. As such, Obama came to represent more than just a president in the eyes of his supporters. He expressed hope and a willingness to do what was required of him to become the most powerful man in the country despite all that was working against him. 
Obama had support from all over the map, from athletes to actors and politicians. The Obama White House embraced the arts in a way that few other Presidents had before, and as such, he struck up more than a few unlikely friends along the way, including Jay-Z and Beyoncé. Long-time fans of both became acquainted before the election. Still, the friendship only grew stronger when the Obamas moved to Washington, DC. 
Jay-Z campaigned for Barack, and Beyoncé sang her rendition of the Etta James classic "At Last" at the inaugural ball. The pair became a staple of many Obama-led policies from Michelle's fitness initiatives to Barack's social work. Jay-Z, in particular, has spoken about how much their friendship means to him. 
Barack and Jay-Z
Michelle and Beyoncé appear to have mutual respect for each other, which stems from their friendship with one another and the work that they do. Regardless of the strength of their friendship, they have worked hand-in-hand over the last 12 years to help each other and the nation. Pinpointing the extent of Barack and Jay-Z's friendship, however, is slightly more complicated, as CNN reports. 
In 2015, Jay-Z spoke about his relationship with then-President Obama. The rapper claimed that he was close with the President, and didn't just talk to him during visits to the White House. The rapper claimed that he and the President text on a semi-regular basis. However, speaking with Jimmy Kimmel about the rapper's claims, Obama jokingly recanted his version of the story, claiming that he doesn't text the rapper — or anyone, for that matter. 
"Look, I love his music, he's incredibly creative, but I don't think I have his home number," the former President told the talk show host, according to CNN.
Barack was often ridiculed for his BlackBerry during the presidency. He laughed about the idea that he would make exceptions to his non-texting policy for Jay-Z. Whatever the case, the pair might be friends. Still, the extent of that friendship passed friendly meetings with one another might be more one-sided than the rapper realizes. 
Double-sided friendship
It would appear as though the former first family of the United States and the first family of hip-hop and R&B have some sort of friendship, but putting a label on how strong that friendship is can be a little bit tricky. On the one hand, the President of the United States, even after his time in office, likely has less time to dwell on his friendships away from his ultimate goals. On the other, it makes sense that Jay-Z would value such a friendship to the degree that he may overstate how deep it runs. 
Whatever the case may be, this powerful foursome has struck up an inarguable bond that lasted through the former President's reign. Now in a different time of all their lives, perhaps the group will have more time to hang out, catch up, and maybe even exchange numbers.