Barack Obama Once Opened up About His 'Little Bond' With Jay-Z
Former U.S. President Barack Obama has struck up friendships with many celebrities and public figures over the years. However, his friendship with powerhouse couple Beyoncé and Jay-Z is one of a kind.
While he's never gone into detail about his budding relationship with the musicians, Obama previously revealed that he and the rapper have established a 'little bond,' which they developed after realizing that they are one and the same.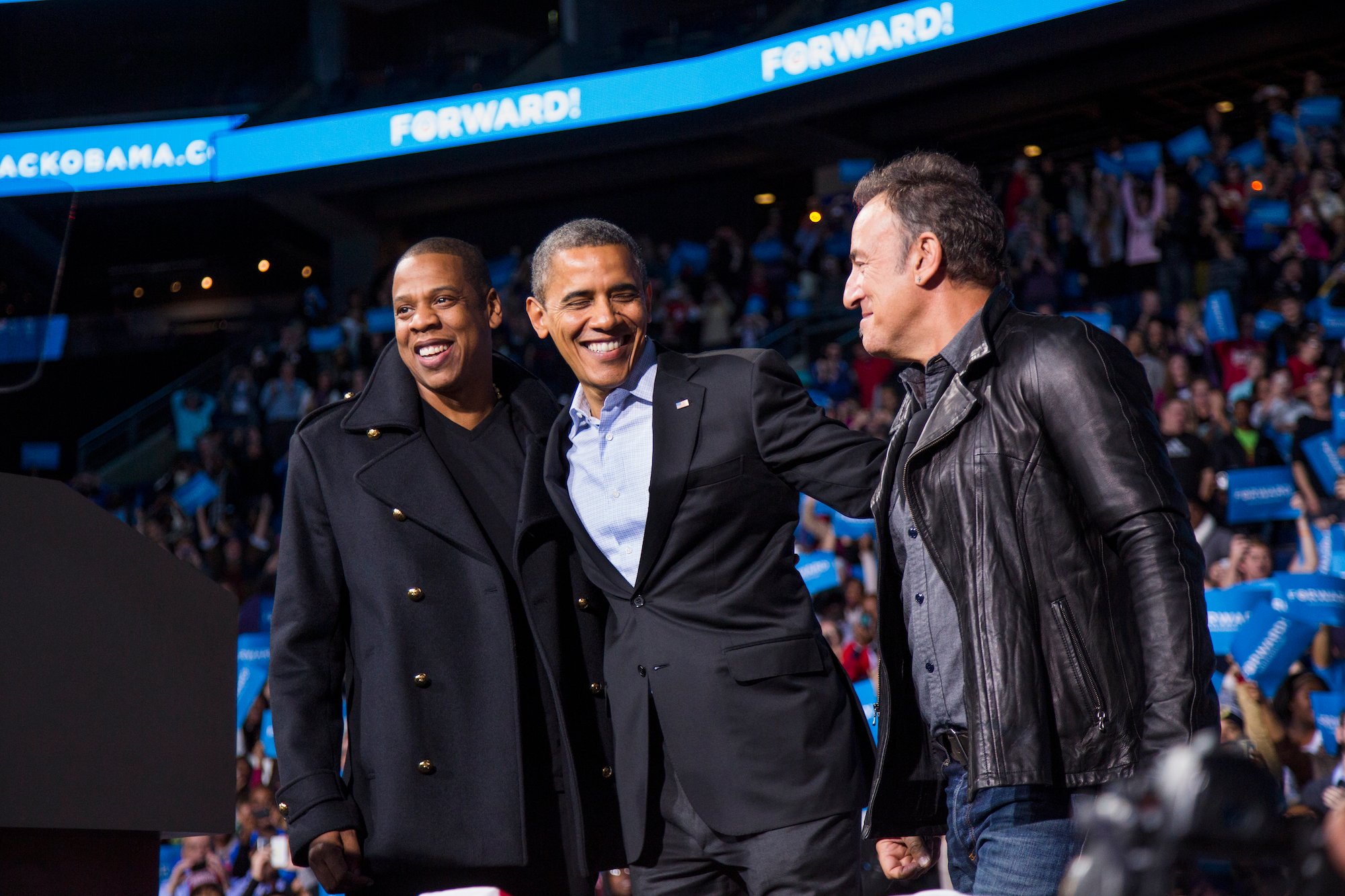 Inside the Obamas' friendship with the Carters
For those of you who don't know, former President Barack Obama and First Lady Michelle Obama have been friends with Jay-Z and Beyoncé for years.
While it's unclear when exactly the dynamic duos met, they had been longtime admirers of each other.
During his presidential campaign in 2008, Obama shocked a few observers when he referred to one of Jay-Z's popular tracks, "Dirt Off Your Shoulder" in a speech.
A few months later, both Bey and Jay attended the former president's momentous inauguration, where the "Halo" singer gave a groundbreaking performance of the National Anthem.
Beyoncé even sang Etta James' romantic ballad "At Last" during the new President and First Lady's first dance at the inaugural ball.
Since then, the couples have continued to cheer each other on in the public eye.
Not only have the dynamic duos supported each other's career endeavors, but they have often gushed about one another during interviews and public appearances.
Barack Obama says he and Jay-Z have much in common
Publicly speaking about their friends Bey and Jay is nothing new for the Obamas.
Over the years, the former President and First Lady have spoken highly of music's most famous couple while giving motivational speeches or presenting highly accredited awards to the musicians.
In June 2020, Michelle Obama honored Beyoncé at the 20th annual BET Awards by presenting the singer with that year's Humanitarian Award.
"I am here to talk about The Queen, you know the one," Obama said in a video presentation, according to USA Today.
A few years prior, Barak Obama congratulated Jay-Z on being inducted into the Songwriters Hall of Fame. In a prerecorded video, the politician named and congratulated all the inductees before turning his attention to the "99 Problems" rapper, whom he called "a true American original."
"I like to think Mr. Carter and I understand each other," Obama said. "Nobody who met us when we were younger men would have expected us to be where we are today."
In his speech, Obama highlighted the similarities between himself and Hova, noting that they are somewhat cut from the same cloth.
"We know what it's like not to have a father around," he said. "We know what it's like not to come from much, and to know people who didn't get the same breaks that we did. So we try to prop open the door of opportunity so that it's a little easier for those who come up behind us to succeed as well."
Barack Obama and Jay-Z have a 'little bond'
Although Obama previously recanted Jay-Z's claims that they are close friends, he has admitted to having a 'little bond' with the rapper.
During a 2012 fundraiser for his reelection, which was hosted by Bey and Jay, Obama opened up about his friendship with the rapper, sharing that they understand each other on a deeper level.
"We both have daughters and our wives are more popular than we are," Obama said, referring to the hip-hop couple's young daughter Blue Ivy Carter. "So, you know, we've got a little bond there. It's hard but it's OK."
Though it's unclear if their bond has gotten stronger since then, it seems to us that both Obama and Jay-Z have always cherished their friendship and will continue to do so for many years to come.